Here's Where Mike Bloomberg Stands in the Polls Ahead of His First Democratic Debate Appearance
Former New York City Mayor Mike Bloomberg is surging in the polls ahead of his first debate appearance in the Democratic presidential race.
The 78-year-old billionaire is placing second in the most recent national surveys and is climbing in battleground states like California and Virginia—a meteoric rise from his measly 4 percent support back in December.
A poll released Tuesday from NPR, PBS NewsHour and Marist College found Bloomberg with 19 percent support among Democrats and Democratic-leaning independents. It was a 15-point jump from Bloomberg's standing in the group's poll in December and enough to put him in second place behind Vermont Senator Bernie Sanders.
A new survey released Wednesday by Morning Consult also found the former mayor to be in second place. Bloomberg garnered 20 percent support among primary voters, putting him behind Sanders by 8 percentage points and ahead of former Vice President Joe Biden by 1 point.
Overall, Bloomberg is averaging 16.3 percent support nationally, according to a polling tracker from FiveThirtyEight. He's essentially tied with Biden, although he's still 9 points behind Sanders. But he did enter the race much later than the rest of the Democratic candidates, launching his campaign only this past November.
Bloomberg's rise in the polls has caused his 2020 rivals to ramp up their attacks on him during the past few days. Much of that criticism has been aimed at the billionaire's unprecedented ad spending, which many candidates have argued is an attempt to "buy" the election.
"It's a shame Mike Bloomberg can buy his way into the debate," Senator Elizabeth Warren tweeted on Tuesday. "But at least now primary voters curious about how each candidate will take on Donald Trump can get a live demonstration of how we each take on an egomaniac billionaire."
Bloomberg has personally spent more than $300 million in TV advertising nationwide, with no plans to slow down. He has said he's willing to spend $1 billion of his own fortune to secure the party's nomination and defeat Trump.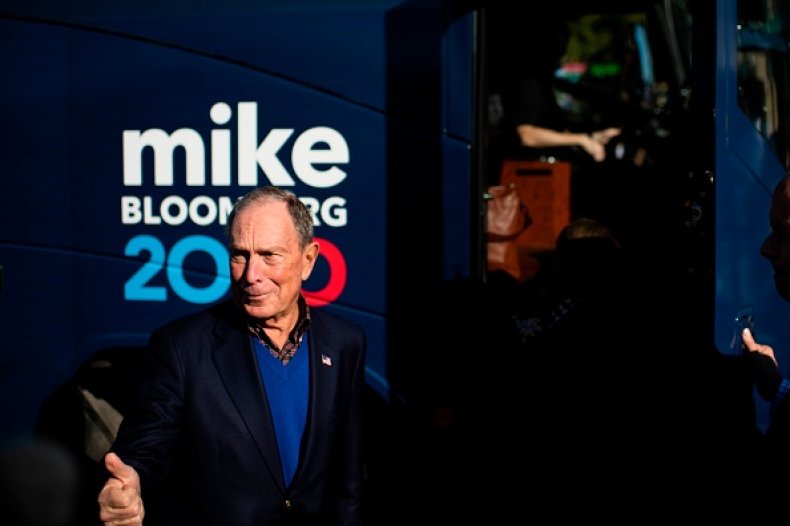 Bloomberg has also surged to first or second place in some key states that will vote on Super Tuesday, which could bode well for his overall strategy in the race. Unlike his competitors, he decided to skip the four early-voting states (Iowa, New Hampshire, Nevada and South Carolina) to run a more broad-based, national campaign.
A poll conducted by SurveyUSA showed Bloomberg with 21 percent support in California, trailing Sanders by only 4 percentage points. The same company also did a poll in North Carolina that found Bloomberg tied with Sanders for first place, with each having 22 percent support. In Virginia, a Monmouth University survey showed Bloomberg tied with Sanders for the lead.
On Wednesday night in Las Vegas, Bloomberg will take the debate stage for the first time. His campaign told Newsweek on Tuesday that the candidate expects to be attacked "from all sides" during the primary event.