Best Face Shields for Coronavirus and Where to Buy
Dr. Anthony Fauci, director of the National Institute of Allergy and Infectious Diseases, has recommended the wearing of face shields to protect against the spread of the novel coronavirus.
Dr. Fauci told ABC News Chief Medical Correspondent Dr. Jennifer Ashton: "If you have goggles or an eye shield, you should use it.
He also suggested eye protection could be recommended, saying: "It might, if you really want perfect protection of the mucosal surfaces.
"You have mucosa in the nose, mucosa in the mouth, but you also have mucosa in the eye. Theoretically, you should protect all the mucosal surfaces. So if you have goggles or an eye shield you should use it."
A cough simulation study in 2014 found that a face shield could reduce exposure by 96 percent when worn within 18 inches of someone coughing, though a 2016 study said: "Due to the lack of a good facial seal peripherally that can allow for aerosol penetration, face shields should not be used as solitary face/eye protection, but rather as adjunctive to other PPE (protective facemasks, goggles, etc.)"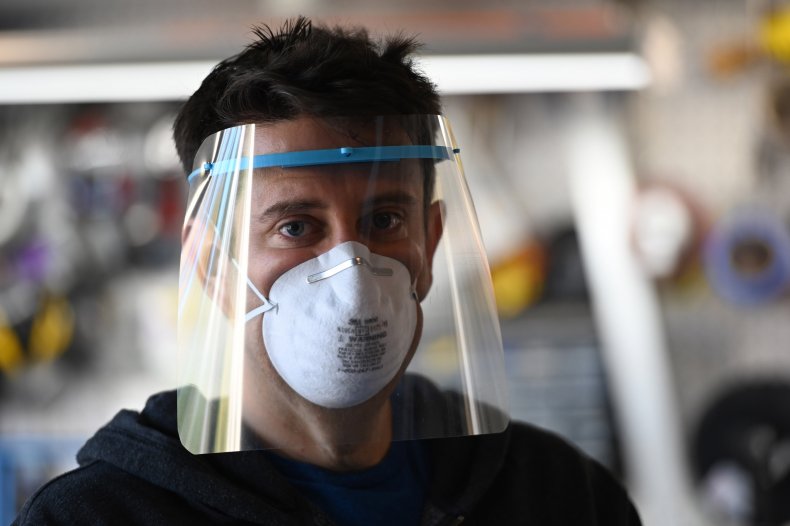 Dr. Sonja Bartolome, a pulmonary/lung disorders expert at UT Southwestern Medical Center, explained to Newsweek: "Respiratory viruses gain access to our bodies, where they grow and multiply, by landing on sensitive mucous membranes. In this case, that is most likely to be our mouth or nose.
"Those mucous membranes create a warm, moist, comfortable home for the virus to set up shop and multiply."
But as Dr. Fauci said, there is mucosa in the eyes, which are not protected by a cloth face covering. Dr. Bartolome said: "The eyes also expose those mucous membranes to the environment and create a comfortable home for the virus to multiply, and although the chance of transmission through the eyes is less than the mouth or the nose, it is still possible.
"That transmission could happen directly, where droplets from another individual land on the eyes, or indirectly, if you rub your eyes with a contaminated hand."
Dr. Bartolome explained why face shields should not replace face coverings, but could be an additional safety measure: "For this reason, health care workers now wear plastic face shields or goggles in addition to their masks. These face shields/goggles prevent the direct transmission of the virus to the eyes, but probably equally importantly they remind you not to touch your eyes.
"It is important to note that a face shield does not replace a mask unless it involves an apparatus that creates a seal around the lower chin and sides of the face where droplets might be inhaled. Rather, it is an adjunct measure for additional safety, primarily being used in areas that are high risk for transmission."
Where to buy Face Shields?
Business Insider recommended the following face masks in an article medically reviewed by Dr. Jason R. McKnight, MD, MS, a family medicine physician and clinical assistant professor at Texas A&M College of Medicine:
Pleson Face Shield 5-pack
The Pleson face shield wraps around both sides of the face and has a padded headband. The shield has an anti-fog coating and can be cleaned easily. The pack of five masks cost $23.99 and can be purchased from Amazon.
US Stock Second Generation Face Shield
The US Stock Second Generation Face Shield is attached to the headband with a pair of rotating fasteners, allowing the wearer to rotate the plastic shield upwards in order to eat or drink. The pack of two can be purchased for $14.99 and can be purchased from Amazon.
Face shields can also be purchased at major stores including Walmart and Office Depot, but note that the following have not been approved or recommended by any health boards or professionals:
Walmart Face Shield
Walmart is selling this face shield for $8.99 made from Polyethylene terephthalate. The visor comes with a padded foam headband that users have reported to be comfortable, even when wearing for long periods.
Office Depot Face Shield
While many face shields are reusable as they are easy to sanitize, Office Depot is selling a pack of 12 single-use face shields for $34.99. The face masks come with adjustable bands and both sides of the plastic are anti-fog.
Honest PPE
Honest PPE is selling a TPE Face Shield for $2.99, down from $7.99. The mask has an anti-fog and anti-static coating to improve maximum visibility. The plastic face shield has a foam strip, and the elastic band can be easily adjusted, plus, it can be sanitized and reused.
Newsweek has affiliate partnerships. If you make a purchase using our links, we may earn a share of the sale.