Where to Buy Colin Kaepernick's Ben & Jerry's Ice Cream 'Change the Whirled'
Colin Kaepernick's latest collaboration sounds like a delicious one. The NFL star and activist announced on Thursday that he is teaming up with Ben & Jerry's for an ice cream flavor with an inspirational name: Change the Whirled. This flavor will be vegan, with a base of non-dairy sunflower butter. It's packed with Fudge Chips, Graham Cracker Swirls and Chocolate Cookie Swirls, as per Ben & Jerry's website.
What makes this treat even sweeter, though, is that the proceeds of Change the Whirled will go toward a good cause.
"I've teamed up with @BenAndJerrys to serve up joy on the journey to justice!" Kaepernick wrote on Twitter. "Today, we're excited to introduce Change the Whirled, a new non-dairy flavor that hits shelves in early-2021! 100% of my proceeds will go to @yourrightscamp with matching support from Ben & Jerry's."
Know Your Rights Camp is a charitable foundation founded by Kaepernick. Their mission is to "advance the liberation and well-being of Black and Brown communities through education, self-empowerment, mass-mobilization and the creation of new systems that elevate the next generation of change leaders."
"I'm honored to partner with Ben & Jerry's on Change the Whirled," Kaepernick added in a press release. "Their commitment to challenging the anti-Black roots of policing in the United States demonstrates a material concern for the wellbeing of Black and Brown communities. My hope is that this partnership will amplify calls to defund and abolish the police and to invest in futures that can make us safer, healthier, and truly free."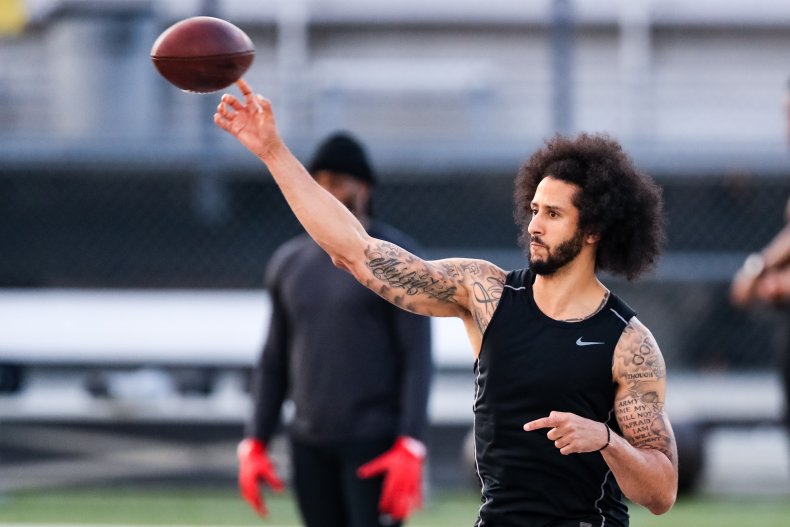 So, where can you buy this sweet new treat? The exact retailers carrying this particular flavor have yet to be confirmed via the Ben & Jerry's site, but Ben & Jerry's products can be found in grocery stores and supermarkets nationwide, such as Walgreens, Walmart, Target, Rite Aid, along with Fresh Direct and Prime Now.
Folks will soon be able to search for specific local retailers on the ice cream company's site to find out where exactly they can get a pint of Change the Whirled. The flavor will hit shelves in early January, so you won't have to wait too long.
Along with Change the Whirled, other non-dairy and vegan Ben & Jerry's flavors include Creme Brûlée Cookie, "Milk" & Cookies and Mint Chocolate Cookie. These flavors are sunflower butter-based, which was introduced to the company's lineup earlier this year.
Almond milk-based vegan flavors include Netflix & Chill'd, Caramel Almond Brittle, Cherry Garcia, Chocolate Caramel Cluster, Chocolate Chip Cookie Dough, and Coconut Seven Layer Bar.