Where to Buy Discounted Burberry Products? Designer Says It Will Stop Burning Extra Stock
Designer fashion label Burberry has announced it will stop destroying old products that do not sell—or in other words, you might soon be able to pick up cheaper Burberry gear.
In a statement on the company's website, Burberry said it would begin with immediate effect. "This commitment builds on the goals that we set last year as part of our five-year responsibility agenda and is supported by our new strategy, which is helping tackle the causes of waste," the company said. "At Burberry, we are passionate about driving positive change."
Burberry is best known for selling trench coats, luxury clothing, cashmere scarves and leather bags. The company dropped another bombshell in its announcement: It would no longer use real fur in any of its products. Up until now, it had used fur from fox mink, Asiatic racoon and rabbit. Fur will be phased out of products.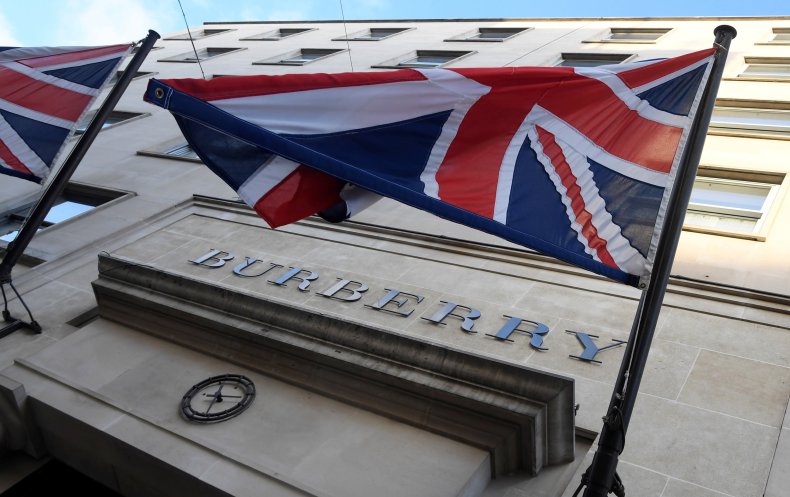 Chief executive Marco Gobbetti said the changes formed part of Burberry's long term goals. "Modern luxury means being socially and environmentally responsible," Gobbetti said. "This belief is core to us at Burberry and key to our long-term success. We are committed to applying the same creativity to all parts of Burberry as we do to our products."
Burberry plans to "reuse, repair, donate and recycle" unsold products—a practice the company says is already underway but will expand. If you are looking for cheaper Burberry products now, you can visit the Burberry sale site. Otherwise you can always search a discount site such as tradesy.com or nordstrom.com.
Fur products are often under the spotlight of PETA (People for the Ethical Treatment of Animals). Last month, the organization approached Aretha Franklin's niece about taking all her old fur coats, following the death of the singer at 76.
PETA executive vice president Tracy Reiman wrote a letter to Aretha Franklin's niece, Sabrina Garrett Owens, asking for the Queen of Soul's fur collection to be donated.
Reiman wants the furs to go to refugees, the homeless, and organizations that turn fur into bedding for orphaned wildlife. The letter said: "Designers, brands, and stores are dropping fur as quickly as consumers are ditching it. As faux fur and other cruelty-free, vegan materials take over, real animal fur can be put to good use, and this generous donation would secure Aretha forever as an "Angel" for animals."
If Owens chooses to donate, the singer's collection will join furs donated by celebrities such as Mariah Carey, Mary Tyler Moore, and Sharon Osbourne. PETA said homeless shelters in the U.S. (including locations in Detroit) would be among those to receive the coats as a donation. Other coats would go to displaced refugees in Afghanistan, Mongolia, and Syria.