Where to Buy Dogecoin: Robinhood, Binance, Others
Dogecoin, listed as DOGE on cryptocurrency markets, can be purchased using various cryptocurrency and exchange platforms.
Cryptocurrency investments come with risks as they are not backed by a government. The U.S. Federal Trade Commission (FTC) explains: "Cryptocurrency accounts are not insured by a government like U.S. dollars deposited into a bank account.
"If you store cryptocurrency with a third-party company, and the company goes out of business or is hacked, the government has no obligation to step in and help get your money back," the FTC advises.
Cryptocurrency prices can also be volatile. The FTC warns: "The value of a cryptocurrency can vary rapidly, even changing by the hour. It depends on many factors, including supply and demand.
"An investment that's worth thousands of dollars today might be worth only hundreds tomorrow. And, if the value goes down, there's no guarantee it will go up again," the federal body says.
Users should also be mindful of fees that may apply with cryptocurrency investments, such as trading, deposit and withdrawal fees. See the respective company websites for more information on fees.
The graphic below, provided by Statista, shows the price changes of selected cryptocurrencies in 2021.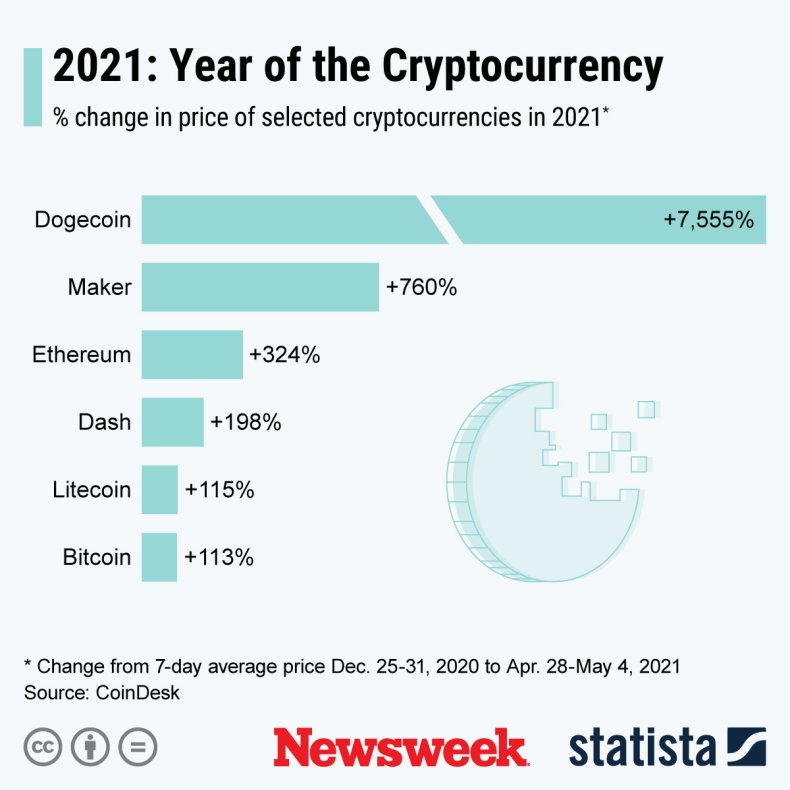 Here we highlight some cryptocurrency and stock exchange platforms where you can buy dogecoin.
Robinhood
The commission-free stock trading app also allows users to buy and sell dogecoin and several other cryptocurrencies.
Users can set up an account at the Robinhood website and download the Robinhood app on Google's Play Store or Apple's App Store.
Robinhood notes: "Robinhood Crypto is not a member of SIPC [Securities Investor Protection Corporation] or FINRA [Financial Industry Regulatory Authority].
"Cryptocurrencies are not stocks and your cryptocurrency investments are not protected by either FDIC [Federal Deposit Insurance Corporation] or SIPC," the company adds.
See the Robinhood website for more information.
Binance
According to its website: "Binance is a safe and secure platform to buy and sell cryptocurrencies quickly" using its "streamlined buy/sell process."
"We work only with verified and trusted partners to give you a secure and seamless crypto-buying experience," the company says.
Users can set up a new account at the Binance website and access their account via the Binance app, which can be downloaded from the Google Play Store and Apple's App Store.
The platform says: "Binance accepts a wide range of currencies and makes it easy for you to buy crypto using US Dollars, Euros, Pound Sterling, and other fiat currencies [government-issued currencies].
See the Binance website for more information.
Kraken
Kraken, the cryptocurrency exchange platform, claims it offers "the lowest fees in the industry" and is "constantly rated one of the most secure and trusted crypto exchanges in the world," according to its website. Users can download the Kraken app from the Google Play Store or Apple's App Store.
Once your Kraken account has been set up and verified, "you can buy DOGE with cryptocurrencies like LTC [litecoin] and DASH. In order to use fiat currency (i.e. USD or EUR), you'll need to provide our experts with additional supporting documents verifying your identity," Kraken advises.
The company says: "Kraken is secure, but it's safest to store your DOGE in a wallet, a software or hardware device you control that stores the public and private keys required to make crypto transactions."
See the Kraken website for more information.
Bittrex
The cryptocurrency exchange platform says it deploys "the most effective and reliable technologies to keep funds and transactions secure," according to its website.
Users can open an account at the Bittrex website and access their account on the Bittrex app, available via Apple's App Store or the Google Play Store.
Once their account has been verified, users can start trading by clicking on the "Instant Buy & Sell" tab in the top right section of the Bittrex homepage.
See the Bittrex website for more information.
OKEx
OKEx claims to be "the world's largest and most diverse cryptocurrency marketplace," according to its website.
To start buying dogecoin, users can set up an account at the OKEx website and download the OKEx app from the Google Play Store or Apple's App Store.
To make their purchase, users should select the fiat currency and payment method of their choice. Payments can be made via bank transfer, Visa or Mastercard.
"Once payment is confirmed, your selected Crypto will be automatically transferred to your OKEx account," the company notes.
See the OKEx website for more information.