Where to Buy the Chicken-Scented KFC Crocs, Details and Prices
The long-awaited KFC x Crocs collaboration will be released next week, five months after they were first announced—find out below where you can buy them.
The collaboration was announced in February during fashion week when artist MLMA advertised the collaboration with platform shoes that resemble buckets of fried chicken.
While the platform shoes will not be on sale next week, the pair of KFC-inspired Crocs clogs will be released on July 28 at 12 p.m. ET.
In an interview with Paper when the collaboration was announced, MLMA said: "When I heard about the opportunity, I thought my manager was joking. That's what I love about it.
"Crocs and KFC's collaboration feels high fashion to me. Because they are doing something different that's fun and creative. To me, it's the same aesthetic as Skoot: no rules or boundaries, there's nothing you can't do.
"When you have fun and do something no one else would try, that's when you go viral."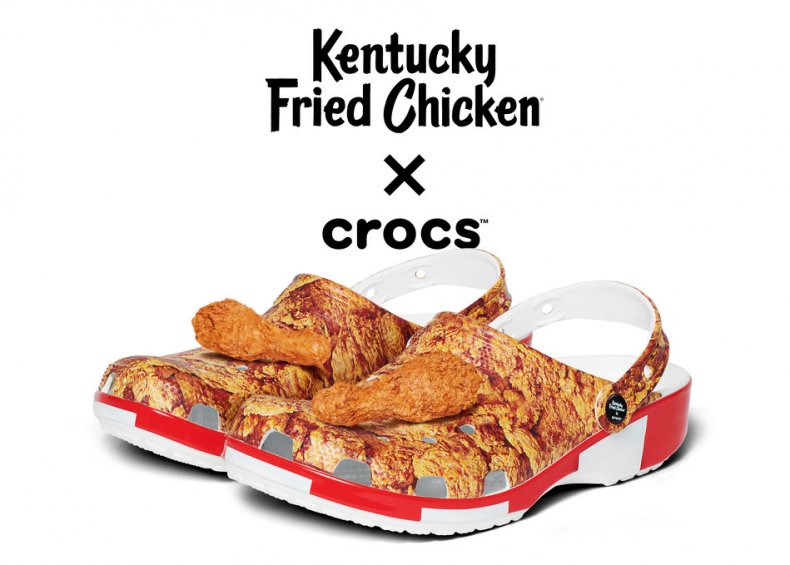 In a commercial on the Crocs website, MLMA can be seen wearing a KFC-inspired red and white outfit featuring a Colonel Sanders pin and waiting for the timer to announce that the deep fryer has finished cooking.
Once the timer goes tings, MLMA takes the baskets out of the deep fryer tank to reveal both the platform and clogs version of the KFC x Crocs collaboration, which she then serves up.
Where to Buy KFC x Crocs?
The KFC x Crocs will be sold online at Crocs.com and they will be sold in unisex sizes. KFC fans who are hoping to buy a pair can sign up for the Crocs newsletter to be reminded of when they go on sale.
How Much are KFC x Crocs?
The KFC x Crocs will cost $59.99 which is a little more expensive than an average pair of Crocs which cost $44.99.
Each pair of the KFC x Crocs shoes comes with two Jibbitz charms that look and smell like fried chicken—but are not to be eaten.
Andrea Zahumensky, KFC U.S. CMO, said in a statement in February: "Combining the unmistakable look of our world-famous fried chicken and signature KFC bucket, with the unparalleled comfort and style of Crocs, these shoes are what fried chicken footwear dreams are made of."
Terence Reilly, Crocs SVP and CMO said: "As Crocs continues to create new, unexpected brand collaborations, we're thrilled with this 'bucket list' partnership with Kentucky Fried Chicken that will bring fans an unbelievably fun and fashionable take on our classic clog."
Newsweek has affiliate partnerships. If you make a purchase using our links, we may earn a share of the sale.