Michelle Obama is no stranger to setting fashion standards, but there's one look of hers in particular that we're dying to try. The former First Lady sported a gold necklace that spelled out "Vote" during her Democratic National Convention speech on Monday night.
The televised speech Obama gave was to voice her support for Joe Biden as the next president, so the statement made sense. The DNC stressed the importance of voting in an attempt to remove President Donald Trump from his current position as president.
But no matter which political party you align with, the necklace may speak to you—and it's already for sale.
The Vote necklace that Obama wore is designed by BYCHARI, or Chari Cuthbert, a Miami-born jewelry designer. The story behind her business makes it even more of an inspiring purchase.
A representative for Cuthbert told Newsweek that the company has received its "most sales ever" since Obama wore the necklace onscreen. And Cuthbert explained why the necklace is more important now than ever. "I created the VOTE necklace for the primaries in 2018 to raise awareness around the importance of voting in all elections," she said via email. "I knew I had to create it for this election. We connected with Michelle Obama's stylist so the word could get out. I was honored to send it to her and thrilled she ended up wearing it as it is an important and timeless message."
Cuthbert told The Daily Beast she moved to Hawaii with nothing but $100 and a dream of starting a jewelry company. And she did it. Four years after settling in Hawaii, she moved to Los Angeles, and we have to say: All of her jewelry is absolutely stunning.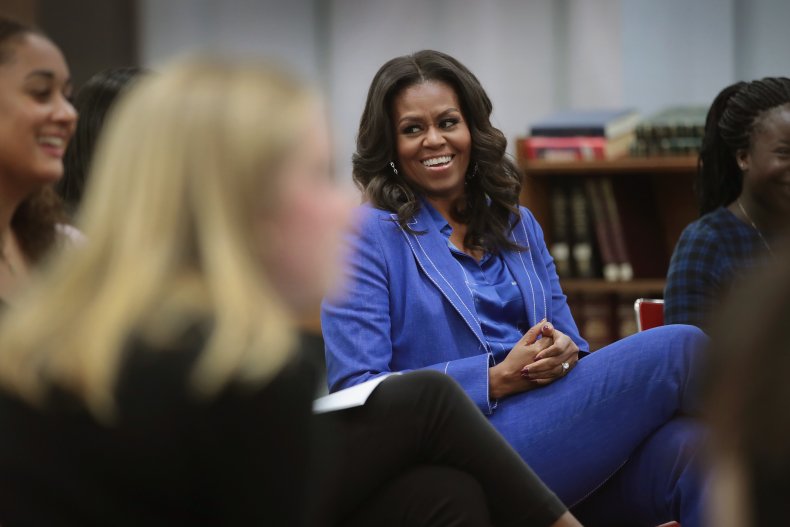 But the Vote necklace is taking center stage.
After Obama's look, Cuthbert even added a one-click link to the Vote necklace. You can buy it here. While Obama wore the necklace in gold, it's also available in rose gold and white gold. Each necklace retails for $295 to start, but increases in price based on alterations like chain length, or the decision to add diamond-studded letters.
According to The Daily Beast, Obama's variety was $430. And by selecting options on BYCHARI, this appears to be a 14K gold necklace with "large letters" and an 18-inch chain. The necklaces appear to be in stock via the website, but Cuthbert's representative told us she'll need to order more supplies to fill the orders.
Buyers should expect three or four weeks before the necklace ships, according to the site.
Cuthbert did know that Obama's stylist purchased the necklace, but didn't know what to expect. The artist wasn't watching the DNC on Monday. Instead, she received a list of photos and text messages from loved ones celebrating the incredible moment. "There was a snippet from her DNC speech on CNN and my mom sent it to me," Cuthbert told The Daily Beast. "I couldn't believe it. Out of respect, I didn't post it or anything, because I didn't want to take advantage."
She continued to express how monumental Monday was, not only for her business but for her personal beliefs. "Michelle Obama! If you talk about your ideal dinner guest, she is it for me," she said. "And to see her wearing my necklace, it's insane."
Updated 08/18/20 at 12:00 p.m. ET: This article was updated to include a comment from Cuthbert.