Amid the ongoing COVID-19 pandemic, some patients have been monitoring the level of oxygen in their blood using pulse oximeters, which can be purchased at different pharmacies and retail chains, including Amazon, Target, Walgreens and CVS.
The American Lung Association explains: "A pulse oximeter measures the level of oxygen saturation in your red blood cells. This handy tool, which is usually clipped to the end of your finger or earlobe, has gained attention during the COVID-19 pandemic as a potential tool to identify hypoxia (low blood oxygen saturation) which is one troubling sign of severe illness caused by COVID-19.
"The Food and Drug Administration (FDA) considers pulse oximeters to be prescription medical devices, yet most pulse oximeters that are found on the internet or in drug stores are specifically labeled 'not for medical use' and have not been reviewed by the FDA for accuracy.
"A pulse oximeter may be a recommended tool to use under the guidance of your healthcare provider to monitor symptoms, but it should not be relied upon without medical oversight, nor without paying heed to other signs and symptoms of illness," the association warns.
The FDA advises: "As with any device, there is always a risk of an inaccurate reading. If you are using a pulse oximeter to monitor your oxygen levels and are concerned about the reading, contact a health care provider. And do not rely only on a pulse oximeter. It is important to keep track of your symptoms, or how you feel. Contact a doctor if your symptoms are serious or get worse."
Here we look at where pulse oximeters are available from different retailers and pharmacies across country.
Amazon
Pulse oximeters at Amazon range in price from $17.95 for the FaceLake FL400 Pulse Oximeter Fingertip to $499.99 for the Dynarex Pediatric Fingertip Pulse Oximeter.
Target
A selection of pulse oximeters are available at Target from $26.99 for Dr. Talbot's Pulse Oximeter to $69.99 for the ChoiceMMEd Pulse Oximiter with Relaxation Coach.
Walgreens
The lowest-priced pulse oximeter offered at Walgreens is the Veridian Healthcare SmartHeart Economy Pulse Oximeter for $29.99. However, the product is currently out of stock for shipping and not available at stores. The Walgreen website also notes: "Pickup orders may be delayed. We'll email you when your order is ready for pickup."
At the higher end of the price range, the HealthSmart Fingertip Pulse Oximeter Deluxe is the most expensive one offered at Walgreens, priced at $102.09.
CVS
The CVS pharmacy chain has its own branded pulse oximeter which can be purchased at the CVS website and stores. They are also offered by other sellers such as the FSA Store website, which sells FSA (Flexible Spending Account)-eligible health products, for $34.99.
An FSA is "a special account you put money into that you use to pay for certain out-of-pocket health care costs. You don't pay taxes on this money. This means you'll save an amount equal to the taxes you would have paid on the money you set aside," according to the HealthCare.gov website managed by the U.S. Centers for Medicare & Medicaid Services.
The CVS pulse oximeter is listed as currently unavailable at the FSA Store website. Check the FSA Store website for when it will be available.
Rite Aid
Rite Aid offers its own branded device, the Rite Aid Fitness Deluxe Pulse Oximeter, for $32.99. It also offers the ChoiceMmed Pulse Oximeter for $35.99.
Walmart
Pulse oximeters at Walmart range from as low as $8.99 for the ASA Techmed Fingertip Pulse Oximeter to as high as $83.25 for Contec's wrist pulse oximeter.
Best Buy
Pulse oximeters are available at Best Buy, ranging from $34.95 for the Zewa Pulse Oximeter to $79.99 for the Aluratek Bluetooth Digital Pulse Oximeter.
Newsweek has affiliate partnerships. If you make a purchase using our links, we may earn a share of the sale.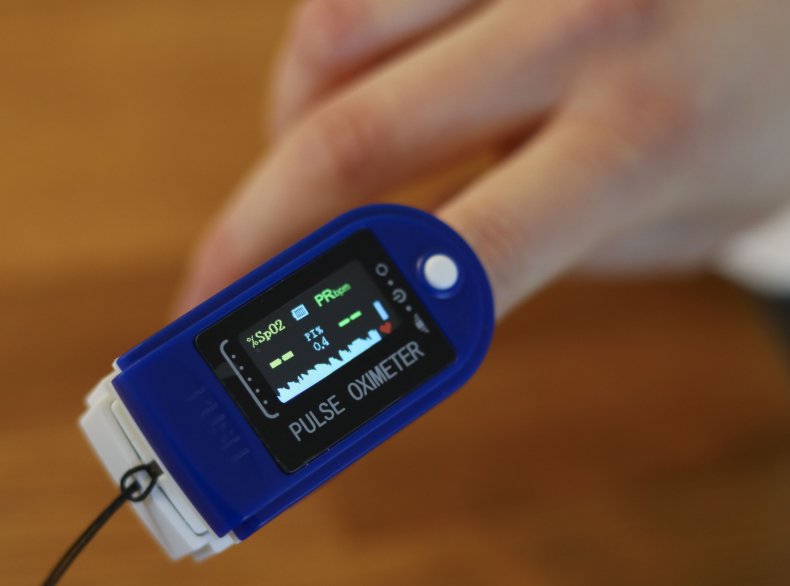 Uncommon Knowledge
Newsweek is committed to challenging conventional wisdom and finding connections in the search for common ground.
Newsweek is committed to challenging conventional wisdom and finding connections in the search for common ground.
About the writer
Soo Kim is a Newsweek SEO Reporter is based in London, UK. She reports on various trends and lifestyle stories, from health, fitness and travel to psychology, relationships and family issues. She is also a South Korea expert who regularly covers Korean culture/entertainment for Newsweek, including the latest K-dramas, films and K-pop news, and is the author of the book How to Live Korean, which is available in eight languages. Soo also covered the COVID-19 pandemic extensively from 2020 through 2021 after joining the general news desk of Newsweek in 2019 from the Daily Telegraph (a U.K. national newspaper) where she was a travel reporter/editor from 2010. She is a graduate of Binghamton University in New York and the journalism school of City University in London, where she earned a Masters in international journalism. Languages spoken: English and Korean.
Follow her on Twitter at @MissSooKim or Instagram at @miss.soo.kim
You can get in touch with Soo by emailing s.kim@newsweek.com