Squishmallows are the latest obsession among kids à la the Squishies and L.O.L. Surprise! toys that came before them. Only Squishmallows are a "toy" of a different breed. They're a hybrid: part toy, part pillow. If you're a parent of a young child or toddler right now, you're likely breaking a sweat hopping from mall to mall, searching for a Squishmallow. Why? Because these super soft plush pillows (which also just so happen to have adorable little faces) are selling out everywhere.
Don't panic, parents—even if your little one is looking at you with pleading eyes, ready to shed tears any second. Though the demand of Squishmallows has their populations dwindling at retailers everywhere, there's still hope to find Squishmallows in stores and online. Not sure where to start? Consider this your guide to locations where Squishmallows are still available.
What Are Squishmallows?
Squishmallows are the "hot new thing" in toys right now, but ultimately, they're more plush than imaginative play toy. Half character plush (with simple, but super cute facial features) and half ultra-huggable pillow, Squishmallows are comparable to say, Disney's Tsum Tsums. (Side note: What ever happened to those?) A kid joins the "Squishmallow Squad" once they start their collection. Squishmallows are aptly named. They're softer and squishier than even a marshmallow! Get ready, parents: If your children aren't already obsessed, it's coming.
Each Squishmallow is a character or animal—and yes, there are Disney-themed ones, including the ever-popular Baby Yoda Squishmallow—with its own identity on the tag. It's a big part of the appeal factor here. Like L.O.L. Dolls, Pokémon, or even TY Beanie Babies, kids feel the need to collect them all.
Some of the most popular Squishmallows—besides the aforementioned Baby Yoda—include Bigfoot, Shiba Inu, Pegasus, Bunnycorn, and both cows, Belana and Connor (but make sure you get a real cow because according to Reddit, there's a debate over whether the pink Jenny the Cow is a fake or authentic Squishmallow).
Where to Buy Squishmallows
Squishmallows pretty much have exploded in popularity as the global coronavirus pandemic has loomed, so for the past year or so, these mushy plushes have been flying off the physical and cyber shelves of retailers everywhere.
But before you start feeling like Arnold Schwarzenegger in that holiday movie about the super popular Turbo-Man toy (Jingle All the Way, is it?), you're in luck. The following U.S. retailers still have some Squishmallow characters available online.
Amazon
TGFA!—that's thank goodness for Amazon! Though the massive online retailer doesn't have all the Squishmallow characters in stock at the moment, a fair few are available on Amazon's official Squishmallow storefront.
Some of the Squishmallows available on Amazon include: 12-inch Bunnycorn, 12-inch Cali the Rainbow Caticorn, 12-inch Ilene the Pink Unicorn, 12-inch Aqua the Sloth, 12-inch Winnie the Walrus, 16-inch Courtney the Lavender Caticorn, 16-inch Brody the Blue Dino (for a super inflated price, however), 16-inch Lola the Unicorn, and 16-inch Ashlyn the Cheetah Fairy.
Buy at Amazon.
Books a Million
Books a Million has but one single Squishmallow currently in stock, and that's the BAM! Exclusive Pink Leopard Squishmallow, for $21.99. However, if you live near a physical Books a Million, there might be others in stock.
Buy at Books a Million.
Claire's
There's a huge disclaimer here when it comes to buying Squishmallows from Claire's. While the infamous teenybopper shop carries a decent variety of Squishmallows, in some cases, you can only pick a Squishmallow mystery-box-style: as in, you choose the size for a Squishmallow on their website—12-inch or 16-inch—and then, well, the "style" or character that shows up in the mail can vary.
That being said, there are still some good (though very limited) options available at Claire's that aren't mystery-box-style: the 12-inch Claire's Unicorn plush toy, 5-inch Koala plush toy, 12-inch Puppy Dog plush toy (in coral), Happy Rainbow plush toy, and more. For mystery-box-style, try the 12-inch Squish-Doos.
Buy at Claire's.
Costco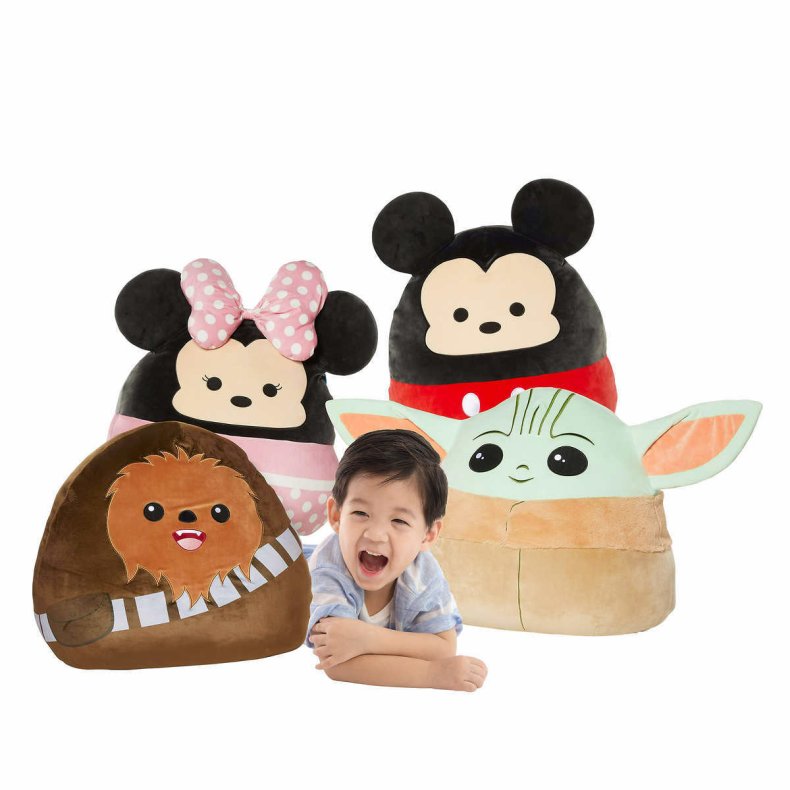 As of right now, Costco only has one official Squishmallow available for purchase, but it's a highly coveted one: the Star Wars Chewbacca plush. The supersize, 20-inch Star Wars Chewbacca can be purchased in store or online for $27.99.
Buy at Costco.
The Paper Store
Over at The Paper Store—both online and in stores—there's ample supply of Squishmallows key rings in various characters. As far as full-size plushes, though, there's only one available online: the 12-inch Fairy Spring Fun plush, for $22.99.
Buy at The Paper Store.
Sesame Street
Sesame Street's online store has three Squishmallows: 12-inch Abby Caddaby, 12-inch Cookie Monster, and 12-inch Elmo. The three characters retail for $24.99 each online.
Buy at Sesame Street.
Target
If Target is your go-to, there's good news! While Target has a limited supply of Squishmallows at the moment, it still has a supply (which is more than we can say for many other stores). There are two Squishmallows for sale there (and for super cheap, too!): 11-inch Judy the Tangerine and 11-inch Fairy Butterfly Plush, both for $9.99, each.
Buy at Target.
Toynk Toys
The Squishmallows supply at Toynk Toys is dropping like flies, so be sure to add these popular characters to your cart ASAP. Online at Toynk, you can find 12-inch Tex the Taco, 12-inch Mateo the Rottweiler, 12-inch Carl the Hamburger, 12-inch Celia the Orange, 8-inch Tristan the Green Dinosaur, 8-inch Dominic the Blue Dragon, 12-inch Floyd the French Fries, 12-inch Maya the Mint Ice Cream, 5-inch Dustin the Dalamatian, and more.
Buy at Toynk Toys.
Walgreens
When it comes to sourcing Squishmallows, your local Walgreens on the corner might just save the day. While Walgreen's doesn't have any online inventory available for shipping, their website features the 16-inch Sloth, Monkey, Cream Lamb, Rainbow Unicorn, Teal Dragon, and more. Some Walgreens stores may also carry the top Disney Squishmallows: Dumbo, Minnie Mouse, Mickey Mouse, Stitch, Buzz Lightyear, BB-8, R2-D2, Nemo, Baby Yoda, and Chewbacca in various sizes. Check your local Walgreens for availability and pricing.
Buy at Walgreens.
Walmart
Squishmallows at Walmart are also selling like hotcakes so, like at all these other retailers, there is very limited stock. As of this writing, the following Squishmallows are available at Walmart.com: 12-inch Yellow Chick, for $34.99; 12-inch Purple Bunny Sequins, for $44.99; 16-inch Blue Chick, for $30.99; 20-inch Pink Bunnycorn, for $39.88; 16-inch Austin the Avocado, for $19.97; 8-inch Benny and Brina Bigfoot combo, for $79.99; 16-inch Ashlyn the Cheetah Fairy, for $19.97; 16-inch Courtney the Lavender Caticorn, for $19.97; 12-inch Cali the Rainbow Caticorn, for $30; 16-inch Tie-Dye Bunny, for $69.99; and 16-inch Pineapple, for $49.99.
Buy at Walmart.
Physical Retailers
If none of these retailers works out for you online, then check out your local toy store or one of the brick-and-mortar retailers that carry Squishmallows. Luckily, the official Squishmallows website aggregated all of the stores throughout the U.S. that carry Squishmallows:
Newsweek may earn a commission from links on this page, but we only recommend products we back. We participate in various affiliate marketing programs, which means we may get paid commissions on editorially chosen products purchased through our links to retailer sites.