Where California Mask Mandate Applies and Who is Exempt
All California residents are required to wear face coverings in public spaces and other specific settings under a new statewide mandate issued by the state government.
"Over the last four months, we have learned a lot about COVID-19 transmission, most notably that people who are infected but are asymptomatic or pre-symptomatic play an important part in community spread," the California Department of Public Health (CDPH) said in a statement.
"The use of face coverings by everyone can limit the release of infected droplets when talking, coughing, and/or sneezing, as well as reinforce physical distancing," the statement noted.
The new guidance, which has been in effect from Thursday, "does not substitute for existing guidance about social distancing and handwashing," the statement said.
Where the mask mandate applies
Face coverings must be worn in all common and public indoor spaces as well as outdoors spaces when maintaining a physical distance of six feet from those who are not members of the same household or residence is impossible, the department said.
The CDPH also highlighted face coverings are required whenever you are in various "high risk situations" such as inside any indoor public space or waiting in line to enter such a space.
Other high risk settings requiring masks include different healthcare sector facilities such as "a hospital, pharmacy, medical clinic, laboratory, physician or dental office, veterinary clinic, or blood bank,"
Masks are also are required while using or waiting to use public transport as well as inside a taxi, a private car service or ride-sharing vehicle, the CDPH said.
The department advised face coverings are mandatory when "engaged in work, whether at the workplace or performing work off-site," while doing any of the activities below:
"Interacting in-person with any member of the public;
"Working in any space visited by members of the public, regardless of whether anyone from the public is present at the time;
"Working in any space where food is prepared or packaged for sale or distribution to others;
"Working in or walking through common areas, such as hallways, stairways, elevators, and parking facilities;
"In any room or enclosed area where other people (except for members of the person's own household or residence) are present when unable to physically distance."
Other high risk situations where masks must be worn include while "driving or operating any public transportation or paratransit vehicle, taxi, or private car service or ride-sharing vehicle when passengers are present," the department said. "When no passengers are present, face coverings are strongly recommended."
Who is exempt from wearing face coverings?
A selection of exemptions to the mask mandate were also outlined by the department, which include the cases below.
Young children: Those aged two years or younger are exempt from wearing face coverings due to the risk of suffocation.
Those with a health condition: Any individual with a medical or mental health condition, or a disability that prevents them from being able to wear a face covering.
"This includes persons with a medical condition for whom wearing a face covering could obstruct breathing or who are unconscious, incapacitated, or otherwise unable toremove a face covering without assistance," the CDPH said.
Those who are hearing impaired, or communicating with a person who is hearing impaired, "where the ability to see the mouth is essential for communication," the department adds.
Those for whom wearing a face covering is risky or would create a risk related to their work, "as determined by local, state, or federal regulators or workplace safety guidelines," the department advises.
Those using a service where masks need to be removed, such as services involving the nose or face.
Those seated at a restaurant or other food venue while they are eating or drinking if they are able to maintain a distance of at least six feet from those who are not members of the same household or residence.
Anyone engaged in outdoor work or recreational activities (such as swimming, walking, hiking, bicycling, or running) either alone or with household members and when a distance of at least six feet can be maintained from others.
Those who are incarcerated: Prisons and jails will issue specific guidelines on the wearing of face coverings or masks for both inmates and staff.
"Persons exempted from wearing a face covering due to a medical condition who are employed in a job involving regular contact with others should wear a non-restrictive alternative, such as a face shield with a drape on the bottom edge, as long as their condition permits it," the department notes.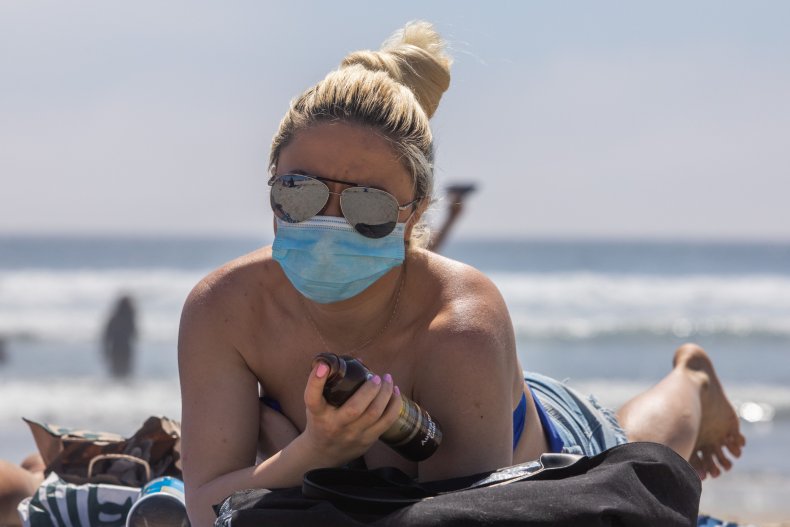 Infections in California continue to climb, with at least 167,234 confirmed cases reported, as of Friday. On Thursday, the state reported the highest daily case count since the outbreak began, with nearly 4,300 new infections recorded on June 18, according to the latest figures from Johns Hopkins University.
California began the second phase of its reopening on May 8, which saw several businesses resume operations including within retail and manufacturing. Offices, outdoor museums and limited personal services were also reopened.
The novel coronavirus has infected more than 8.5 million people across the globe, including more than 2.1 million in the U.S. More than 454,600 people have died globally, while over 4.1 million have reportedly recovered from infection, as of Friday, according to the latest figures from Johns Hopkins University.
The graphics below, provided by Statista, illustrate the spread of COVID-19 in the U.S. and the worst-affected countries.