Where Can Children Get the COVID Vaccine After Approval?
Children who are now eligible to get vaccinated against COVID-19 can begin receiving shots this weekend at some major drugstores throughout the U.S.
The U.S. Centers for Disease Control and Prevention (CDC) recommended Pfizer-BioNTech's vaccine for children ages 5 to 11 on Tuesday, following the Food and Drug Administration's (FDA) authorization for that age group last week. The Pfizer vaccine was previously recommended only for individuals ages 12 and up, while vaccines produced by Moderna and Johnson & Johnson have thus far been approved for those 18 and older.
On its website, the CDC provides a tool parents can use to find locations in their area where COVID-19 vaccines for children are being administered. The tool, available at Vaccines.gov, is in the process of being updated to include available vaccine doses for children, according to The New York Times.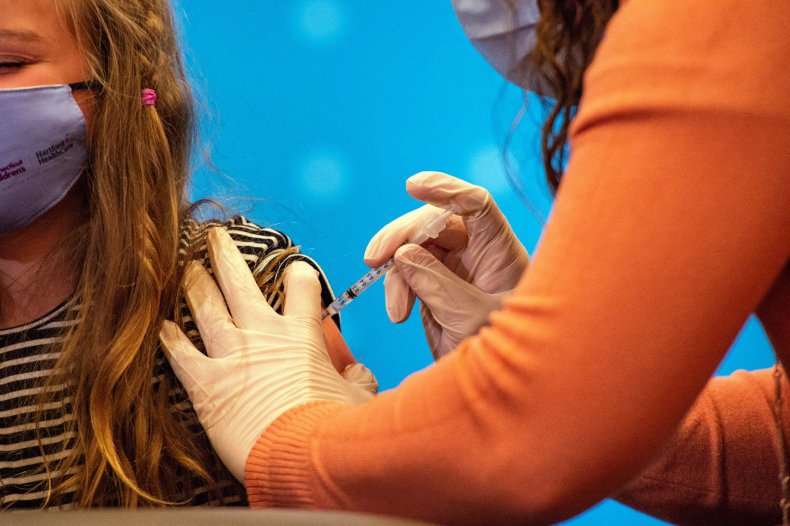 The updates to the CDC's vaccine finder tool are necessary because the Pfizer vaccine approved for the 5-11 age group involves a set of two doses that are smaller in volume than those approved for individuals 12 and older, according to the FDA. Locations that currently administer the vaccine thus need to receive the smaller doses before they can begin inoculating younger children, a process that, the Times said, could take days.
The CDC said it is beginning to distribute the new vaccine doses this week and plans to ramp up distribution next week. The agency's inclusion of children 5 to 11 in its vaccine recommendation means about 28 million more individuals are now eligible to be vaccinated, according to the CDC's estimations. All eligible individuals can get vaccinated for free.
Though the newly approved vaccines will not be available in every location immediately, some of the larger drugstore chains in the U.S. announced this week they intend to have some doses on hand and ready to administer as early as this weekend. On Wednesday, Walgreens said in a press release provided to Newsweek that vaccine doses will be available in "thousands of stores nationwide" starting this Saturday. Individuals interested in scheduling vaccine appointments for their children at a Walgreens location were encouraged to do so online and could begin scheduling those appointments on Wednesday.
CVS announced Wednesday that it would begin inoculating children beginning this Sunday in some of its stores "upon receipt and confirmation of vaccine supply." Rite Aid said it would begin scheduling appointments for children starting Thursday, with the first doses expected to be administered on Saturday. Rite Aid noted that appointments would be available only at some locations initially as stores wait to receive the new doses.
In addition to checking for vaccine availability with local pharmacies, the CDC recommends that people interested in getting their children vaccinated against the virus ask their pediatrician when doses will be ready for the younger age group at the doctor's office. Additional information will be available through local and state health officials.