Where Is the Caravan of People Seeking Asylum in the U.S. Now?
Despite being stalled in Mexico's Oaxaca state for several days, organizers of a "caravan" made up mostly of Central American people trying to make their way to the U.S.-Mexico border have vowed to "keep walking."
Pueblo Sin Fronteras (PSF), the activist group heading up the caravan, tweeted out a video early Wednesday morning of marchers making their way through the Mexican town of Matias Romero on Tuesday. "Follow the fight. Keep walking," the message reads.
PSF activist Alex Mensing also tweeted early Wednesday morning "the caravan isn't over." He said the marchers would "continue to fight" for the right to a refuge, as well as "against U.S. intervention in Central America."
The caravan had last been stationed at a sports field in Matías Romero, located more than 1,800 miles away from the U.S.
President Donald Trump warned early Wednesday morning that his administration would be "taking strong action today."
The president wrote in a tweet: "Our border laws are very weak while those of Mexico and Canada are very strong. Congress must change these Obama-era and other, laws NOW!"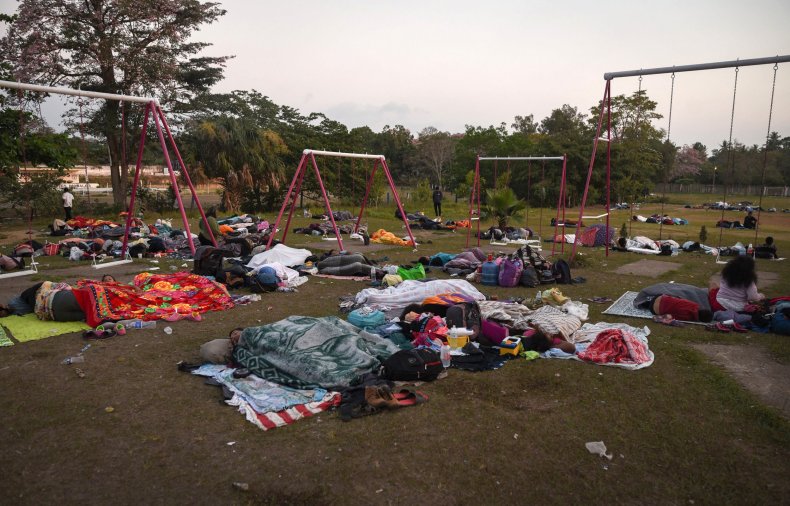 "The Democrats stand in our way—they want people to pour into the country unchecked...CRIME! We will be taking strong action today," he added.
On Tuesday, the president announced plans to send military troops to guard the U.S.-Mexico border until his long-promised border wall can be built.
He also warned that the "big Caravan of People from Honduras, now coming across Mexico and heading to our 'weak laws' border, had better be stopped before it gets there," adding an apparent threat to end the NAFTA trade deal that has benefited Mexico's economy.
"Cash cow NAFTA is in play, as is foreign aid to Honduras and the countries that allow this to happen. Congress MUST ACT NOW!" he wrote.
Al Otro Lado, an organization that offers cross-border legal services to immigrants, has called for volunteers to show up at the border to "make sure [Customs and Border Protection] is following the law and to support the refugee families willing to brave detention to find safety for their children."
The organization has also sought to explain that the "right to seek asylum is well-established under U.S. and international law.
"The caravan participants aren't 'illegals,'" Al Otro Lado has said in a Twitter statement. "Our friends at Pueblo Sin Fronteras are merely accompanying migrants, in the open, who would have made the journey anyway. The organizing is migrant-led. Nothing about their actions is illegal."
The organization said attorneys assisting the caravan have been tasked with explaining U.S. and Mexican asylum law and procedures, "including the likelihood of detention, prosecution and family separation in the U.S."
Al Otro Lado said it encourages migrants to apply for asylum in Mexico "if they will be safe there."
"Unfortunately, many migrants will not be safe if they stay in Mexico, or they already received refugee status there but suffered additional harm," the organization said. "We encourage these folks to follow lawful procedures in seeking asylum in the U.S., i.e. presenting themselves to CBP at a port of entry," it added.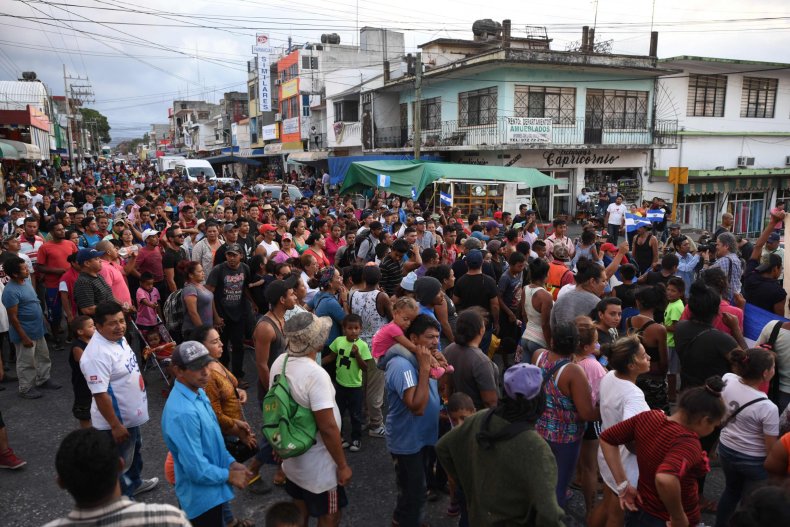 The organization also hit out at Trump supporters, writing: "I'm surprised more MAGA folks aren't supporting the Honduran refugees...Google '[Hillary] Clinton Honduras' and do a little research on the last Honduran election to understand why these people are fleeing."
Related: Migrant caravan stopped well before Trump's promise to militarize U.S. border
Clinton faced scrutiny during her 2016 presidential election bid over her stance on the ouster of former Honduran President Manuel Zelaya in 2009, when she was secretary of state under the Obama administration.
The Obama administration repeatedly called Zelaya's removal a coup, but it stopped short of labeling it a "military coup," which would have meant suspending aid to the Central American country.
In the years following the June 2009 coup, Honduras has seen increased insecurity and violence, which has resulted in tens of thousands of people seeking refuge in the U.S., according to Amnesty International.
Between January and October, as many as 14,735 Hondurans sought asylum worldwide, mostly in Mexico and the U.S., the organization says on its website, adding that refugees are "forcibly returned from these countries to the same life-threatening situations which initially pushed them to escape."
Many of the marchers in the refugee caravan headed toward the U.S. are coming from Honduras, where disputed elections in November led to weeks of street protests and "brutal" repression, according to the Latin America Working Group (LAWG).
"The United States should have cut off all military aid to Honduras due to the brutal killings of people by Honduran security forces, most by the military police, who were protesting against electoral fraud after the contested November 2017 elections," Lisa Haugaard, executive director of LAWG said in a statement.
"We are reaping what we sow in Honduras: a failure of the international community including the United States to take a strong stance against repression is intensifying the human rights crisis in the country and contributing to the outflow of refugees," Haugaard added.