Where to Chase Cherry Blossoms This Spring
Japan's prime for these pretty petals, but there are many other locales to see the lush blossoms that usher in spring.
It's "Hanami" season, a time where many welcome spring by viewing the delicate blossoms of cherry trees opening up. Cherry blossoms (or "sakura") are an iconic symbol of Japan, where the tradition of viewing these pale pink and white flowers dates back to around 710 AD. In subsequent centuries, the tradition has become more global, with many other countries participating in the practice.
Cherry blossoms generally bloom between late-March and mid-April, but many factors contribute to the exact timing of "peak bloom," the period when the flowers open and last about a week or two afterwards—for example, due to a temperate winter in 2007, New York cherry blossoms began to bloom in January.
Temperature, precipitation, wind, and other meteorological and environmental conditions all affect precisely when they bloom, which has lead to Japanese weather authorities forecasting when a "cherry blossom front" will approach. The prediction is so popular, last year Shimadzu Business Systems Corp. of Kyoto started a competition between human and AI intelligence to see who would accurately prognosticate this year's cherry blossom front.
This year, AI reports a March 20 date for peak bloom in Tokyo, while human intelligence predicts March 23—that may seem insignificant, but these blossoms are famous for symbolizing evanescence and the fleeting beauty of life, so 72 hours means a lot.
While places across the world like India and Brazil have cherry blossom festivals of their own, they're at different times of year due to their climates; to celebrate the upcoming blooms in the Northern Hemisphere, we've curated a bouquet of cities where you can sit back and stop to smell the sakura.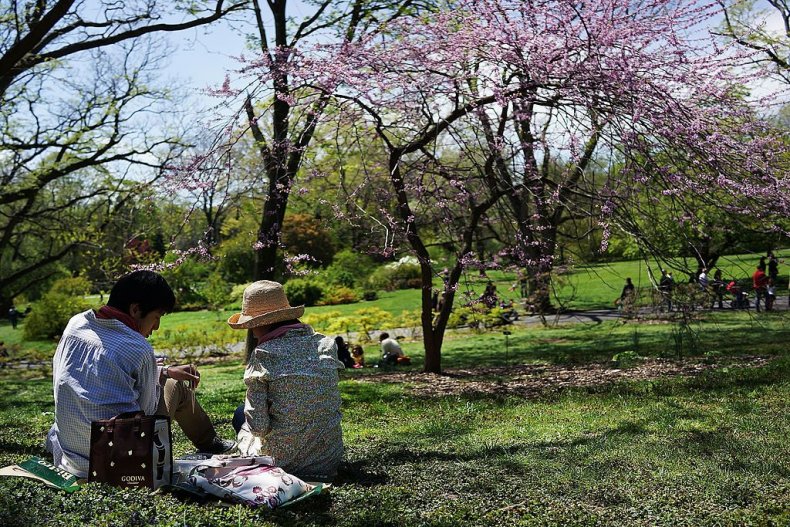 New York City
The Big Apple could be renamed the Big Cherry this time of year since it's one of the best places in the U.S. to see cherry blossoms. The Brooklyn Botanic Garden's Japanese Hill-and-Pond Garden boasts a traditional torii gate and koi pond lined with several species of cherry trees that burst with pink and white flowers each spring.
Each year when the blooms are at their peak, this year April 28-29, they celebrate with the Sakura Matsuri festival. The gathering assembles a cluster of Japanese cultural events, including live jazz inspired by video game themes, traditional tea ceremonies, fashion shows and a guided tour educating festival-goers on the flora in the garden.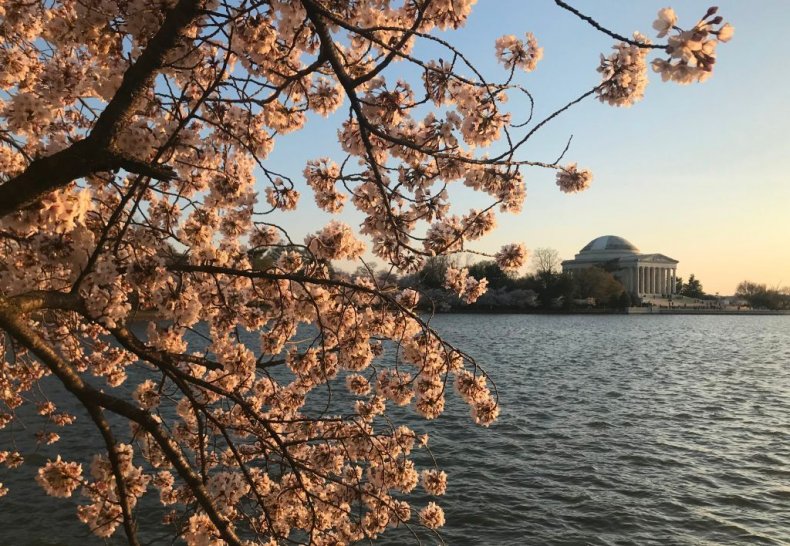 Washington, D.C.
In 1912 Japan gifted the United States some 3,020 cherry trees in a gesture of friendship. First Lady Taft and the Viscountess Chinda (then wife of the Japanese Ambassador) planted two in D.C., where they still thrive today.
Since the 1990s, the resplendent pink blooms that dotted D.C. for nearly a century inspired a two-week long celebration of their beauty, attracting many tourists who think of it as the cherry blossom capital of the U.S.
Today, many hotels offer premium cherry blossom packages for flower-gazers, like the Watergate's, which provides luxury accomodations, plus special activities like flower crown classes and cherry blossom chocolate truffle making.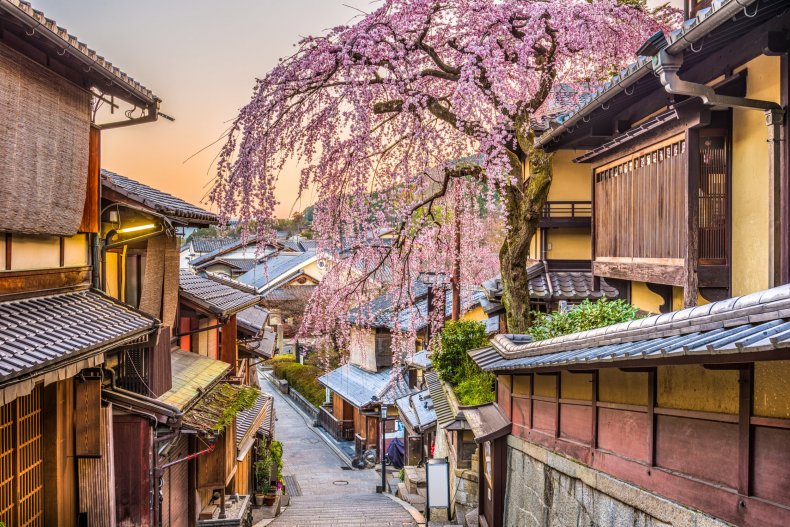 Kyoto, Japan
The original practice and celebration of Hanami was galvanized in Japan's old capital, Kyoto, where the Imperial Courts would hold nightly celebrations with sake never ceasing to flow. That jubilance is still present in Kyoto, where petals will even twirl down alleyways to put a little pink in you step.
Maruyama Park is a popular spot for locals to set up picnics underneath the blossoms (and if you arrive early, you may even see some junior executives in sleeping bags staking out the best spots for their CEO.) The centerpiece of the park is a large shidarezakura (weeping cherry tree) that's nearly a century old.
The Ritz-Carlton Kyoto, built along the Kamo River, is an ideal viewing space for luxury travelers since the river is dotted with cherry trees. Special packages include a seasonal suite, sakura bento box at The Lobby Lounge terrace and spring cocktails at the bar.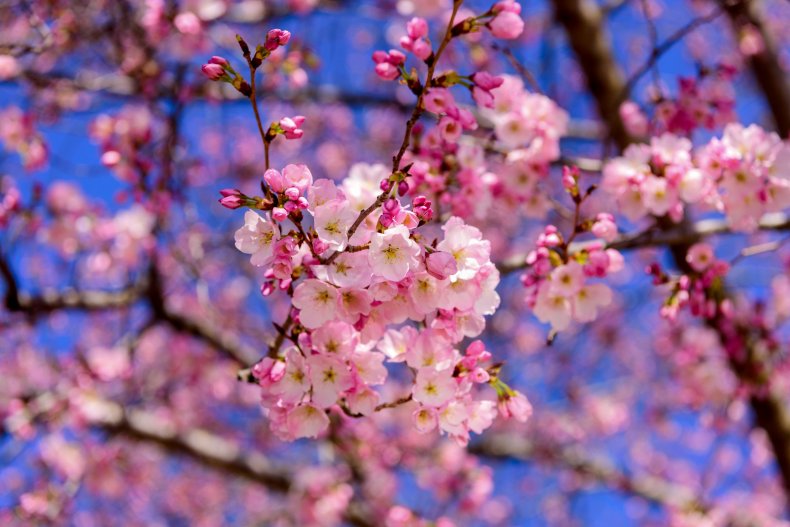 Vilnius, Lithuania
Every spring, Lithuanians flock to the Baltasis Tiltas (White Bridge) over the Neris river to view cherry blossoms bursting in Sugihara Sakura Park. The cherry trees were planted in Vilnius in 2001, commemorating the hundredth anniversary of former vice consul of Japan to Lithuania, Chiune Sugihara. Serving during World War II, Sugihara is revered for saving 6,000 Jews from the Holocaust by providing them transit visas to escape Europe through Japanese territory.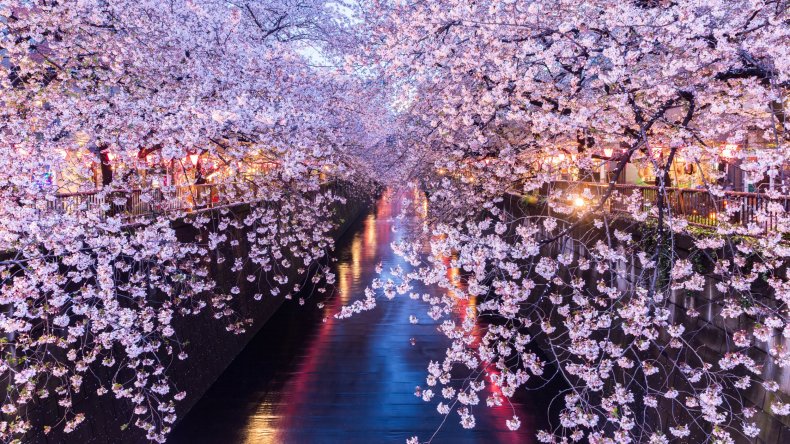 Tokyo, Japan
Since the cherry blossom in the designated official flower of Tokyo, you cannot visit the Japanese capital this time of year without enjoying them—in fact, it's unavoidable.
Ueno Park has more than one thousand trees lining the pathway to Tokyo's National Museum, and Shinjuku Gyoen is the ideal place to have a picnic respite and still be steps away from the heart of the city. For a truly idyllic experience, view the cherry blossoms lit up across the Meguro River during the Nakameguro Sakura Festival.
Be on the look-out for sakura-flavored treats at street vendors, from ice cream to mochi, which has a light cherry flavor mixed with a subtle perfume quality.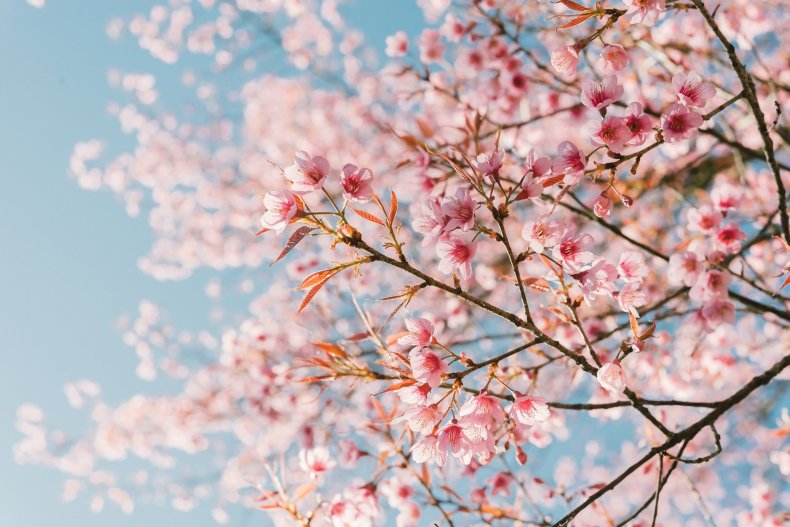 Macon, Georgia
If a trip to Japan or D.C. is outside of your budget, you can still find gorgeous blooms in the unlikeliest of places.
Though people identify American hanami with Washington, D.C., Macon, Georgia is actually the cherry blossom capital of the States with 300,000–350,000 Yoshino cherry trees blooming each spring (it's so big, they actually own the URL "cherryblossom.com").
They have a slew of events during this year's festival, from a tribute to Prince to a dachshund race down Cherry Street.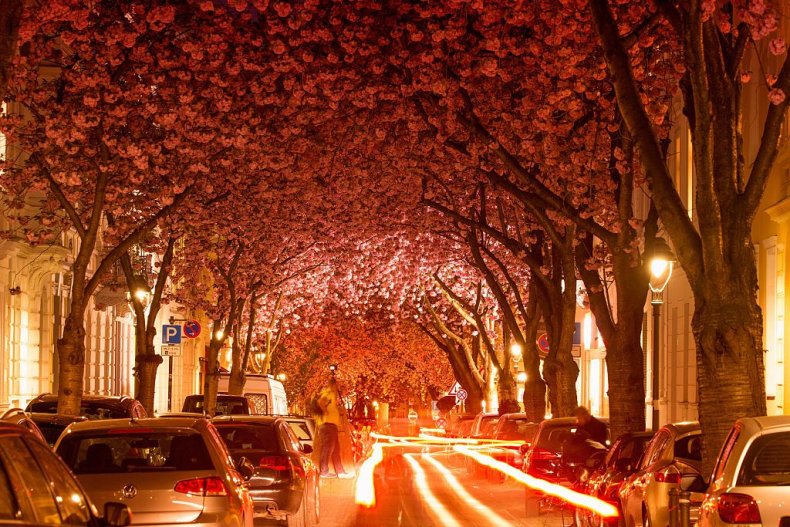 Bonn, Germany
Why not sip kirschwasser under kirschbäume in Germany? Many of Bonn's quaint streets are lined with cherry trees gifted from Japan to stoke reunification after World War II. The Kirschblütenfest takes place in the altstadt (old town) during peak bloom, where you can canoe down the petal-strewn Alster and top off the night with a dazzling fireworks display.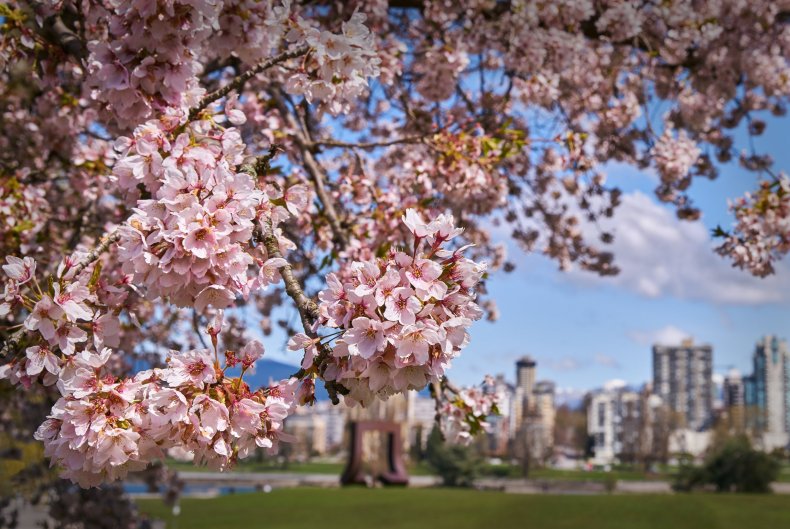 Vancouver, Canada
Canada trades maple leaves for cherry blossoms as iconic foliage this time of year—at least in Vancouver. Some 40,000 have taken root in the British Columbia city, where locals enjoy the sights, sounds and flavors this time of year.
From Queen Elizabeth to Stanley Parks, there's not an inch of Vancouver that isn't graced with a cherry blossom—look out for tutorials , and kick it all off with the Cherry Jam Downtown, a concert featuring local talent (like Zimbamoto Trio) and sure-to-be memorable performances, all in the pink.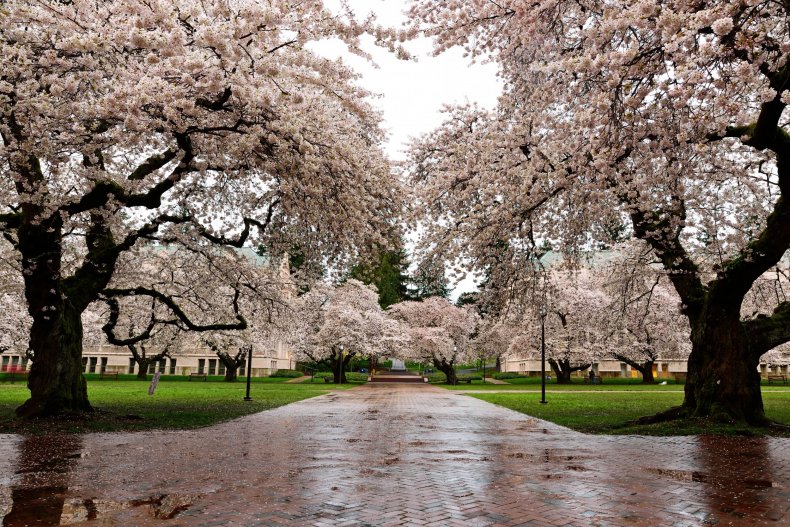 Seattle, Washington
Japanese Prime Minister Take Miki bestowed 1,000 cherry trees to the city of Seattle in 1976, as a love letter commemorating the U.S.'s bicentennial.
From Washington Park Arboretum to lining the campus of Washington State University (those even have their own Twitter account!), visitors can enjoy the Emerald City turning pink this time of year—Japanese flower arranging (ikebana) and calligraphy (shodo) are just some of the crafts you can commemorate seeing the fleeting beauty of sakura.