Where Could D'Angelo Russell, Clint Capela and Others Land As NBA Trade Deadline Looms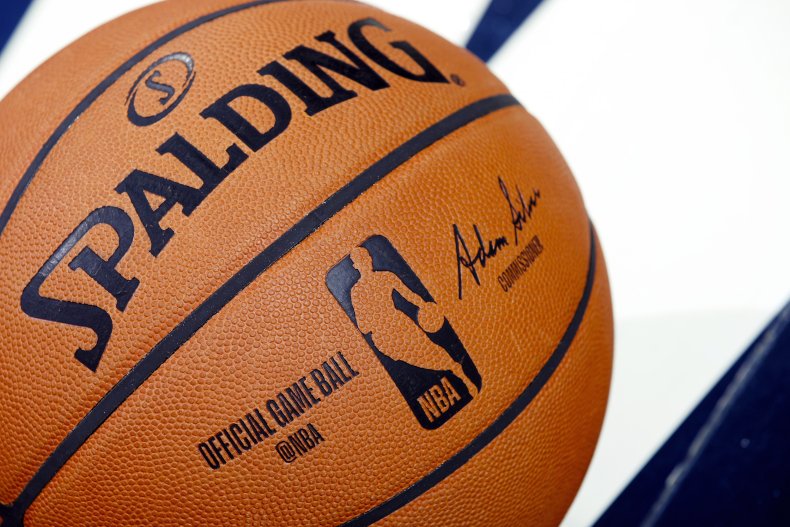 As the NBA's trade deadline on Thursday, February 6 comes closer, a number of different teams have begun discussing players they would be interested in adding or trading away.
Next week's NBA All-Star Game will mark the halfway point of the season, and this combined with the tight standings in both the Eastern and Western conferences has forced many teams to begin trade discussions in an effort to bolster rosters during the second half of the season.
Some of the big-name players and teams that have been introduced in NBA trade talks are listed below.
D'Angelo Russell, guard, Golden State Warriors
Russell is in his first season with the Warriors, but it already looks like the team may want to move in a different direction and trade him away. According to Marc Stein of The New York Times and Shams Charania of The Athletic, the Warriors have engaged in trade talks for Russell with the Minnesota Timberwolves and the New York Knicks.
Russell is currently averaging 23.8 points, 3.7 rebounds and 6.3 assists for the Warriors, but could pose as a strong point guard to pair with the Timberwolves big man, Karl Anthony Towns or the Knicks' young core of R.J. Barrett, Mitchell Robinson and Kevin Knox. Despite the different discussions, Charania reported that the Warriors are looking for a "significant draft compensation," which may lead teams like the Timberwolves and Knicks away, forcing the Warriors to wait until the offseason, when they could receive offers from more teams.
Clint Capela, center, Houston Rockets
According to ESPN's Adrian Wojnarowski, the Rockets have engaged in trade talks with a few different teams in regard to Capela. Over the course of the season, Capela is averaging 13.9 points, 13.8 rebounds and 1.2 assists, but according to Wojnarowski, the Rockets are interested in adding a wing player to the team.
The Rockets are currently engaging talks about Capela with a few different Eastern conference teams including the Atlanta Hawks, who want a forward to pair with their young guard, Trae Young.
The Rockets are currently 31-18, which is 5th in the Western Conference and are interested in adding an impact wing player to place next to guards James Harden and Russell Westbrook. Wojnarowski also reported that the Boston Celtics have engaged in trade talks regarding Capela.
Robert Covington, forward, Minnesota Timberwolves
According to Marc Stein, the Timberwolves are seeking "two first-round picks in exchange" for Covington. Stein also reports that the Houston Rockets and the Philadelphia 76ers are at the top of the list of teams who are interested in Covington.
According to Charania, a few other teams have shown interest such as the Milwaukee Bucks and the Dallas Mavericks. In the current season, Covington is averaging 12.8 points and 5.9 rebounds, but the Timberwolves have been struggling this year, with a 15-33 record, placing them in 14th in the Western Conference.
Tristian Thompson, forward, Cleveland Cavaliers
On Monday, Chris Haynes of Yahoo Sports reported that the Cavaliers had made Thompson available for trade talks. The Cavs' are currently 13-27, and according to Haynes, are in "asset accumulation mode," meaning they're looking for young players or draft picks in exchange for Thompson.
Thompson is currently having one of the most impressive years of his career, averaging 11.9 points and 10.4 rebounds. He can pose as a strong defensive and rebounding addition to any team looking to make a championship run.
Andre Iguodala, forward, Memphis Grizzlies
After spending multiple years with the Golden State Warriors, Iguodala was traded to the Grizzlies, but has yet to play a game and it looks like he will be traded before he does. According to Stein, the Grizzlies would like to trade Iguodala instead of buying his contract out, and some teams that have been in discussions include the Mavericks, the Denver Nuggets, the Rockets and the Los Angeles Clippers.
Iguodala provides a strong veteran presence that could help teams making the final push for a playoff run.
Andre Drummond, center, Detroit Pistons
In previous weeks, Drummond was one of the biggest names in potential trade talks, though that has slowed down in recent days. Despite this, ESPN's Zach Lowe has reported that the Pistons "haven't given up hope" in regard to trading Drummond.
Drummond holds a $28.8 million player option contract for the upcoming season, which has scared some teams away, but his season averages could interest some teams in need of a strong rebounding and defensive center. Drummond is currently averaging 17.3 points and 15.7 rebounds, which leads the NBA. Some teams that could be in the market for a center like Drummond include the Boston Celtics, Rockets, Miami Heat and the Clippers.
Marcus Morris, forward, New York Knicks
According to Wojnarowski, the Knicks have stated that they would like to re-sign Morris next season, "but as trade offers become richer in assets this week, they'll stay open to the idea of moving him. Many contenders have an interest in him."
The Knicks are currently 14-36, 13th in the Eastern Conference, but have a very young core of players. Morris has played well this season, averaging 19.4 points and 5.5 rebounds, but as Wojnarowski notes, trading Morris could become a greater possibility if the Knicks are offered younger draft assets. One team that could use a strong wing and 3-point shooter like Morris is the Clippers, who are expected to go deep into the playoffs.
Kyle Kuzma, guard, Los Angeles Lakers
Since the start of the NBA season, Kuzma has been a name constantly in potential trade talks for the Lakers. According to ESPN's Zach Lowe, the Lakers have "investigated the market" on Kuzma and are interested in adding a "ball handler."
Despite's Lowe's report, Wojnarowski believes that his contract makes him a difficult player for other teams to trade for. "I think his contract makes it hard, he's just making over $2 million," Wojnarowski said on his podcast The Woj Pod. "It makes it hard to make the money work on a trade somewhere, because how do you make it work for him financially? If you're trading for an established veteran player, you assume he's making a lot more than $2 million."
Kuzma has played well this season, averaging 13 points, 4 rebounds and 1 assist, but the Lakers, who are expected to make a deep run in the playoffs, may want to add a veteran presence like Iguodala, who has played in multiple NBA Finals.