Where Could Odell Beckham Jr. Land? Here's a List of Star Receiver's Expected Suitors
The Cleveland Browns announced on Friday they were releasing wide receiver Odell Beckham Jr. The star player reportedly reached a deal with the team on Saturday that will allow him to go on waivers Monday, where he can be picked up before Tuesday or become a free agent if he goes unclaimed.
Though his 2021 campaign with Cleveland has been a disappointment—he has not scored a touchdown all season—Beckham has reportedly caught the interest of several teams.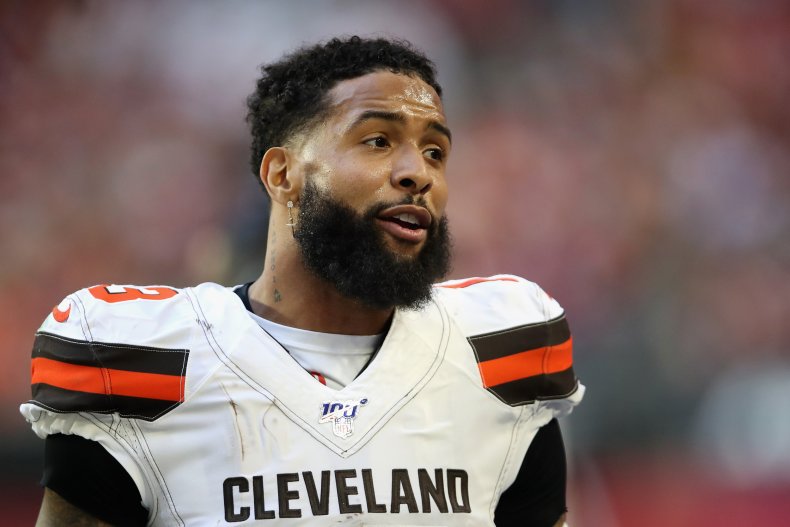 Beckham started his professional career with the New York Giants in 2014, and he quickly became a star. During his rookie year, he made a spectacular play, that was listed as one of the NFL's all-time best when he caught a pass one-handed into the end zone for a touchdown against the Dallas Cowboys.
Beckham won the NFL Offensive Rookie of the Year award and has been a three-time Pro Bowl selection. The Giants traded Beckham to Cleveland prior to the 2019 season, and he initially enjoyed success on the field with his new team.
A torn ACL shortened his 2020 season, while 2021 found him marred in a public spat with the Browns due to what he felt was a lack of throws to him from quarterback Baker Mayfield.
On Tuesday, Beckham's father, Odell Beckham Sr., posted a video on Instagram that showed instances of Mayfield not passing to Beckham. Beckham Jr. sat out of practice after the video was shared, and the team announced his departure on Friday.
The Browns voided the final two years of Beckham's deal, and he will be owed $7.5 million for the rest of this season if he gets claimed on waivers. If he goes unclaimed by Tuesday's 4 p.m. waiver deadline, the Browns will owe him $4.25 million, and he can be signed as a free agent at the veteran minimum.
According to USA Today's Mike Jones, the Seattle Seahawks are interested in picking up Beckham. Jones reported that Seahawks quarterback Russell Wilson had spoken with Seattle officials in an attempt to convince them to sign Beckham if he becomes available and that the team has recently been scouting him.
The Jacksonville Jaguars, Philadelphia Eagles, Denver Broncos, Carolina Panthers, San Diego Chargers, Pittsburgh Steelers, Cincinnati Bengals and the Washington Football Team also all have salary-cap space and are reportedly interested in the receiver's talents.
Meanwhile, John Breech of CBS Sports put the Seahawks at the top of his list of as Beckham's next designation. He also cited the San Francisco 49ers, Indianapolis Colts and New England Patriots as other potential landing spots.
FOX Bet placed the best odds on the Las Vegas Raiders for being Beckham's next team.
Skip Bayless of Fox Sports also said Las Vegas could suit Beckham, though he also said any large city could suit the star.
"I believe city is very important in Odell's fit. Big Apple—perfect. Anything L.A. would have been perfect," Bayless said on Friday's episode of Skip And Shannon: Undisputed. "Other than that, there's only one other place to go to me, and it's Vegas, baby. It's where Odell would feel comfortable...It's glitz, it's glamour, it's got mystique."