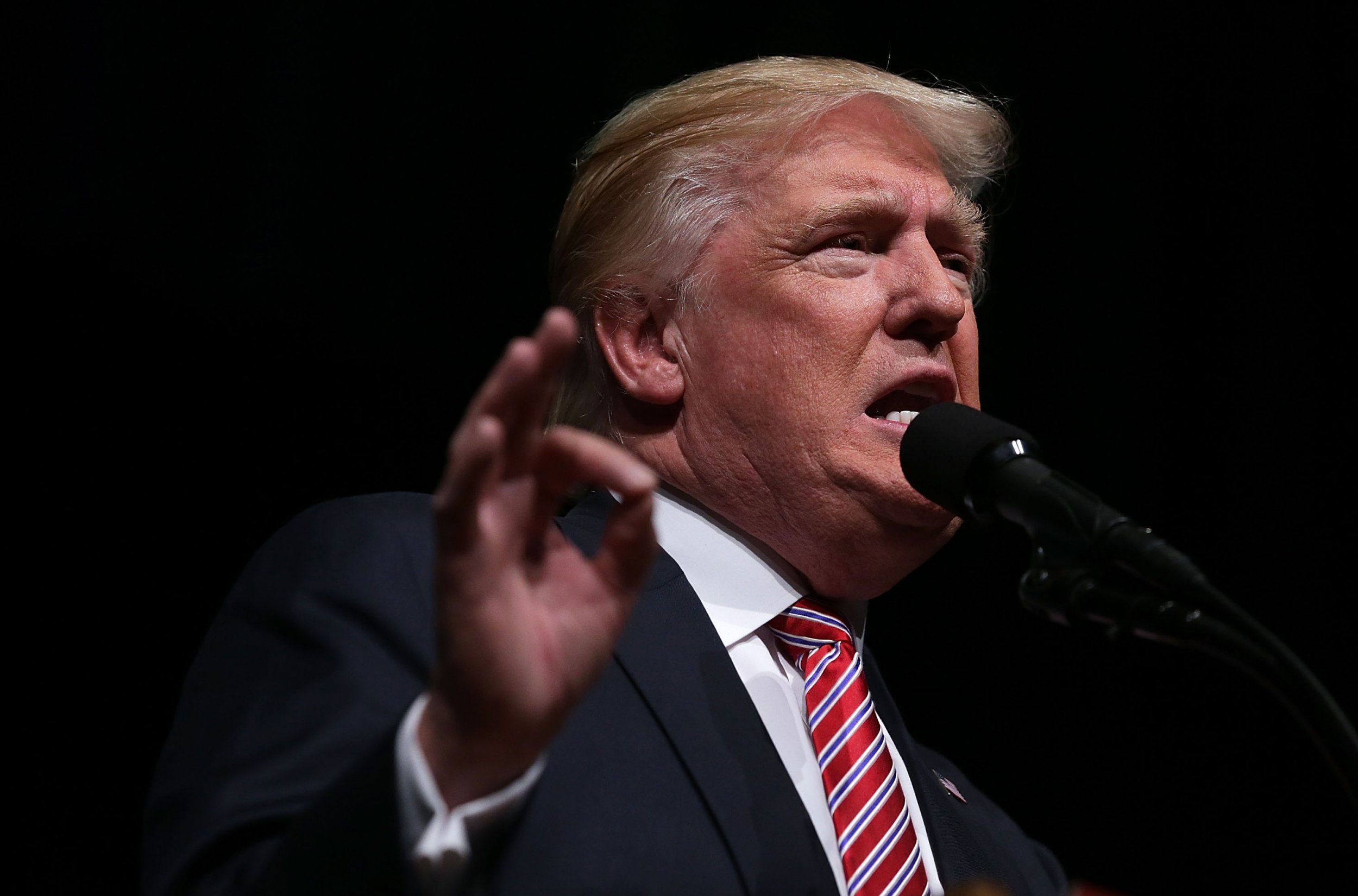 "Is Donald Trump really a wannabe mole for the Kremlin?" one of the headlines of Russia's main pro-government tabloids reads on Friday. "No wonder two of his wives are from our kind, beautiful, slavic," Komsomolskaya Pravda declared, referring to Trump's Czech-American ex-wife Ivana Trump and Slovenian-born current wife Melania Trump.
While the headline is meant to be humorous and the article is written with the kind of bombastic punctuation one could also find on a circus poster (there were at least 33 exclamation marks in the text), speculation about the U.S. presidential candidates' existing or potential relationships with Russia has increased as the November vote nears. Here are a few key positions that the Democratic Party's Hillary Clinton and the Republican Party's Donald Trump have taken on Russia in the past.
Relationship With Vladimir Putin
Clinton: While her term as secretary of state saw her meet with many world leaders, she came into the role as Dmitry Medvedev succeeded Putin as president in 2008. Putin returned in 2012, only months before Clinton's mandate finished. Even so, the two have an icy relationship.
Clinton in 2008 repeatedly warned Republican President George W. Bush that he should be wary of basing foreign policy on his personal relationship with Putin, and in 2014 she compared Putin to Adolf Hitler. During her current campaign, she took a long pause when asked about her relationship with Putin, before calling it "interesting" and branding him "a bully." She is keen to maintain U.S. sanctions on his inner circle and to persuade the EU to do so as well.
In return, Putin has taken jabs at Clinton, saying she often engages in confrontational rhetoric at a distance but in diplomatic surroundings engages with him in a much friendlier fashion: "When people cross the boundary of good manners, this attests to their weakness not their strength. But for a woman weakness is not the worst quality."
Trump: The Republican candidate's relationship with Putin, or lack thereof, has been the subject of much debate surrounding his campaign. In 2013, he claimed to have "a relationship" with Putin and described him as "a stablemate," and in 2014 he said he "spoke indirectly and directly to President Putin who could not have been nicer." Last weekend he told ABC he had "no relationship" with Putin and that he had not met him and had "never spoken to him on the phone,"
Although the Kremlin has issued favorable statements about Trump, calling him "lively" and "talented without a doubt," Putin has also said Russia will not say which candidate it prefers. His spokesman has said he would see no reason to celebrate a Trump electoral victory in Russia, while key Putin allies in Russia's upper house of parliament and in annexed Crimea have welcomed Trump's apparent openness to talk to Russia but expressed skepticism that this would still be the case if he is elected. The Kremlin has denied ever speaking with Trump, and there is much speculation about how a relationship between Putin and Trump would shape up.
Russian Airspace Violations
Clinton: Russia has increased air force activity in Europe since the start of the Ukraine crisis, and its airstrike campaign in Syria resulted in one of its jets being shot down by Turkey, after repeated violations. While NATO and some of Turkey's Western partners supported Ankara's decision, one that Turkey has since apologized for, Clinton avoided condoning it. Asked if she would shoot down a Russian jet, were it to violate foreign airspace during airstrikes in Syria, Clinton said it would not come down to that.
"That would not happen, because we're going to put up a no-fly zone where the Russians are clearly kept informed," Clinton said. "I want them at the table."
Trump: On this issue, the Republican candidate called for the more heavy-handed response. He was asked if he would advocate shooting down Russian aircraft if they approach U.S. military facilities abroad, as they did with the USS Donald Cook in the Baltic Sea.
"I mean, at a certain point, you have to do something," Trump told Buzzfeed in May. "You just can't take that. But it should certainly start with diplomacy and it should start quickly with a phone call to Putin, wouldn't you think?"
"And if that doesn't work out, I don't know, you know, at a certain point, when that sucker comes by you, you gotta shoot," Trump said. "And it's a shame. It's a shame. It's a total lack of respect for our country and it's a total lack of respect for Obama."
Russia's Annexation of Crimea
Clinton: The U.S. has been instrumental in uniting Western condemnation of Russia's annexation of the Crimean peninsula from Ukraine in 2014. The event triggered the imposition of U.S. and EU sanctions on Russia that have since been extended. Clinton considers condemning the annexation and upholding sanctions as crucial, though believes the U.S. should go further than it has, opening the door to sending lethal aid—something hardline Republicans such as Senator John McCain have pushed for.
"We have to do more to get back talking about how to we try to confine, contain, deter Russian aggression in Europe and beyond," she said in 2015. "And try to figure out what are the best tools for doing that. And don't lose sight of the Arctic because we're going to have a lot of issues up there as well."
In January of last year she said the U.S. should send more funding to Kiev and provide "new equipment, new training for the Ukrainians," though it is unclear if that would involve heavy arms.
Trump: One of the major policy differences between Trump and most senior Republicans is his apparent lack of suspiciousness of Russian activity in Ukraine, to the extent that his knowledge of the Ukraine conflict itself became the subject of much speculation after an interview with ABC last weekend. During the interview, he said Putin was "not going into Ukraine," and then was reminded that Russia had already annexed Crimea, Trump gave a confused response, noting that Putin was "there in a certain way" and said he would "take a look" at recognizing Russia's annexation of Crimea.
It is unclear if this is a genuine possibility or a tactic of dodging the question, as he has given the same answer regarding numerous other issues, such as suing rival Ted Cruz, increasing the minimum wage, the international climate change agreement and adopting renewable fuel standards. Notably, the Republicans have dropped their demand for supplying Ukraine with lethal aid since Trump became the party's nominee, which Trump insists was not his doing. He has also said he would look at suspending sanctions on Russia, but it is unclear under what conditions.
Working With Russia in Syria
Clinton: A strong advocate for military intervention and regime change in the past, Clinton faced much criticism from her Democratic rival Bernie Sanders for seeking to take action in Syria after past interventions in Libya and Iraq. She has issued strong statements against Syrian President Bashar al-Assad, a Russian ally, calling his removal a "number one priority," but she has also ruled out a large-scale U.S. troop deployment to do it. She has opened the door to working with Russia to bomb the militant group Islamic State (ISIS), but stressed that a joint effort to do so would require that Russia stop attacking other groups on the ground that are fighting both ISIS and Assad, and that Turkey do the same with Kurdish forces fighting ISIS.
"There is an important role for Russia to help in resolving the conflict in Syria," Clinton has said, though she ruled out a transition government with Assad in charge and warned Russia and Iran that "continuing to prop up a vicious dictator will not bring stability." She is in favor of introducing a no-fly zone, which would apply to Russia as well, to provide safe passage for refugees, and of pressing Moscow to have Assad scale back his control. She has also spoken favorably of incumbent Secretary of State John Kerry's attempts to speak to Russia and other parties in the conflict.
Trump: He has issued more sweeping statements, though often rhetorical, saying he wants to "get along" with Russia in Syria. What is more, despite repeated instances of Russia hitting opposition groups in Syria, Trump has stressed his confidence that Russia is committed to fighting ISIS and says the U.S. should trust it to do so alone.
"Russia wants to get rid of ISIS. We want to get rid of ISIS," he told CBS last year. "Maybe let Russia do it. Let 'em get rid of ISIS. What the hell do we care?"
He also told ABC that he would like to "sit back and...see what happens" with Russian airstrikes in Syria.
At the same time, Trump has backed the idea of ISIS toppling Assad, before the U.S. intervenes to fight ISIS. "Why aren't we letting ISIS go and fight Assad and then we pick up the remnants? Why aren't we doing this? We're fighting ISIS and Assad has to be saying to himself, 'They have the nicest or dumbest people that I've ever imagined,'" he told CBS. Last month, however, he stated that it would be "nice if we got together with Russia and knocked the hell out of ISIS," though he did not say in what capacity.