Where Do Confederate Statues Go After They're Removed?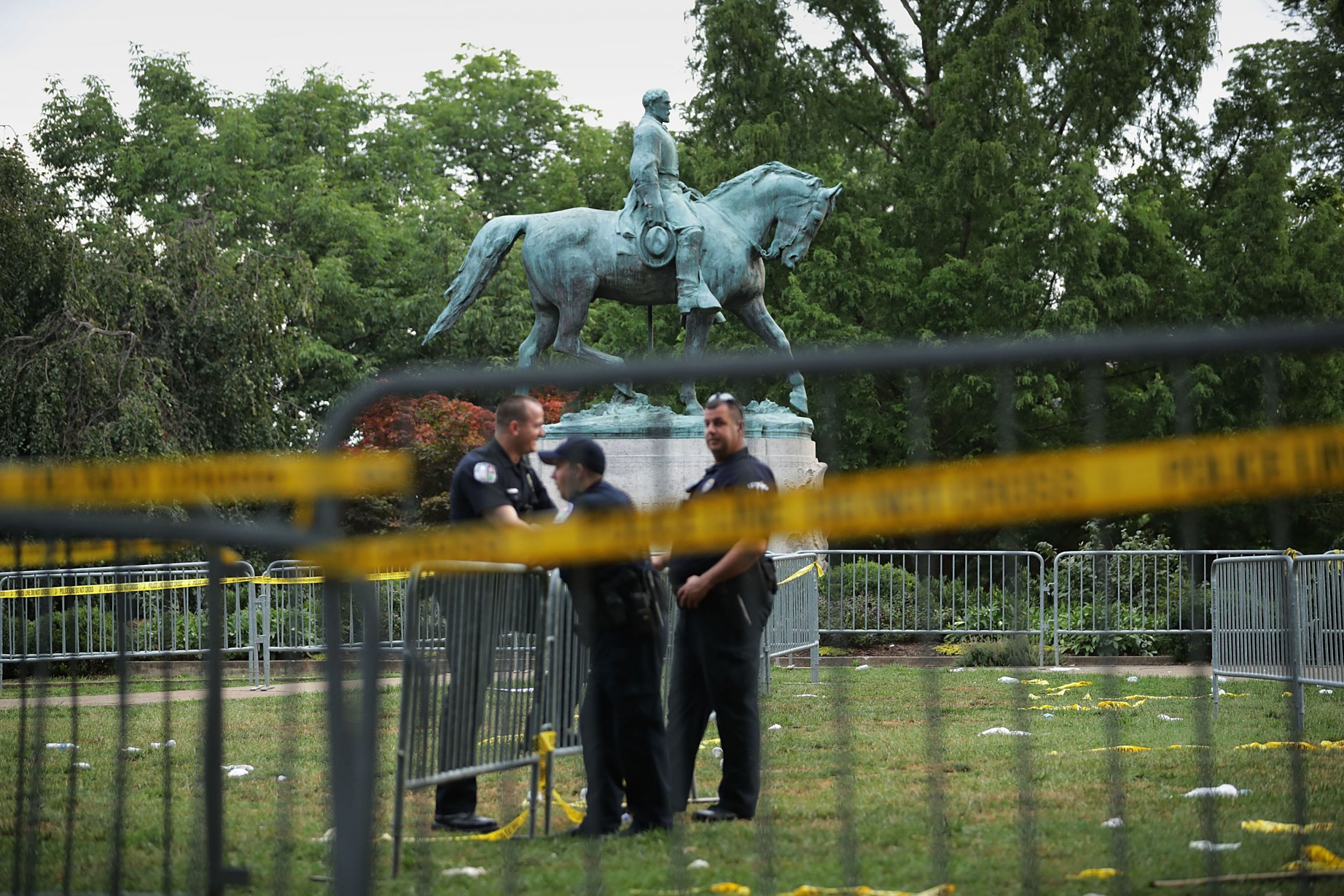 In the early hours on Wednesday, a work crew in Baltimore, flanked by police officers, took down monuments across the city dedicated to the Confederacy. The city council had voted on Monday for their removal, and the mayor issued the order. The statues included depictions of the southern generals Robert E. Lee and Thomas "Stonewall" Jackson. The mayor has suggested the statues be relocated to Confederate cemeteries in other states.
Less than two days earlier, in Durham, North Carolina, on Monday evening, protesters had looped a yellow strap around a tall statue of a Confederate soldier that stood outside a courthouse for almost a century. Members of the group yanked the strap, toppling the statue and drawing cheers from the ground. Protesters then ran up to the statue, mangled from the fall, and began stomping on it.
Soon after, North Carolina Governor Roy Cooper, a Democrat, tweeted, "The racism and deadly violence in Charlottesville is unacceptable but there is a better way to remove these monuments." He was referring to the protests and counter-protests in Charlottesville, Virginia, on August 12 that resulted in one death. Those protests involved a Confederate monument, too: an equestrian statue of General Lee that dates to 1924. The city council had voted to remove the statue, a decision that opponents are fighting.
Cities, states and other municipalities, as well as universities, have been struggling with what to do with their Confederate iconography. As of April 2016, there were 718 such monuments and statues on public property in the United States, according to the Southern Poverty Law Center. Debate over those monuments has flared since the deadly mass shooting at a Charleston, South Carolina, church by a white supremacist in 2015. State or local governments have made at least 100 attempts to remove or alter the monuments, the Southern Poverty Law Center said. And since the recent violence in Charlottesville, where a white supremacist is suspected of plowing a car into a group of counter-protesters, killing a woman, cities and activists seem to be giving new attention to the statues issue.
Newsweek subscription offers >
Related: The fight over Confederate monuments is influencing politics
But despite how widespread the debate over Confederate statues has become, there appears to be no standard way for deciding where they should go when jurisdictions remove them.
In June, the city of Orlando sent a statue of "Johnny Reb," a personification of the south, to a section of a local cemetery that is dedicated to southern Civil War veterans. Elsewhere in Florida, in July, a chapter of the United Daughters of the Confederacy agreed to accept a statue from the city of Gainesville. (The organization had erected the monument in 1904.) That was after a local history museum declined to accept it, and a veterans group objected to its transfer to a park, according to a local report. On Monday, workers hired by the organization removed the monument "with little fanfare," as the Associated Press put it.
Some municipalities have been eager to accept monuments from those that have removed them. In May, the small city of Brandenburg, Kentucky, welcomed a memorial to Confederate soldiers that the University of Louisville had removed last November. Brandenburg Mayor Ronnie Joyner says that as a debate was occurring in Louisville over what to do with the monument, a local historian emailed him to ask if his city would be interested in taking it. "We said yes, we were definitely interested in it," Joyner says. So he went to Louisville and gave a presentation and, he says, "evidently they liked it."
Newsweek subscription offers >
Joyner believed it was important to secure the monument because of its history. "I don't look at it as a black versus white issue, I don't look at it as a slavery issue," he says. "This is a monument that is dedicated to Confederate veterans." Five plaques will accompany the monument explaining its history. The mayor says he saw the news about the toppling of the statue in Durham: "Maybe that's the trend of some of the places in the big city. I just hope that doesn't come here."
In the wake of the Charleston church shooting, the executive of Montgomery County, Maryland, decided a statue that had stood since 1913 on county-owned property in the city of Rockville had to go. "We looked at a variety of options," says Matthew Logan, executive director of the Montgomery County Historical Society, whose help the county enlisted to relocate the statue. The historical society offered to take it, but the society sits on city land and the city declined the offer. "The county was basically left with looking for a private location," he says.
In July, the local government gave the statue to White's Ferry, a private cable ferry service based in Dickerson, Maryland, that brings passengers across the Potamac River and has a store and grill and rents canoes. The ferry runs the same route as one that predated the Civil War, according to its owners. "I'm glad to have it at White's Ferry. I have no objection to it," says R. Edwin Brown, 97, who has helped run the ferry since it returned to service in 1946. If any customers "object to it," he says, they can drive some 30 miles north and "go take the bridge across the river."
But Brown adds that he might have been more reluctant to accept the statue if he knew the extent to which the local news would cover its relocating to his ferry landing. "I like to think to accomodate the county was the proper thing to do," he says.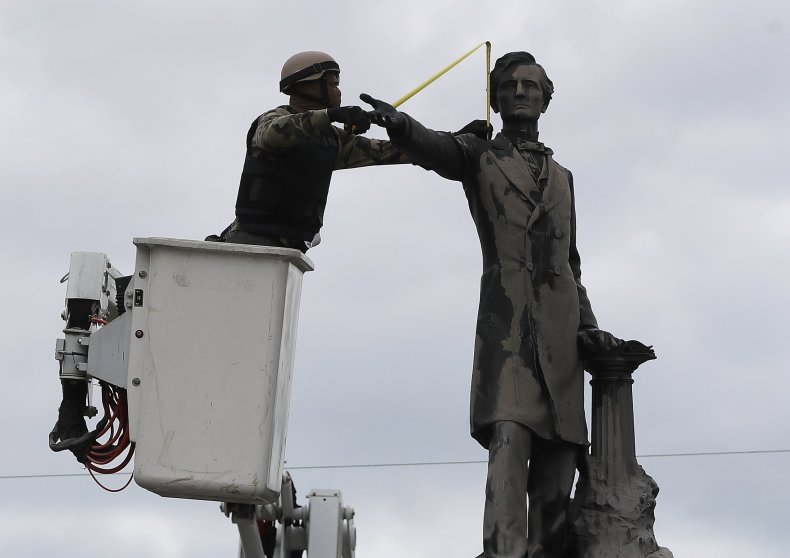 When governments or institutions wait to find a home for removed monuments, the statues remain in limbo, sometimes at city warehouses. That is the case in New Orleans, where local authorities are considering proposals for the future of the four monuments it removed in the spring. "The city is in the process of determining a more appropriate place to display the statues post-removal, such as a museum or other site, where they can be placed in their proper historical context from a dark period of American history," the city said in May in a press release. The statues were placed in "city-owned warehouses or secure facilities." Only nonprofits and governments can submit proposals for the monuments, and they cannot be displayed outdoors on public property in the city, the release said.
Thomas Payne, the executive director of Beauvoir, the Mississippi estate that houses the Jefferson Davis Presidential Library, told The Times-Picayune in May that he had sought to take one or more of the monuments. "Our interest is in preserving history, and we certainly don't want history to be erased or otherwise eliminated," he said. A spokesperson for Beauvoir declined to comment on Tuesday.
Two institutions that say they will not be accepting Confederate monuments are Washington and Lee University in Lexington, Virginia, which is partly named for General Lee, and the Smithsonian, according to representatives for those places, disputing prior reports that the New Orleans monuments could go there. "The Smithsonian does not collect monuments or memorials," Smithsonian chief spokesperson Linda St. Thomas says by email. "The Civil War, protest movements, segregation, the civil rights movement and many other eras in American history are well represented in our collections."
Why not just destroy the statues, as one city council member in Baltimore suggested after the removal of the monuments there on Monday? Historians have argued for their preservation. "It is vital that we keep these things and use them as symbols for our memory," says Logan, from the Montgomery County Historical Society. Without them, he continues, people might not "realize how far we've come and the process that it took." But teaching that history should happen in museums, not public spaces," he says, "so that it's understood that you're looking at a historical relic as opposed to a symbol of current values."
Republican lawmakers in some places have opposed the removal of statues, and Alabama passed a law in May that prevents local jurisdictions from removing or renaming monuments that are more than 40 years old without state approval. During a press conference on Tuesday, President Donald Trump weighed in on the monuments issue, explaining his opposition to their removal: "Are we going to take down statues to George Washington? How about Thomas Jefferson?... You're changing history. You're changing culture."
Where Do Confederate Statues Go After They're Removed? | U.S.