Where Do Key Democrats Stand on Packing the Supreme Court?
Court packing has become a trending topic of conversation amongst Democratic legislators in the wake of Supreme Court Associate Justice Ruth Bader Ginsburg's death Friday.
Though it's a concept that several key Democrats voiced support for in recent days, Democratic presidential candidate Joe Biden said last year he did not think it would be a good idea—and Ginsburg herself said more than a year before her death that she believed nine was an ideal number of justices for the high court.
The Constitution does not specify how many justices should serve on the Supreme Court, and the number fluctuated during the first several decades of the court's existence as the U.S. expanded. In 1869, Congress settled on a total of nine seats on the Supreme Court, and that number has remained the same throughout the 151 years since.
The idea of court packing, or expanding the Supreme Court, gained traction in 1937 as former President Franklin Delano Roosevelt faced opposition to some of the New Deal initiatives he launched in response to the Great Depression. Roosevelt came up with the idea of adding one justice for every Supreme Court member over the age of 70, which could have expanded the number of justices on the court at that time to 15. The idea was harshly criticized and never implemented.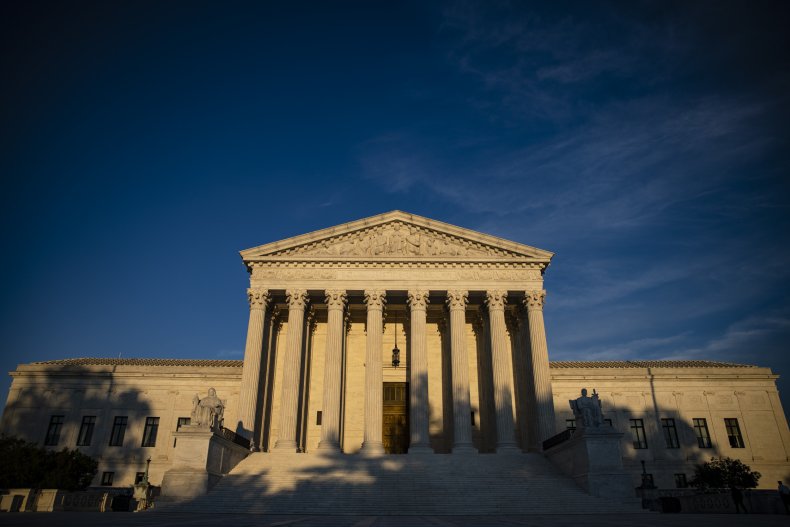 "I think it was a bad idea when President Franklin Roosevelt tried to pack the court," Ginsburg told NPR last summer. She added that the concept of court packing introduces a political element that the Supreme Court tries to avoid. "If anything would make the court look partisan, it would be that," Ginsburg said.
Discussions of court packing reignited after the Republican-controlled Senate blocked former President Barack Obama's judicial nominee about nine months before the 2016 presidential election. Last year, a handful of Democrats campaigning for the party's presidential nomination—including vice presidential candidate Kamala Harris—said it was a strategy they would consider if their party regained control of the Senate and executive branch in 2020.
But Biden has said on more than one occasion that he does not think adding justices to the court would be a good idea. "I'm not prepared to go on and try to pack the court, because we'll live to rue that day," he told Iowa Starting Line in July 2019. He reiterated his position during a primary debate last October when he said, "I would not pack the court."
Biden has not addressed court packing in the days since Ginsburg's death. Newsweek reached out to Biden's campaign for comment but did not receive a response in time for publication.
After Ginsburg's death, Republican Senate Majority Leader Mitch McConnell said that, unlike in 2016, he does not believe it is necessary to postpone a new Supreme Court appointment this time around and plans to move forward with securing Ginsburg's replacement quickly. President Donald Trump said on Monday that he plans to announce his nomination later this week. The swift pace caused many Democrats to speak out against the nomination plans and weigh in on court packing and other strategies to alter the nomination process and the structure of the high court.
Here are some of the comments leading Democrats have made about court packing so far.
Vice Presidential Nominee Kamala Harris
"We are on the verge of a crisis of confidence in the Supreme Court," the California senator told Politico when she was campaigning for the party's presidential nomination in early 2019. "We have to take this challenge head on, and everything is on the table to do that."
Senate Minority Leader Chuck Schumer
"We first have to win the majority before that can happen, but once we win the majority, God willing, everything is on the table," Schumer said when a reporter asked him about court packing on Sunday.
Vermont Senator Bernie Sanders
"My worry is that the next time the Republicans are in power they will do the same thing," he told Reuters about court packing in April 2019. "I think that is not the ultimate solution." He continued to resist the idea of court packing during a primary debate last summer but said he would be interested in exploring other strategies—such as rotating judges in from other courts—to shift the Supreme Court, according to The Hill.
New York Representative Alexandria Ocasio-Cortez
"If Republicans do want to move forward in breaking their previous convention, then we should leave all options on the table, including the numbers of justices that are on the Supreme Court," Ocasio-Cortez told a reporter with WNBC on Saturday. When asked specifically about expanding the Supreme Court, Ocasio-Cortez said, "I think that's absolutely an option that we should be weighing."
Massachusetts Senator Ed Markey
"Mitch McConnell set the precedent. No Supreme Court vacancies filled in an election year," Markey said on Twitter on Friday. "If he violates it, when Democrats control the Senate in the next Congress, we must abolish the filibuster and expand the Supreme Court."