Where Does Brazil's Loss to Germany Rank Amongst All-Time Shocking Defeats?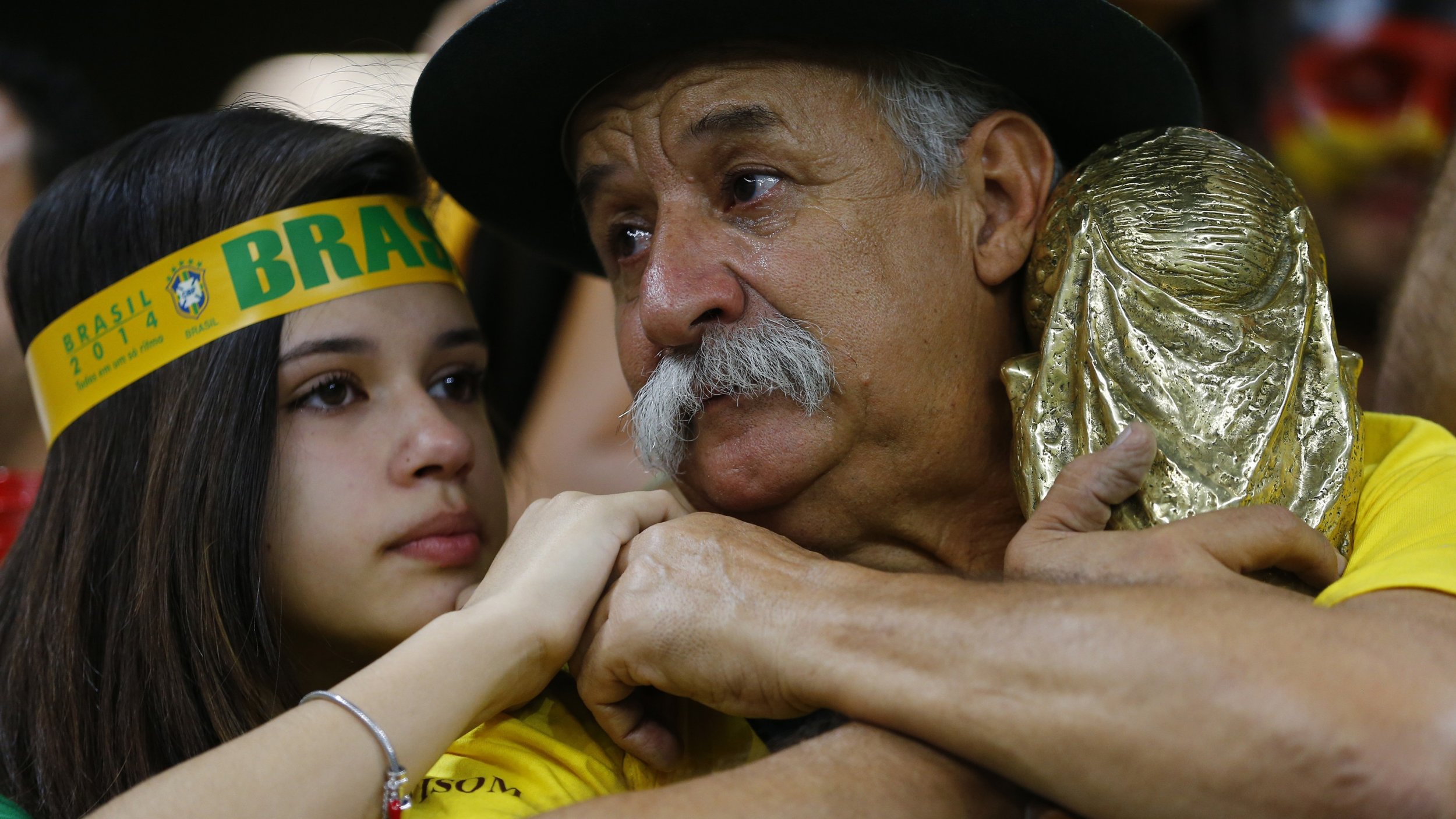 Football has never witnessed a defeat comparable to the devastation that host nation Brazil suffered at the feet of Germany on Tuesday afternoon in the World Cup semi-finals. Certainly, nations have lost by larger margins—Australia annihilated American Samoa in a 2001 World Cup qualifier, 31-0.
[Related: Germany Embarrasses Brazil in World Cup Semifinal]
However, when one factors in all of the variables—the World Cup's most historically successful nation (five championships) losing on its home turf by the largest margin in semi-final history, and allowing the most goals ever in a semi-final, while also surrendering five goals in less time than in any of the event's previous 832 contests—then Germany 7, Brazil 1 becomes the new standard-bearer for abject defeat in soccer, if not all of sport.
Granted, Brazil was without its lone superstar, Neymar, and its best defender and team captain, Thiago de Silva. And those absences should not be forgotten. Still, this was a massoccer™ of epic scale.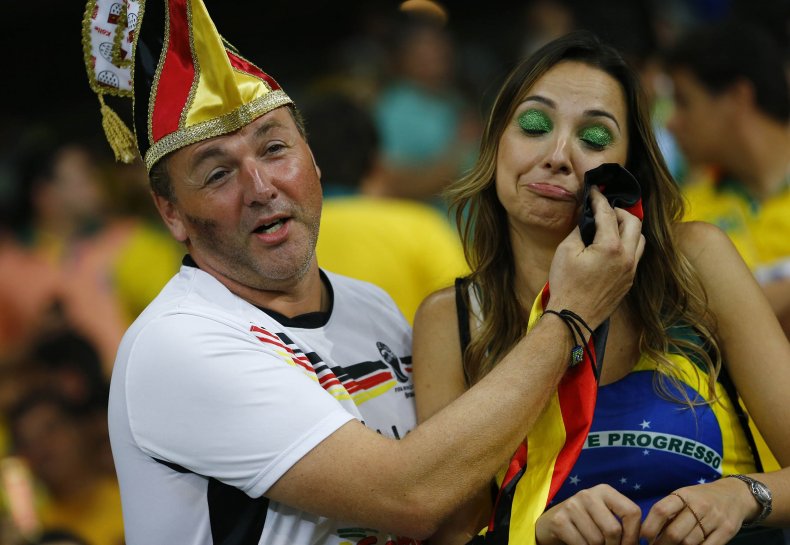 Put it this way: When Captain Ahab spotted Moby Dick, he did not compare it to another fish. And nobody calls Shakespeare "The __________ of playwrights." Like that morsel of cheese that we meet at the end of a certain nursery rhyme, Germany 7, Brazil 1, stands alone.
But what of other sports? Historical events? Military campaigns? Do any moments approach the standard set by die Mannschaft in Belo Horizonte? Before answering that question, we created a set of five criteria that defined Tuesday's (mis) match and to which any analogue of such should attempt to adhere:
1) The losing side is the home team.
2) The stakes are high.
3) The conquest is swift, emphatic and cataclysmic.*
4) The losing side entered the match with the reputation of being dominant in the sport, art or practice in question.
5) The loss results in a paradigm-shift, either for the vanquished or for the entirety of that sport, art or practice.
* A helpful clue, particularly for sporting events, is network cameras panning the crowd for stunned or weeping spectators.
The nominees…
1) Chicago Bears 73, Washington Redskins 0 (1940)
The outcome of the 1940 NFL Championship Game certainly satisfies Nos. 1-3, as the game was played at Washington's Griffith Stadium and remains the most lopsided score in NFL history. The Bears led 21-0 after one quarter. The Redskins should have changed their name the following day.
2) Storming the Winter Palace (1917)
In St. Petersburg, the Bolsheviks under the guidance of Vladimir Lenin storm what by this time had become the seat of the Russian provisional government. The Bolshevik revolution is underway and the communist seed finds purchase. Satisfies all five criteria. Note: The Gemans were instrumental in Lenin's return to Russia from exile in Switzerland.
3) Miami 58, Notre Dame 7 (1985)
While the Fighting Irish met the Hurricanes on their turf, and the stakes were relatively low—Notre Dame coach Gerry Faust had been fired earlier that week but still led his team onto the field--the game is a benchmark because it represented a tectonic shift in college football. Notre Dame was your dad's team. Miami was the team for those of you who weren't sure who was your dad.
4) The Beatles Land at JFK (1964)
Between 1960-1963 the Billboard chart was ruled by American acts such as Elvis Presley, Chubby Checker and the Four Seasons. Then on February 7, 1964, John, Paul, George and Ringo stepped off Pan Am flight 101 at the newly named John F. Kennedy (formerly Idlewild) Airport in Queens. That year the Fab Four took six different pop classics to No. 1, and the British Invasion was in full swing. Decades would pass before a full year of Billboard No. 1's did not include a UK act.
5. Battle of the Little Bighorn (1876)
As for whose home turf it was, well, that was the crux of the dispute. But if you thought Luiz Felipe Scolari's game plan for Germany was poorly constructed, you should have seen General George Custer's. The U.S. forces were annihilated by a combined alliance of the Lakota, Northern Cheyenne and Arapaho tribes.
6) Zuckerberg over the Winklevi (2004)
Twenty years after "Revenge of the Nerds" had its cinematic release, a geeky Harvard sophomore, Mark Zuckerberg, outfoxed a pair of six-foot-five twins who rowed for the Crimson, Cameron and Tyler Winklevoss, for what the siblings claimed was their idea: Harvardconnection.com. Zuckerberg christened it thefacebook.com and later took it public. While these emblematic Ivy League blue bloods still wrested 1.2 million shares of the company from Zuckerberg in a 2008 legal settlement, it is Zuckerberg who runs Facebook, who is worth more than $28.7 billion, and who appears on the covers of "Fast Company", "Fortune" and "GQ."
7. The Judgment of Paris (1976)
A wine competition, staged by British wine merchant Steven Spurrier and held in Paris, that pitted top-quality wines in a pair of blind-tasting competitions: one for Chardonnays and another for reds. In a colossal upset that jump-started the Napa and Sonoma Valley wine regions, a California wine rated No. 1 in each category over a number of French Bordeaux and Burgundy. It was the beginning of the end of French wine hegemony.
8. What About Bob? (1991)
Bill Murray stars as Bob Wiley, a neurotic and phobia-addled—yet utterly charming—patient of successful Manhattan psychiatrist Dr. Leo Marvin (Richard Dreyfus). At the outset Murray is just a baby step or two from homelessness and despair as Dr. Marvin and his frame-worthy family head to their summer haven on Lake Winnipesaukee. By film's end Bob has tracked down the Marvins and enchanted every other member of the Marvin brood ("I'm doing the work!"), including his shrink's sister whom he weds, while Dr. Leo is reduced to a catatonic state and a strait-jacket.