Where Does Democrats' $3.5 Trillion Social Safety Net Spending Proposal Stand?
President Joe Biden has been on an aggressive push to get his "Build Back Better" agenda through Congress in the coming weeks, but in-fighting among Democrats could further delay Biden's priority package.
"I know we still have a long way to go, but I'm confident that Congress will deliver to my desk both the bipartisan physical infrastructure plan and the Build Back Better plan that I have proposed," Biden told reporters Thursday—his latest of many recent public remarks touting the proposals.
After Congress quickly passed a $1.9 trillion COVID-19 relief package in March, the Biden administration pivoted to efforts to implement key planks of Biden's campaign agenda.
One measure, a $1 trillion "hard infrastructure" bill (including roads, bridges ports, broadband and the like) has won bipartisan support among lawmakers and would likely easily pass. But Democrats are set on linking it to the separate $3.5 trillion proposal—initially described as "soft infrastructure" or "human infrastructure"—that essentially would expand social safety net programs to meet Biden's campaign promises. It can pass without support from Republicans if nearly every Democrat in the House and all Democratic senators vote in favor.
This week, key House panels advanced pieces of the $3.5 trillion plan, before both the U.S. House and Senate took a break in observance of Yom Kippur.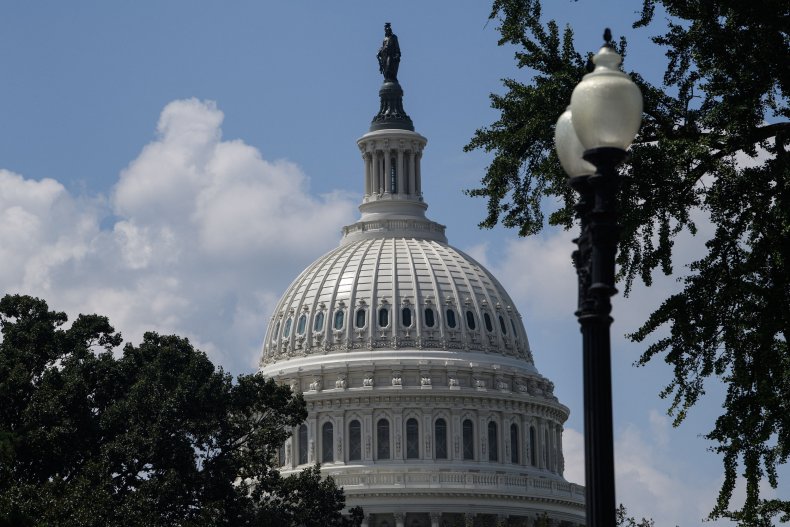 Further complicating the timeline for passing Biden's agenda: The federal budget year ends at the end of the month. If Congress doesn't pass a temporary stop-gap measure before then, the federal government will shut down on October 1.
Democrats currently hold razor-thin majorities in the U.S. House and Senate and have control of the White House, but with the 2022 midterm election cycle looming, their control of federal government could be facing an expiration date, adding pressure to get their priority legislation through in the coming months.
Both bills are currently in a logjam in the House, where Democrats disagree over the size and priorities that should be included in the larger package but insist they won't pass the smaller infrastructure proposal without a deal. In the Senate, Democrats are also split over the $3.5 trillion price tag.
Behind the scenes, Biden has been meeting privately with House Speaker Nancy Pelosi and Senate Majority Leader Chuck Schumer, most recently on Thursday. On Wednesday, he met with Democratic senators who have expressed reservations about the hefty price tag of his more sweeping proposal: Senators Joe Manchin of West Virginia and Kyrsten Sinema of Arizona.
"We're engaged with a range of members," White House press secretary Jen Psaki told reporters Thursday. "The president knows that he needs to be, and he's eager to be, very engaged directly."
The White House has urged detractors to focus on the programs they want to fund, rather than dollar figures. Psaki and others in the administration have refused to speculate on a lesser amount that would be acceptable.
In his own plan, Biden has called for a universal pre-kindergarten, free community college for two years, a new paid leave program for new parents, measures to address climate change and expanded Medicaid benefits, among other proposals in the sweeping package.
"Remarkable, remarkable, transformational initiatives in this legislation," Pelosi, a California Democrat, told reporters last week. "All of them long overdue, many of them standard fare in other developed countries, sorely lacking in our country."
Senate GOP Leader Mitch McConnell, a Kentucky Republican, called the Democrats' proposal a "reckless taxing and spending spree that would cost trillions more and bury the country in job-killing tax hikes."
"When it comes to spending and the economy, President Biden, Speaker Pelosi and the Democratic leader have made a conscious decision they don't want partners. They want to go alone," McConnell said on the Senate floor this week.