Where Does Drew Brees Rank Among the Great NFL QBs After Breaking Peyton Manning's Record?
Week 5 of the NFL season began with Tom Brady making history and it ended with another quarterback writing his name into the league's annals.
Drew Brees became the NFL's all-time passing leader on Monday night breaking Peyton Manning's record of 71,940 career passing yards thanks to a 62-yard touchdown pass to Tre'Quan Smith as the New Orleans Saints thrashed the Washington Redskins 43-19.
Three years ago, Manning had wrestled the mantle away from Brett Favre, who threw for 71,838 yards during his 20-year career in the NFL.
Overall, Brees threw for 363 yards in the game and now stands head and shoulders above his peers, with 72,103 passing yards to his name. The Super Bowl XLIV champion enjoyed one of the best performances of his 18-year career, completing 23 out of 26 passes for a career-high completion percentage of 89.7 and three touchdowns.
On Thursday, Brady became only the third quarterback in NFL history to throw 500 touchdown passes in his career after Manning and Favre, but the first to do so playing for one team only. The trio will soon be joined by Brees, who is currently on 499 after throwing three touchdown passes on Monday night.
Any attempt to determine who deserves the accolade of greatest quarterback of all times is a nigh-on impossible exercise, largely because numbers seldom paint the whole picture.
From a statistical point of view, nobody has thrown more passing yards than Brees, who also has the highest career completion percentage. The 39-year-old has completed 67.1 percent of 9,484 passes he has attempted over the course of his career, while Chad Pennington and Kirk Cousins are tied-second with 66 percent.
Brees has always been among the best in terms of completing passes and holds last year 72 percent of his 536 passes found their intended target, an NFL record for a single season.
Completion rate might not be the best metric to gauge the impact of a quarterback but Brees stands tall in other categories too. He holds the record for most consecutive seasons with over 4,500 passing yards.
To put things into context, Brady and Philip Rivers were the only two players to pass the 4,500 yards threshold last season, while Brees, Matt Ryan and Cousins achieved the feat in 2016. It is, in other words, a very elusive target even in the modern NFL, which has enjoyed an offensive explosion in recent years.
Between 2010 and 2016, Brees featured in the list for seven consecutive seasons, the same number of times Brady has passed the 4,500 yards threshold in the whole of his career.
The Saints' quarterback also shares the NFL record for passing yards per game in a single season. As the reigning Super Bowl MVP, Brees threw for 5,476 yards in 2011 for a scarcely believable 342.3 yards per game, which was only equaled by Manning two seasons later.
In 2013, both Manning and Brees were the only two quarterbacks to throw for over 5,000 yards. Brees has done so five times in his career, the most in league history and has also led the NFL in passing more than any other quarterbacks, having done so in seven seasons.
The 11-time Pro Bowler will turn 40 in January and his longevity has played a major role in his record-breaking career. Since signing for the Saints in 2005, Brees has missed just two regular season games in his 12 seasons in Louisiana and is 45 games behind Favre's 298 regular starts, an all-time record for a quarterback.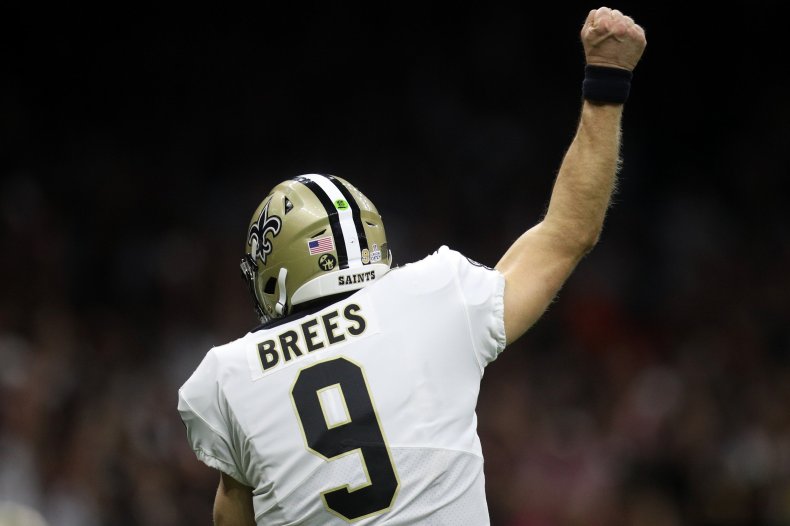 Like Brady, who has started 256 regular season games to Brees' 254, the Saints quarterback has previously said he intends to play until he is 45.
Brees also has another of Favre's record in his sight. The former Green Bay Packers hero leads the NFL for career passing attempts with 10,169. Brees is currently in second position with 9,484, just ahead of Manning's 9,380.
Among active players, Brady is fourth with 8,984, while Eli Manning is sixth with 7,583. Excluding his rookie year, when he attempted just 27 passes, Brees has averaged 579 attempts, meaning he could overtake Favre's record by next season.
Where Does Drew Brees Rank Among the Great NFL QBs After Breaking Peyton Manning's Record? | Sports