Where Does Hank Aaron Rank in All-Time MLB Stats?
Legendary baseball player Hank Aaron has reportedly died at the age of 86. News of the record-setting player's death was announced on Friday morning, via his daughter.
Throughout his 23 seasons on the Atlanta Braves and Milwaukee Brewers from 1954 to 1976, "Hammerin' Hank" hit 755 career home runs, the second-most in MLB history. Barry Bonds is the only player to have surpassed Aaron's home run record, with a career total of 762. Aaron broke Babe Ruth's record of 714 career home runs back in 1974.
Aaron also currently holds the record for the most runs batted in (2,297 RBIs) and highest number of total bases (6,856), according to the Baseball Hall of Fame. His overall career batting average was .305, and throughout his time in the MLB, he scored 2,174 runs.
Additionally, Aaron ranks third when it comes to the most MLB games played, with his total of 3,298. He was selected to play in 25 MLB All-Star games, and won three Gold Glove awards for exceptional playing at right field.
Aaron won the MVP award in 1957, the same year that his Braves (then based in Milwaukee) won the World Series. In the 1957 baseball season, Aaron maintained a .322 batting average, hit 44 home runs and amassed 132 RBIs, according to Stats Muse.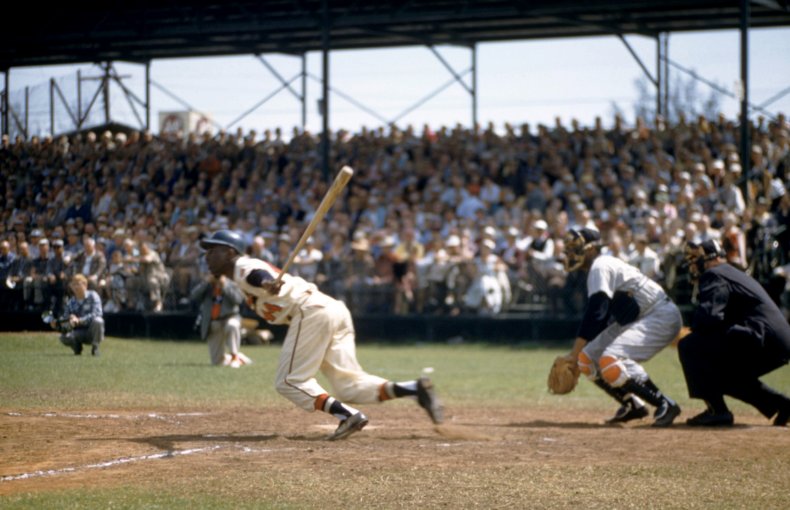 Another impressive stat? Aaron is one of just two players to hit 30 home runs in 15 seasons, according to NBC; Alex Rodriguez is the other.
Aaron was elected to the Hall of Fame in 1982 with a 97.8 percent approval rating during his first year of eligibility, as noted by the New York Times. He was also awarded Presidential Medal of Freedom in 2002 from George W. Bush.
On February 5, 1999, Aaron's 65th birthday, the MLB established the Hank Aaron Award, to recognize the "best overall offensive performer in both leagues." The MLB website notes that Aaron and several Hall of Famers would determine the recipient each year, in tandem with a fan vote. Sammy Sosa and Manny Ramirez were the first players to receive this award, representing the National and American Leagues, respectively. Mike Trout, David Ortiz, Jose Altuve, Miguel Cabrera and Derek Jeter are among other recipients.
Also in 1999, Aaron was selected for the All-Century Team, which celebrated past and present acclaimed players. Lou Gehrig was the top pick in the fan vote, followed by Babe Ruth, and then Aaron, the MLB announced at the time. The Baseball Hall of Fame in Cooperstown, New York, further immortalized Aaron in 2009 by setting up a permanent exhibit dedicated to his life and accomplishments.