With Senator Kamala Harris on the ticket, former Vice President Joe Biden is getting an advocate for student loan forgiveness and a legislator who would take stimulus checks a step farther than even the Democrats' proposal.
After much speculation, Biden announced Harris as his running mate on Tuesday evening, making her potentially the first woman and first African American to serve as vice president. Amidst stalled talks over a coronavirus relief package, potential for another round of stimulus checks and student debt forgiveness is in limbo, leaving some to wonder if the fate of the measures is in the hands of the November election results.
Harris, who was elected to the Senate in 2016, has not only advocated for a second round of stimulus checks, but pushed for Congress to provide monthly economic impact payments to qualifying Americans.
In May, Harris joined Senators Bernie Sanders and Ed Markey to introduce a bill that would send recurring monthly payments of $2,000 to individuals with incomes below $120,000. Married couples filing joint taxes would receive $4,000 and $2,000 payments each would be allocated for up to three children. Payments would be retroactive to March and continue until three months after the pandemic ends.
"The CARES Act gave Americans an important one-time payment, but it's clear that wasn't nearly enough to meet the needs of this historic crisis. Bills will continue to come in every single month during the pandemic and so should help from government," Harris said in a statement at the time.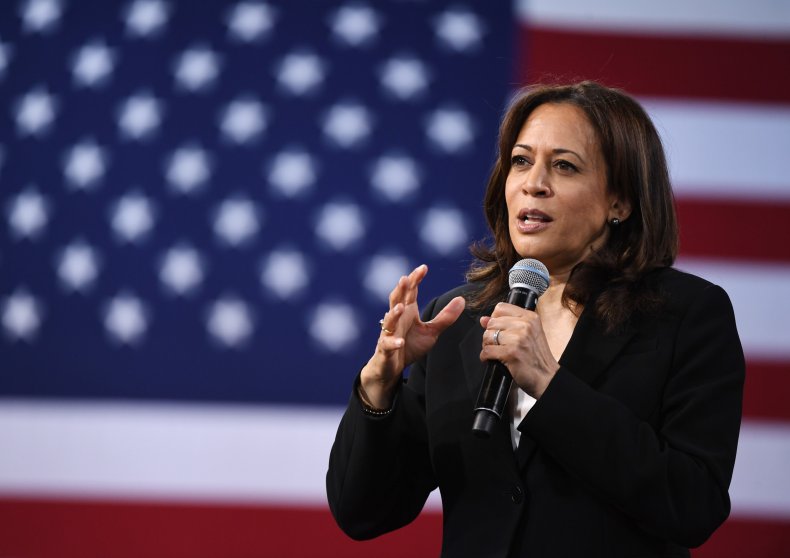 More than 1.6 million people signed a Change.org petition urging Congress to pass a bill with similar payments and Harris continued advocating for the measure through July.
Appearing on MSNBC's All In with Chris Hayes on July 17, Harris said recurring payments would not only help sustain people through the pandemic, but help them "get back up on their feet instead of falling deep, deep, deep in the crevices of the crisis."
Stimulus checks are one of the few provisions of a potential relief package that Democrats and the White House have been able to agree on, although they don't go as far as Harris wants. Under the terms of the agreement, according to Treasury Secretary Steve Mnuchin, stimulus payments would largely be the same as those sent out under the CARES Act, meaning $1,200 payments for individuals with adjusted gross incomes of $75,000 or less and $2,400 payments for joint-filers earning under $150,000.
However, unlike the CARES Act, which reserved additional payments of $500 to children under 17 years old, the second round would likely expand payments to include dependents of all ages.
The CARES Act also paused payments and the accrual of interest on federal student loans through September 30. An executive memorandum from President Donald Trump extended that suspension through the end of the year, but Harris would like to see loan forgiveness.
In March, as legislators debated the CARES Act, Harris and her Senate colleagues pushed for the inclusion of a provision that would cancel at least $10,000 of student debt for all borrowers. She also championed Biden's proposal for tackling student debt on a July 28 episode of MSNBC's TheReidOut.
Under Biden's plan, people working in schools, government and other nonprofit settings would have $10,000 of undergraduate or graduate student debt forgiven each year for up to five years.
Biden's proposal also suspends payments and interest for all loans that are held by a person earning $25,000 or less per year. Those earning above that income threshold will pay 5 percent of their discretionary income toward their loans with the remainder of the loan entirely forgiven after 20 years if borrowers made payments throughout the program.
"These are the things that are at stake in this election," Harris said.
Newsweek reached out to Harris for comment but did not receive a response in time for publication.