'Where Does Your Penis Belong?' Is a 'Children's Book for Grown-Ass Men'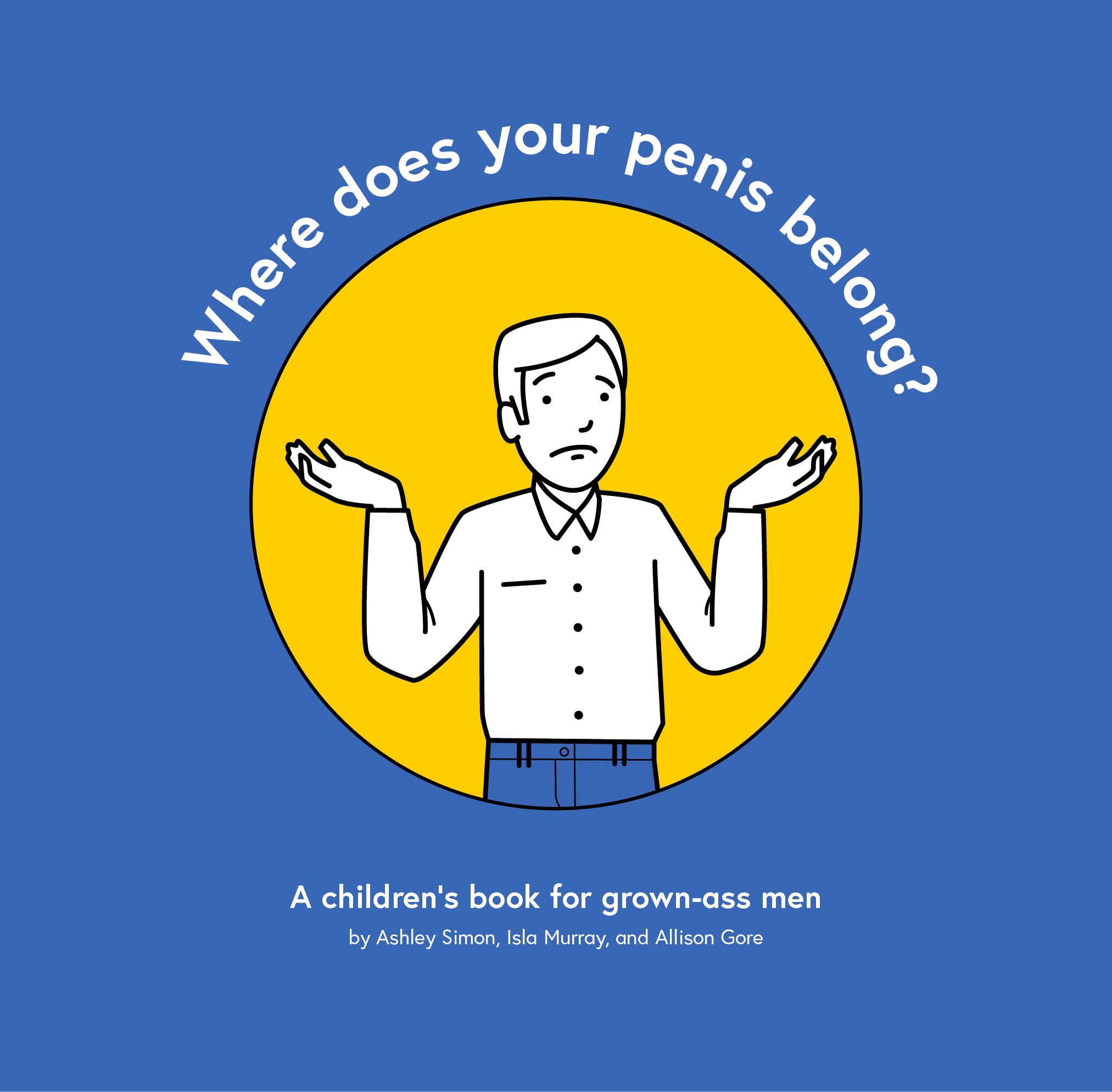 Where Does Your Penis Belong? is a children's book that's definitely not for kids. Instead, it's targeted at "grown-ass men" who need a refresher in some basic lessons they should have mastered years ago.
The book and corresponding website launched Friday, just in time for some holiday shopping (and educating).
"I was having dinner with some friends and we were talking about all these sexual harassment and assault allegations, specifically the Weinstein and Louis C.K. stuff," Ashley Simon, the author of the book, told Newsweek. "I was joking at the table, 'Do we need to reinform men about where their penis belongs in public places?' And I just said it as a joke, some of these men, do they need a children's book?"
Simon is the cofounder of Curious Elixirs, which makes "booze-free craft cocktails." But she's also a writer, and her friends encouraged her to turn that dinner-table banter into a real book. The next day she was on the phone with Isla Murray, a designer (and cofounder of the creative studio Lama Six) who had worked with Curious Elixirs, who in turn suggested Allison Gore to come aboard as illustrator.
"This project was born out our collective need to process the spate of shocking sexual assault allegations that have unfolded in 2017," the description on the project website reads. "Feeling a desperate need for some comedic relief in the wake of so much trauma and outrage, Where Does Your Penis Belong? was a therapeutic exercise for us and we hope it's a therapeutic read for many others."
"Long live pants," the description concludes.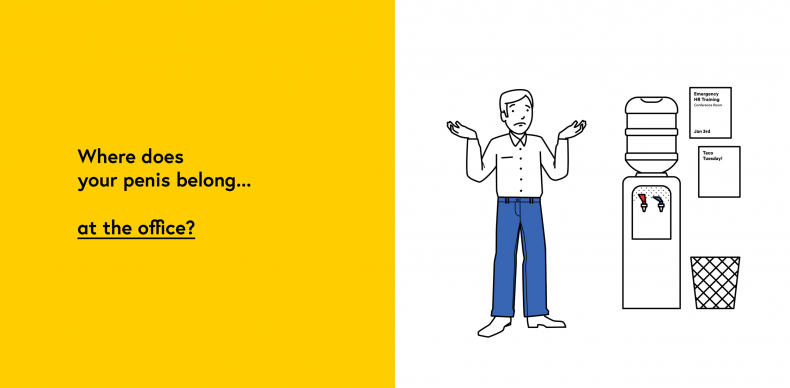 Where Does Your Penis Belong? follows a simple formula. "Where does your penis belong… at the grocery store?" one page asks, followed by the statement, "Your penis belongs in your pants!!!" Similarly, the website offers an interactive quiz that asks some of the same questions. If you click somewhere other than the pants, you'll get one of several error messages, such as "Oh shlong, you're wrong, try again!"
The book is "intentionally juvenile and reductive, because the behavior feels that way," Simon said. "It's such a simple thing, such a simple rule of behavior, it does feel like something you tell a toddler and then they never do again."
In fact, she recalled, her own nephew had to learn that lesson last year. But he was only 3 at the time.
Simon has been "shocked and appalled" in recent weeks at the number of times she's heard about supposedly professional adult men who haven't internalized the message. While the situation is anything but funny, for Simon humor is a way into uncomfortable topics.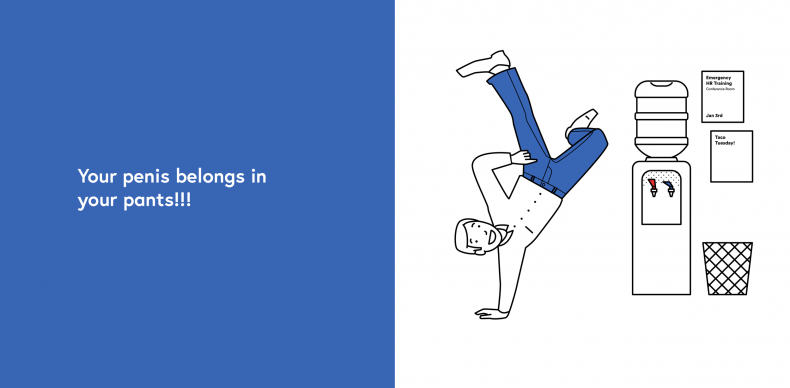 As silly as Where Does Your Penis Belong? is—and it's absolutely meant to make people laugh—its creators also recognize the seriousness of the issue at hand. They end with a page of resources and the following note:
The book is over but unfortunately sexual harassment is not. The fact that we made this book based on real incidences is a testament to how far we have to progress as a society. It is our hope and belief that positive change is on the horizon. But men, we're going to need you to listen when women speak up, and speak up when you see women victimized. And yes, we're going to need you to wear your pants.
The book is available for $24.99, and 100% of the profits will be donated to RAINN (Rape, Abuse & Incest National Network), an anti-sexual violence organization that runs the the National Sexual Assault Hotline. The creators of the book communicated with the organization, Simon said, to "get their blessing on the project."
"We appreciate all donations to RAINN," Jodi Omear, vice president of communications for RAINN, said in a statement emailed to Newsweek. "At a time when survivors are calling the National Sexual Assault Hotline in record numbers, every donation allows us to serve more people."
Simon imagines orders from women who think the book is hilarious and want it as a coffee table conversation starter. Some have already said on Twitter that they want to gift it to some men in their lives.
But, Simon emphasized, "This isn't a woman's problem," and it was a conscious decision to direct the book at men. "I don't think men have been getting as strong of a message about how they need to behave and that they need to be as proactive as women."
"We need men to really step up to the plate in this moment," she added.