Rodrigo Duterte, the Philippines' strongman leader, has taken a week off while swaths of his country continue to face the horrors of an Islamic State group (ISIS) siege. Philippine forces have been battling Islamist militants in Marawi for three weeks: Civilians are starving and some have resorted to "eating blankets" to survive.
Duterte has not been seen in public since Saturday. Ernesto Abella, the presidential spokesman, told reporters Duterte was "tired" and needed to "rejuvenate." The president missed Independence day celebrations leading some to question whether he was sick, but Abella said he was not ill.
During his presidential campaign, the 72-year-old reiterated that he did not have cancer but admitted to taking painkillers for a spinal injury.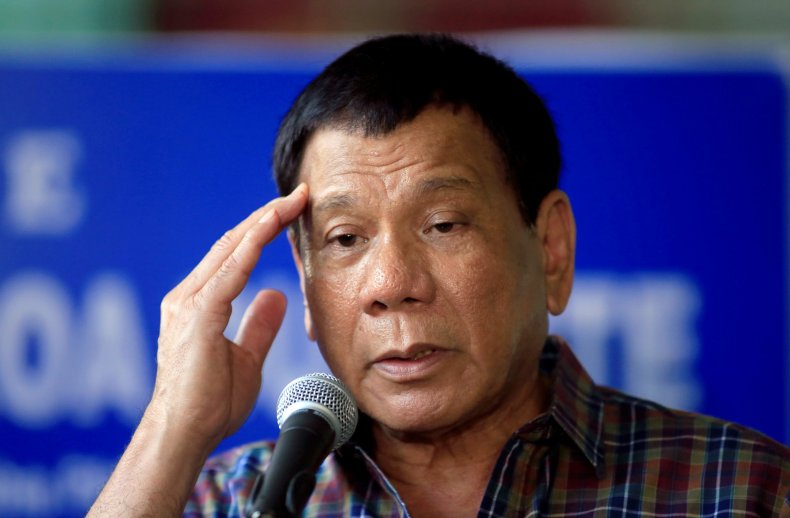 Local journalists demanded to know whether Duterte has seen doctors this week. Abella said: "I'm not privy to those matters but I'm sure he's checked with his own experts."
The opposition called Duterte's health a "national security issue."
Magdalo representative Gary Alejano, a member of the opposition told house reporters: "The absence of the president from the public is very unusual especially [since] there is still an ongoing crisis in Marawi."
The Inquirer, a Philippines newspaper, says Duterte was last seen visiting wounded soldiers in Cagayan de Oro, a city near the fighting in the Mindanao region.
Duterte imposed martial law on Mindanao the day the fighting broke out. He said ISIS and affiliated Islamic groups were attempting to carve out their own territory in the province.
According to his spokesman, Duterte has made repeat visits to field camps and led strategy meetings during the insurgency.