Walgreens will administer COVID-19 tests at 15 new drive-thru locations across seven states by the end of this week, the company announced Tuesday.
Similar to the drive-thru operation that opened in Chicago several weeks ago, Walgreens' forthcoming test stations are expected to open outside existing stores across Arizona, Florida, Illinois, Kentucky, Louisiana, Tennessee and Texas. Although exact addresses have not yet been released, the drugstore chain said it is partnering with the U.S. Department of Health and Human Services (HHS) to establish a list of specific locales, which will conceivably be made available to the public at some point over the next few days.
In an April 7 statement detailing its plans, Walgreens explained that the sites intend to serve "hot spot markets" and will be determined by data pinpointing areas where COVID-19 diagnosis rates are accelerating. Patients hoping to receive a test will be required to register online via an assessment tool expected to launch "soon" on Walgreens' mobile app and desktop site. If an appointment is scheduled, the portal will direct individuals to designated testing sites.
"Walgreens remains committed to working with federal, state and local governments, as well as industry partners to meet the needs of the communities we serve across the country during the pandemic," said Walgreens' president Richard Ashworth in a statement Tuesday. "We're continuing to do everything we can, both with our own resources and also by partnering with others, to serve as an access point within the community for COVID-19 testing."
The new sites will distribute ID NOW COVID-19 tests, produced by laboratory Abbot Diagnostics and described as "rapid point-of-care" assessments by HHS in a recent statement advocating for its usage. Walgreens pharmacists will issue tests at all drive-thru locations and deliver results immediately. According to the company's Tuesday announcement, Abbott's tests can produce positive results in roughly five minutes and negative results in roughly 13 minutes. Because of this, Walgreens anticipates each site will be able to administer as many as 3,000 tests per day.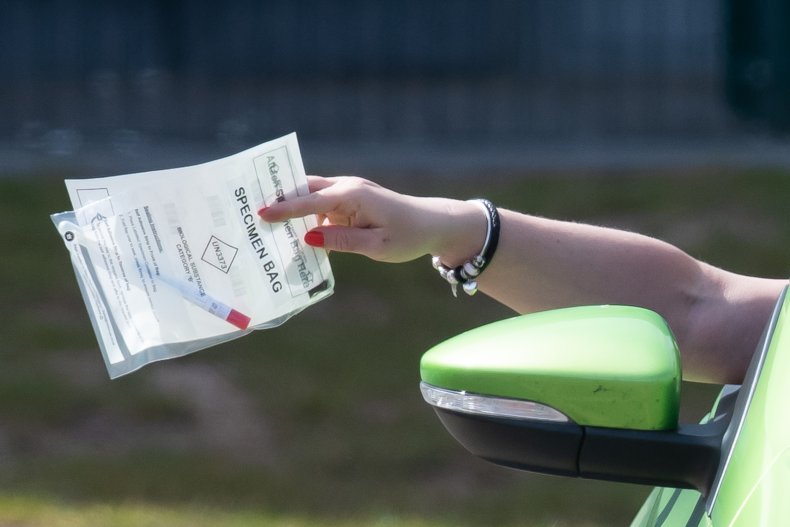 Those who are approved for testing and meet eligibility requirements outlined by the Centers of Disease Control and Prevention will receive their drive-thru evaluation free, Walgreens added in its statement. The company's Chicago location, which was not accessible to the general public, offered these services to first responders, health care employees and anyone over the age of 65.
As of Tuesday afternoon, more than 369,000 COVID-19 cases have been confirmed across the United States, resulting in at least 76,000 deaths and 292,000 recoveries, according to Johns Hopkins University and Medical. New York has diagnosed the highest number of infections—almost one-third of the nation's total—followed by New Jersey, Michigan, California, Louisiana, Massachusetts, Florida, Pennsylvania, Illinois, Washington and Texas. CVS, Target and Walmart have opened drive-thru centers as well, after U.S. President Donald Trump met with company executives in early March and asked for assistance to expand test administration.