Where Gavin Newsom Stands in Polls Two Days Ahead of California Recall Election
With just two days until the California recall election against Governor Gavin Newsom, polls suggest that the Democratic leader is well positioned to fend off the Republican-backed challenge.
The election will be held on Tuesday, with voters asked to choose whether they want to keep or remove Newsom from office. Those who want the governor removed can vote for one of the 46 people running against him. Newsom must garner the backing of more than 50 percent of California voters to remain in office, while the challenger to the governor with the most votes would win if he falls below that threshold.
Recent polls suggest that Newsom has a somewhat comfortable advantage just ahead of the September 14 election. Polling results published Friday by Los Angeles Times and the University of California Berkeley Institute of Government Studies showed that 60 percent of likely voters opposed recalling the governor. Just 38.5 percent said they support removing Newsom from Sacramento.
Another recent survey conducted by Suffolk University from September 6 to 7 showed that 58 percent of Californians wanted to keep Newsom in office while only 41 percent said they wanted to remove him. SurveyUSA carried out a poll from September 7 to 8 that revealed a narrower advantage for Newsom, but still showed 54 percent backing the governor compared to 41 percent who opposed him.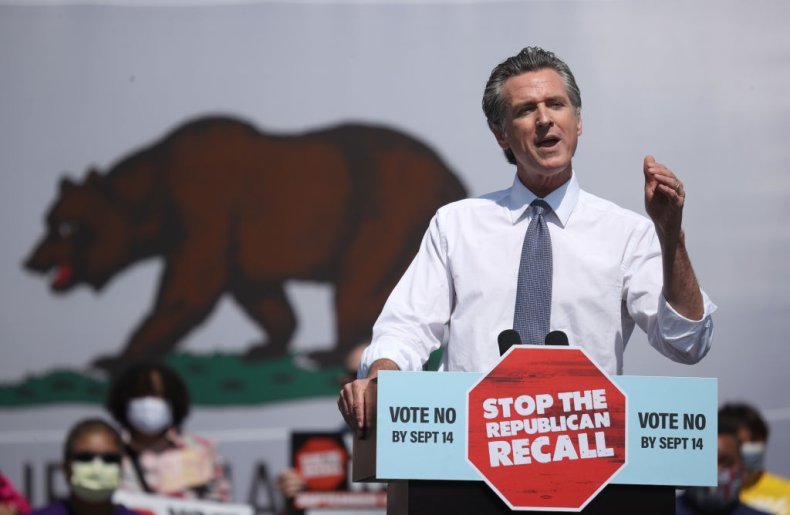 A survey by Data for Progress showed that 57 percent of voters wanted to keep the Democratic leader while 43 percent said they wanted to remove him. That poll was carried out from September 2 to 10. Trafalgar Group, which is notable for correctly predicting former President Donald Trump's win in 2016, showed 53 percent of Californians backing Newsom and 43 percent opposing the governor.
The Public Policy Institute of California conducted a survey from August 20 to 29 that showed Newsom with 58 percent support, and just 39 percent of voters wanting to remove him. A YouGov poll from August 27 to September 1 had 56 percent in support of keeping the governor compared to 44 percent in favor of removing him. The latest FiveThirtyEight average of recent California polls shows that about 56.2 percent of California voters want to keep Newsom and about 41.6 percent want to remove him.
Just a few weeks ago, polls suggested that Newsom was only narrowly above the 50 percent threshold of support required to keep him in office. Some surveys even showed the governor underwater with voters, leading to concerns among Democrats that a Republican challenger could unseat the governor. A GOP victory would be seen as a major upset, as Democrats are estimated to outnumber Republicans in California by a two-to-one margin.
Newsom's top challenger appears to be Republican contender Larry Elder, a popular conservative talk radio host. FiveThirtyEight's average of recent polls shows the GOP challenger with the backing of about 27.6 percent of California voters. Even though that's relatively minimal support, it could propel Elder to Sacramento if less than 50 percent of recall voters cast their ballots in favor of keeping Newsom in office.
Bookies and those betting on the election believe it's more likely that Newsom will remain in office than be removed. Bookmaker Betfair, operator of the world's biggest online betting exchange, places the Democratic governor's odds of remaining in office at 1/8 on Sunday. Meanwhile, the odds that he is removed from office was 4/1. This marked a small decline compared to Saturday's odds, which were 1/18 for Newsom to stay in Sacramento and 6/1 for him to get the boot.