Where To Get Tested Near You in New York, New Jersey, Louisiana and More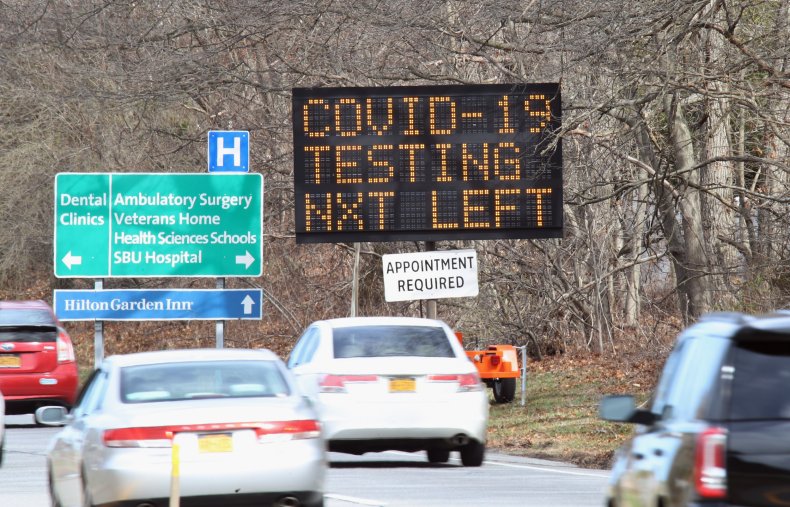 As the number of cases of the novel coronavirus climb, people across the country are looking to get tested when they suspect they have symptoms of COVID-19, the disease it causes.
The Centers for Disease Control and Prevention said that not everyone needs to be tested for COVID-19 and listed some guidelines for those who are thinking about getting tested. They said that most people who have mild symptoms are able to recover at home since there is currently no treatment approved to combat the virus. They also state that "testing results may be helpful to inform decision-making about who you come in contact with."
President Donald Trump announced Monday at his daily coronavirus briefing Monday that the United States has conducted more than 1.79 million COVID-19 tests. The country now has more than 368,400 cases of the novel coronavirus and 10,900 deaths, according to the Johns Hopkins Coronavirus Resource Center—although Vice President Mike Pence said Monday he believes that the number is likely higher because hospitals are conducting their own tests and not reporting those test numbers.
For those who want to get tested, the CDC recommends calling local or state health departments or a medical provider to find out where the nearest testing site is located. This does not guarantee a person will be tested because states have different requirements for testing. For those who live in states with the highest number of confirmed coronavirus cases, here is information about how you can get tested.
New York
According to the New York COVID-19 Testing website, "testing is free to all eligible New Yorkers as ordered by a health care provider or by calling the COVID-19 hotline at 1-888-364-3065." New Yorkers can also take an online assessment to pre-register for testing. Drive-through testing sites are by appointment only.
New Jersey
The New Jersey COVID-19 Information Hub website shows that "testing is prioritized for individuals who are sick with symptoms of fever, cough and shortness of breath where they need hospitalization, those who are close contacts of confirmed COVID-19 cases, and individuals who traveled to/from highly affected areas." The website includes a map of New Jersey testing sites and requirements for testing. Residents can complete a self-assessment to see if they should seek testing.
Connecticut
Governor Ned Lamont released a Frequently Asked Questions document regarding the novel coronavirus that states that those who want testing need a referral order from their primary care physician. Those without one can go to an "urgent care center or to a federally qualified health center to get a doctor's order to be tested." A list for the drive-thru testing sites available at 21 hospitals can be found on page 11 of the document.
California
The California Coronavirus Response website recommends that those who believe they need testing contact their healthcare provider, who will then determine whether or not the person requires testing. The website includes a list of people who will be prioritized for testing. Residents can call the state coronavirus hotline at 833-544-2374 for the locations of testing sites, including drive-through sites.
Florida
The Florida Department of Health recommends people call their health care provider if they are experiencing the symptoms of COVID-19. The providers will decide whether people should be tested. Residents can call the 24/7 COVID-19 Call Center at 1-866-779-6121 for locations of testing sites.
Louisiana
The Louisiana Department of Health compiled a list of community COVID-19 testing sites and requirements to be tested in a Google spreadsheet. Residents also can dial 211 for general information regarding the novel coronavirus.