Where Is the House Sharon Tate Was Killed In? Movie-Goers Flock to Charles Manson Murder Scene
It's not uncommon for movie-goers to want to see the real-life inspiration, but some are taking a morbid road trip to bring Once Upon a Time in Hollywood to life. The house where Sharon Tate was murdered is becoming a popular tourist attraction after the Charles Manson story was brought to the screen by Quentin Tarantino.
Once Upon a Time in Hollywood takes viewers inside a fictional reworking of the infamous Charles Manson-led murder rampage that landed at Tate's house. Though the movie plot strays from the actual events of the evening Tate died, it's still inspired viewers to find the home where Tate and others were brutally murdered by the Manson cult in 1969.
So where is the home? And is it possible to visit?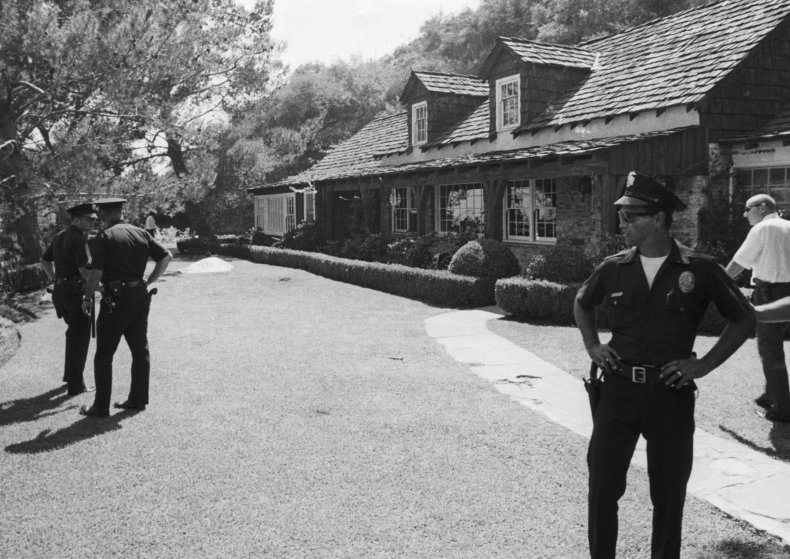 The home where Tate was killed was in Beverly Hills, California, but it's no longer standing. Instead, a modern home has replaced the actual house that Tate resided in, which was demolished in 1994, according to LA Curbed. Nicknamed the "Manson Murder House," the new home resides at 10500 Cielo Drive.
Despite the fact that the new, gated mansion stands where the real murder house once did, fans are still keen on visiting the outskirts of the property to see exactly where the brutal Manson murders took place.
This seems to be a common reaction to true crime pieces, whether fictionalized or preserved as nonfiction on screen. Viewers of Hulu's The Act had a similar reaction to the series, which dramatized the story of Gypsy Rose Blanchard and her mother, Dee Dee Blanchard, who had Munchausen Syndrome By Proxy. Blanchard, who was kept ill throughout her childhood and early adulthood, enlisted the help of her boyfriend to kill her mother and free herself from the fake sicknesses.
Though The Act was filmed on a set in Atlanta, viewers began visiting the real-life home of Dee Dee and Gypsy in Springfield, Missouri. Neighbors of the former mother-daughter duo spoke up to KSPR33 about the increased tourist activity.
"I think it's kind of ridiculous," neighbor Thomas Pengilly explained, as reported by Women's Health. "It's just glorifying something that doesn't need to be glorified. I do find it frustrating that there are vehicles coming through here and they don't belong here. There are little ones around and some of them of going fast and stuff."
The same thing happened with Netflix's Making a Murderer. True crime tourists began visiting rural Wisconsin, where Steven Avery and Brendan Dassey lived in 2016. Just a few months after the first part premiered, Chuck Avery claimed up to 40 cars had driven up his driveway, according to the New York Post.