Where Is I-40 Closed in North Carolina? Florence Flooding Closes Interstate Sections in North and South Carolina
Since its arrival on the coast of the Carolinas, then-Hurricane Florence brought days of torrential downpours and deadly flooding to the region. In some areas of North Carolina, the rising water was so unnavigable that parts of Interstate 40 were closed.
An advisory posted on the North Carolina Department of Transportation (NCDOT) warned motorists to avoid traveling to various parts of southeastern and south-central North Carolina. Several sections of I-40 were still flooded on Friday morning and there was no safe, stable or reliable route to get to or from Wilmington, North Carolina, which has been cut off from the rest of the state for days.
"Although water is receding on some roads, the roads and bridges may be damaged and the road closures are still in effect," the NCDOT said. "Signage should be adhered to. There are many others in which the flood levels are continuing to rise."
I-40 has been closed in over seven spots spanning three counties: Pender County, New Hanover County and Duplin County. The I-40 closures, according to the NCDOT, include:
Between MM385 (NC41 Exit) and Duplin/Pender County Line
Ramps at the interchange of I40/I140 in both directions
Between Exit 414 (Holly Shelter Road) and I-140 in both directions
Westbound Exit 414 to The New Hanover/Pender County Line
Westbound from Exit 414 to The New Hanover/Pender County Line
The westbound shoulder lane between Exit 414 and North Cape Fear River
From Exit 390 to north of Pender/New Hanover County Line
The westbound direction at mile marker 420 has two of the three lanes closed
Florence's flooding also forced highway closures in South Carolina. All lanes of S-76 were closed from SC 33 to Dwight Swamp Road and S-243 was closed from S-60 Jackson to S-644 Campbell, according to the South Carolina Department of Transportation (SCDOT). SC109 was also closed from Woodards Mill Road to Bailey Saw Mill Road, as well as, S-148 from Juniper Road to South of Cash Road. Multiple other state highways were closed due to flooding, including S-72, S-495 and S-18.
To help inform residents of where roads were closed, the SCDOT is updating an interactive map posted on its website. Search results can be filtered by state road, route and county.
I-95 runs through both North and South Carolina and Florence's heavy flooding caused closures on the heavily traveled highway, as well. An impending threat from the flooding of the Great Pee Daw River in South Carolina forced closures from Exit 164 to Exit 181. In North Carolina, large portions of I-95 were closed beginning at US Route 74.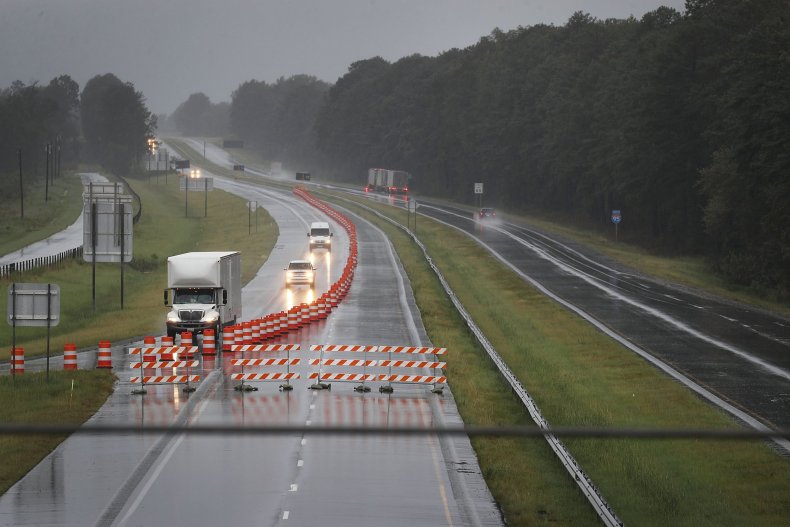 The NCDOT provided a list on its website of several alternative routes travelers could take and warned that some GPS systems were guiding drivers into areas that are not recommended for travel.
On Friday, North Carolina Public Safety reminded residents that although the bulk of the storm has passed, rivers are still rising and aren't expected to crest until the weekend. They urged people to avoid traveling on roads at risk of overwash flooding and to never drive through standing or moving water.
Florence made landfall on September 14 as a Category 1 hurricane but was later downgraded to a tropical storm and then to a tropical depression. On Monday, Florence was declared to be a post-tropical cyclone. At latest count, Florence had killed 42 people, according to CBS News.
On Wednesday, President Donald Trump visited New Bern, North Carolina, where he met with residents and pledged his full support and that of the federal government to help those who were affected by the storm.