Where is I-95 Closed in North Carolina, South Carolina? Florence Flooding Closes Interstate Sections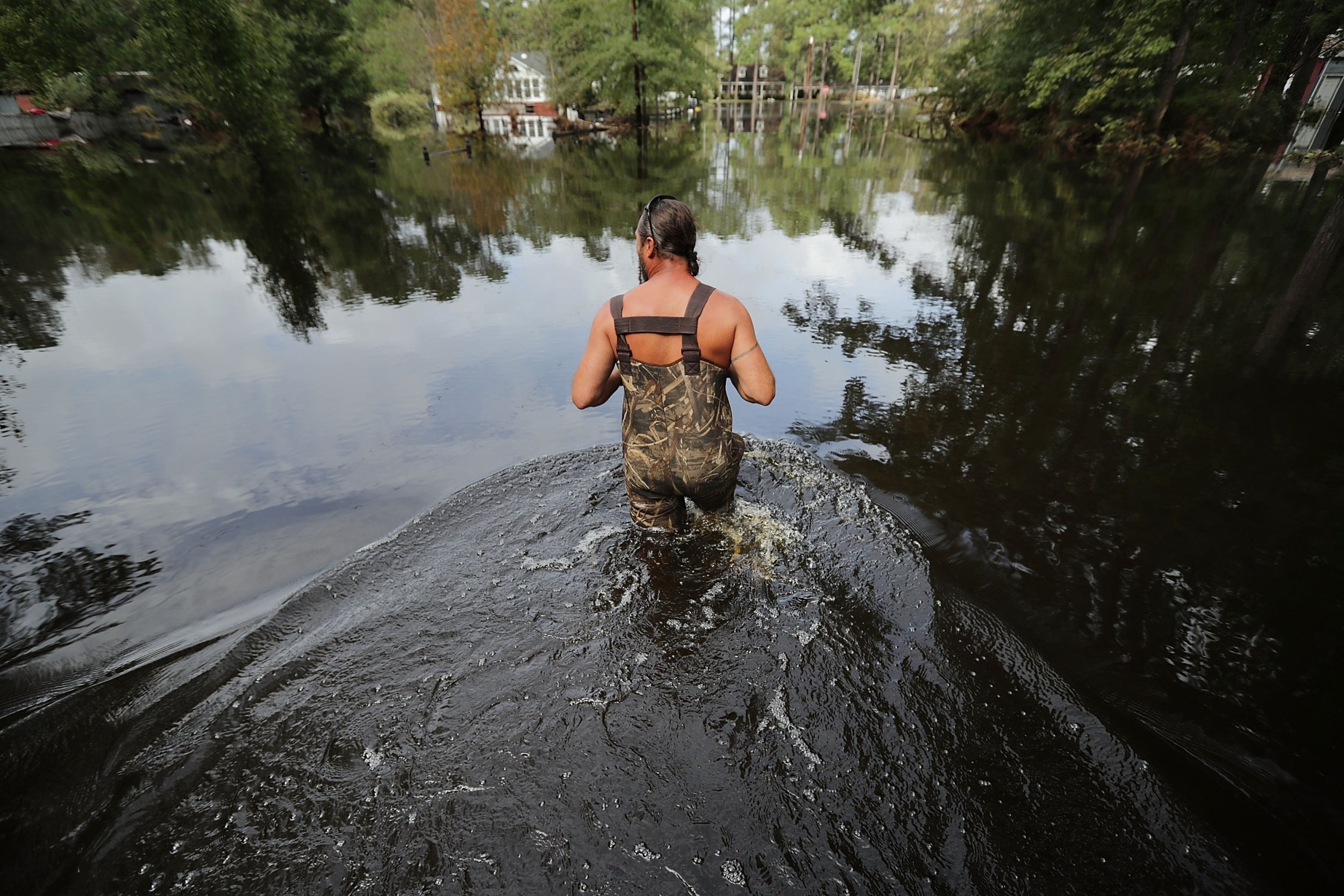 After Hurricane Florence dumped up to three feet of rain in some places across the Carolinas, frustrations are mounting as evacuees wait to go home and travel is interrupted with major road closures including portions of Interstate 95, a vital north-south highway running through South Carolina and North Carolina.
Travel is still not advised throughout southeastern and south-central North Carolina, the North Carolina Department of Transportation said in an advisory Wednesday. Portions of Interstate 40 and Interstate 95 are impacted, the agency said. Also, no travel to Wilmington is possible. See more on North Carolina and South Carolina road and highway closures below:
Where is I-95 closed in North Carolina and South Carolina?
The highway is closed in several portions throughout the flood-ravaged Carolinas. In South Carolina, highway department officials said Wednesday that portions of I-95 will soon be closed in both directions near the Great Pee Dee River.
"According to information from the SCDOT, I-95 will be closed in both directions from Exit 164 (U.S. 52) to Exit 181 (S.C. 38) due to the imminent threat of flooding at the Great Pee Dee River," reported wmbfnews.com late Wednesday. No timetable for closing this section of I-95 was given.
In North Carolina as of Wednesday, I-95 closures and detours are in the following locations, according to the South Carolina Department of Transportation:
Due to flooding related to Hurricane Florence, I-95 has large segments closed in North Carolina beginning at mile marker 13, US Route 74. Detour routes are:
From Georgia: I-85 NB through South Carolina is open to traffic
From Georgia: I-95 NB to I-26 WB to I-77 NB into North Carolina
From Florence: I-20 WB to I-77 NB into North Carolina
From the North Carolina Department of Transportation on Wednesday:
"Several sections of I-95 and I-40 are flooded. I-95 Southbound traffic from Virginia should use US-64 West (Exit 138) to I-540 West to I-40 West to US-321 South to I-85 South. Follow directions in South Carolina to re-access I-95. At this time no safe, stable or reliable route exists for the public to get to and from Wilmington."
To see the complete latest updates from the North Carolina Department of Transportation involving I-95 and I-40 see here.
In other Hurricane Florence updates from the Carolinas late Wednesday, the Associated Press reported that "exhaustion and frustration are building" as thousands wait to go home after evacuating. The storm's death toll has also grown to 37.
"With the remnants of Florence finally out to sea and skies bright over rivers still swelling with muddy water, President Donald Trump visited the disaster zone, riding through soggy neighborhoods and helping pass out warm meals at a church in the hard-hit coastal town of New Bern.
"'How's the house?' Trump told one person. 'You take care of yourself.'
"There wasn't any presidential fanfare 120 miles away in Fayetteville. There, Roberta and Joseph Keithley had been sleeping on cots set up in a school classroom since Friday. They still didn't know if their home was ruined.
"'It's getting a little frustrating, but you have to deal with it and roll with the punches," said Roberta Keithley, 73. "It's just another hurdle to get over in life.'"
"To the south, daybreak brought a return of floodwaters to Nichols, South Carolina, which also was inundated by Hurricane Matthew two years ago. The flooding from Florence had subsided, only to get worse again.
"Access improved to Wilmington, a North Carolina port city of 120,000 that was cut off for days by high water. But officials said they don't know when evacuees would be able to return home, and it may be next week before conditions improve drastically since the Cape Fear River isn't expected to crest at the city until Monday or Tuesday.