Where Is Jessica Lange? 'American Horror Story: Apocalypse' Full Trailer Debuts
The full trailer for American Horror Story: Apocalypse dropped Wednesday, but there was one important person missing: Jessica Lange. Season 8 teased the Lange, who previously appeared in the Coven and Murder House seasons of the hit FX show. The newest installation is supposed to be a crossover between the two.
The beginning of the FX trailer starts with narration by Sarah Paulson's character. "No need for the rules anymore. The chaos has begun," she says.
It then cuts to people trying to escape the apocalypse, but they are unable to leave. Those who tried to flee in a plane realize there is no pilot and crash.
The next scene shows Paulson speaking to survivors. "Welcome to the outpost. The rules are simple. You may never leave the building due to the danger of radiation contamination and no unauthorized copulation," she says. "No exceptions."
The next part gives a first look at Evan Peter's character. "What's happening out there," Peters asks.
The actor previously talked to Newsweek his character. "I play a hairdresser and Joan Collins is my Nana. I think [this season] is gonna be a fun one," he said. "I think people are really gonna enjoy it."
Even though Lange is missing, Paulson dominates the trailer. "It's strangely satisfying, isn't it? Dispensing punishment," she says to Kathy Bates's character. "It's our world now to remold as we see fit."
That's when the star says her first words, "Hail Satan."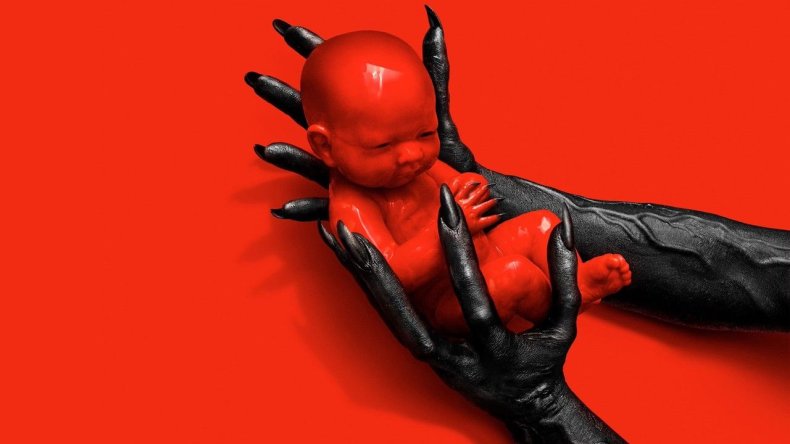 Aside from Paulson, Bates, Lange and Peters, actors Emma Roberts, Billie Lourd, Adina Porter, Leslie Grossman, Billy Eichner, Cheyenne Jackson, Cody Fern, Connie Britton, Dylan McDermott, Taissa Farmiga, Lily Rabe, Frances Conroy, Gabourey Sidibe and Stevie Nicks are slated to appear in the season.
Nicks famously appeared in Coven where she starred as herself. She was not a member of the coven or a confirmed witch, though Misty Day (Rabe) believed Nicks was a white witch. During her stint on Season 3, she performed hit songs like "Rhiannon" and "Has Anyone Ever Written Anything About You."
Though Season 8 hasn't debuted, Seasons 9 and 10 have been confirmed. It's unknown if creator Ryan Murphy will write an eleventh season.
"A lot of that comes down to Ryan and whether he still feels inspired by it. I think the eighth cycle, which is currently in production, is awesome and crazy and I think the fans will really like it. Part of what's cool about American Horror Story is its anthology nature. So it comes down to whether Ryan and his collaborators, like (showrunner) Tim Minear, could come up with stories that they are excited about," FX Networks CEO John Landgraf told Deadline in an August interview.
American Horror Story: Apocalypse premieres September 12 at 10 p.m. ET on FX.