Where Is Kaci Campbell Now? Ex-Boyfriend Evan Smith Leaves 'Temptation Island' With Now-Fiancée Morgan Lolar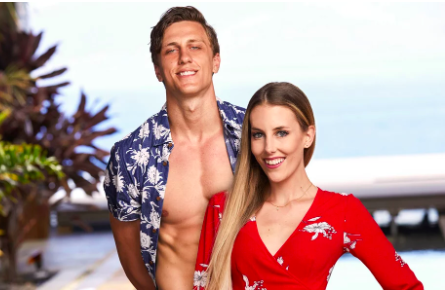 Following the dramatic conclusion of Season 1 of Temptation Island Tuesday, Kaci Campbell left Maui in a situation she definitely didn't see coming. Coming into the reality series with a longtime boyfriend with "commitment issues" the Los Angeles-native was hoping for the show to lead to a much-awaited proposal.
Spoilers for Tuesday's season finale ahead
Campbell came to the island with long-time boyfriend Evan Smith, 28. While the two had known each other for 10 years, Smith wasn't ready to get down on one knee. The two admitted to producers that they were at a crossroads in the relationship and were sent to the set of Temptation Island.
The 28-year-old quickly identified he was having "too much fun" while on the island and felt a connection with single Morgan Lolar. At the finale's bonfire, Smith told Campbell that he didn't want to leave the island as a couple and ultimately decided to pursue a relationship with Lolar.
Temptation Island then caught up with the couples six months after filming wrapped. Smith moved out of his LA apartment with Campbell and made himself at home in the East Coast with Lolar. It was then revealed that the 28-year-old got down on one knee and proposed to Lolar on February 25, just months after first meeting.
While definitely a slap in the face for Campbell, she is currently working on moving on and even dabbled in a post-breakup transformation.
"I'm single, and going through a breakup, you want a new look," Campbell said during a six-month check-in clip. "I just felt that the long, dark hair is a new me."
"At first [the breakup] was really hard, I was devastated," she added to the camera. "But it's such a blessing and I'm very glad he's gone ... He stole 10 years of my life, all of my twenties, and doesn't even feel bad about it."
Following the finale, the Los Angeles-native reacted to her ex-boyfriend's proposal to Lolar in a podcast Wednesday saying she "felt nothing."
"To be honest, it was funny because I already knew I was over it, but when I found out that he proposed to Morgan and I was totally OK with it, I was like, 'OK, yeah. I'm definitely over this guy. I feel nothing,'" she said during her podcast interview. "He got engaged to a girl he's known for five months and I literally am OK right now. Like, this is a sign."
"I really do hope and pray for her sake it works out because truly nobody deserves to ever be treated the way that I was treated by that man," Campbell added. "I just hope that they really do get married and they really do have a happily ever after. But is that likely? I would bet a lot of money, that they're probably not gonna live a happily ever after."
Both Smith and Lolar have done their rounds of press appearances and the 28-year-old confirmed to Access that he "doesn't regret" anything that happened in Maui. Since popping the question in February, the couple announced on KITLA 5 Wednesday that they are looking to be married next spring or summer 2020.