Where Is 'Married At First Sight' Star Luke Cuccurullo Now? Spoilers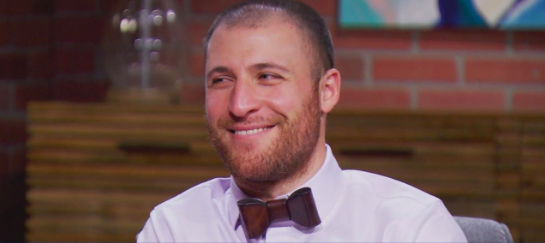 Married at First Sight star Luke Cuccurullo is arguably the villain of Season 8. It's not a role that he enjoys, but it's not one without reason. After agreeing to marry Kate Sisk, he said that he was repulsed by kissing her and then accused her of drinking too much multiple times. When he was pressed about his actions toward Kate in the MAFS after show Unfiltered on Tuesday, he broke down in tears.
Host Jamie Otis shared a clip of Luke's mother saying she didn't think the marriage would work out. Watching it led Luke to get emotional. "My mom knows pretty much what is going on at all time," he told Season 1's Otis.
The marriage isn't what he predicted. "This was—I don't know. I went in so hopeful but it was just not what you'd expect," Luke said, fighting back tears.
After accusing his wife of having a drinking problem and saying he felt "dead inside" when they kissed, Luke hasn't come off looking great but Otis wanted to give him the opportunity to tell his side.
"I don't know, I feel I'm fine taking that on though—like I'm not fine, but I've accepted that role and it's okay and we can just move on," Luke said about his role as the show's villain.
Otis implored him to open up and tell his side. "You don't have to take that role on. You are not a bad guy," she said.
Season 8 costar Kristine Killingsworth nearly begged Luke to explain himself. She wanted an answer to why he would say those hurtful things to and about Kate. "Clean it up. Tell your side because no one understands why you were saying one thing and acting in a completely different way once the cameras were gone," she said.
Luke didn't know what to say, but Jamie pushed him: "Explain that to us, because honestly, that was the start of the whole downward spiral, and there's got to be a reasonable explanation."
But Luke didn't have one. The entire time he held back tears and laughed nervously. With both Kristine and Otis wanting to know what happened, Luke walked off the stage.
Dr. Jessica seemed to regret matching Luke and Kate. "What's been hard to watch is how volatile their relationship is with the ups and the downs and that it seems they are hurting each other more than they are actually helping one another or are caring about one another," the marriage expert revealed.
She added that Luke is not a bad person. "At the end of the day, no one is a villain, and I think Luke's concern is that he's going to be portrayed as this really bad guy when in his heart of hearts, he's not," Dr. Jessica told the Unfiltered host. "Has he made some bad decisions? Absolutely."
Married at First Sight airs on Tuesdays at 9 p.m. ET on Lifetime.