Where Is Montenegro? Trump Puts Tiny NATO State on the Map
President Donald Trump has suggested he would have a problem with coming to the defense of "tiny" NATO ally Montenegro, a Balkan state, under its Article 5 obligations. Montenegro joined NATO in 2017 as the alliance's 29th member. It is also on the path to joining the European Union.
Montenegro sits on the Adriatic Sea in south eastern Europe, across from Italy. It borders Albania, Macedonia, Kosovo and Bosnia and Herzegovina.
According to the CIA, Montenegro has a population of just 642,550. That is roughly the same as the population of the city of Las Vegas, Nevada. In geographic terms, Montenegro is 5,333 sq mi, similar to Connecticut. Its capital is Podgorica in the country's south.
For the bulk of the 20th century, Montenegro was part of the Socialist Federal Republic of Yugoslavia, led by the communist dictator Tito until his death in 1980. The nation broke up amid war in 1992. First Lady Melania Trump was born in Slovenia in 1970 while it was part of the SFR Yugoslavia.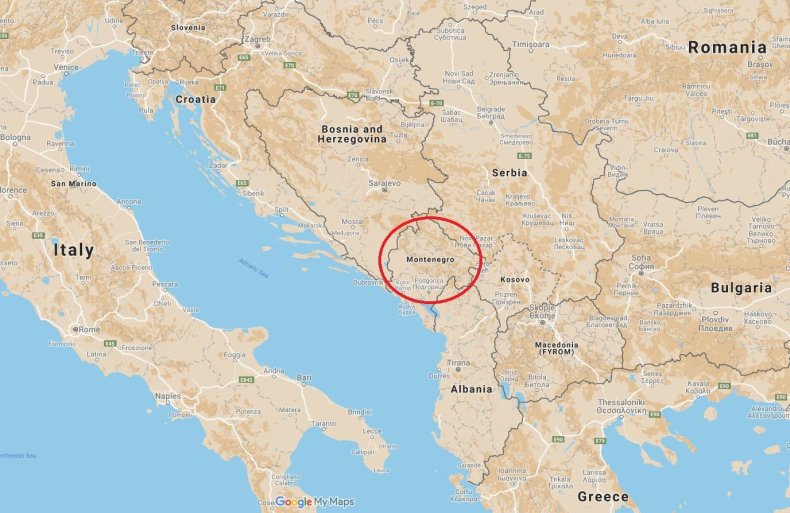 It was then part of the Federal Republic of Yugoslavia—which by now consisted solely of Serbia and Montenegro—as war raged in Croatia, Bosnia, and Kosovo, until 2006 when its people voted for independence in a referendum.
NATO had actually bombed targets in Montenegro during the Kosovo War as it sought to stop ethnic cleansing of ethnic Albanians by Yugoslav President Slobodan Milošević and his forces.
Montenegro's current president is Milo Đukanović of the Democratic Party of Socialists, elected to a five-year term in 2018. He replaced Filip Vujanović of the same party, who had been president since 2003. Its prime minister is Duško Marković, also of the Democratic Party of Socialists.
Back in 2016, Đukanović was the target of a Russian-backed assassination plot seeking to bring down the government before it could press ahead with plans to join NATO. The Montenegrin opposition promises to hold a referendum on NATO membership if it gains power and maintains close relations with Moscow.
"Just as Montenegro is stepping up for NATO, NATO is stepping up for Montenegro," Jens Stoltenberg, NATO general secretary, said.
"NATO is a defensive alliance. We protect all allies against any threat. So tomorrow, NATO will begin air policing patrols over Montenegro, with jets from Italy and Greece.
"This peacetime mission will ensure the safety of your skies, whether from civilian or military aircraft in distress, or any other threat. NATO provides this support to allies without their own air forces—a strong sign of NATO solidarity."
Yet President Trump appeared to be unhappy with the idea of NATO defending Montenegro under Article 5 of the alliance treaty, which commits members to collective defense under the principle an attack on one is an attack on all.
Tucker Carlson asked Trump in a FOX News interview why should his son be sent to defend Montenegro if called upon to do so by NATO.
"I understand what you're saying. I've asked the same question. Montenegro, you know, is a tiny country with very strong people," Trump said.
"By the way, they're very strong people, they're very aggressive people. They may get aggressive and congratulations you're in World War III. I understand that, but that's the way it was set up. Don't forget, I just got here a little more than a year and a half ago."