Where Is 'My 600-Lb. Life' Subject Octavia Now? Update on Dr. Nowzaradan's Weight Loss Patient
The story of Octavia Gahagans is the first that viewers will get to see on the Season 7 premiere of TLC's hit show, My 600-Lb. Life. At 42 years old, Gahagans doesn't know what she weighs and hasn't been out of her Kansas City, Missouri, apartment in years. More, she's been confined to her bed the past year. But she's ready for a change. Octavia is leaving the comfort of her home to seek weight loss surgery with renowned bariatric surgeon Dr. Younan Nowzaradan, whose practice is in Houston.
To leave her home, she needed assistance. Dr. Now, as he's known by patients and TLC fans, called EMTs to help transport Octavia. "My family and everyone is packing everything up now and we have the van that I'm going to be riding down to Houston in so I'm just about ready to go," she says in the clip. "We just need to get the mattress in it and then I need to be carried to it so EMTs are coming to help me with that but I'm a little nervous about it because it's been a long time since I've been out of this apartment. I just hope there are no issues and it goes well."
Octavia adds: "It's embarrassing to have all of this just to leave my apartment but I'm doing this to make sure that this isn't my life. I know I'm fighting for my life but it's hard to be leaving my family."
The TLC reality star is active on social media, regularly sharing popular videos. According to her page, she is still working on her weight loss. Octavia moved from Kansas City to Houston to potentially get gastric bypass and it seems she's still residing in Texas. On Sunday, she wrote she would be heading back to Kansas City in the summer.
Get your unlimited Newsweek trial >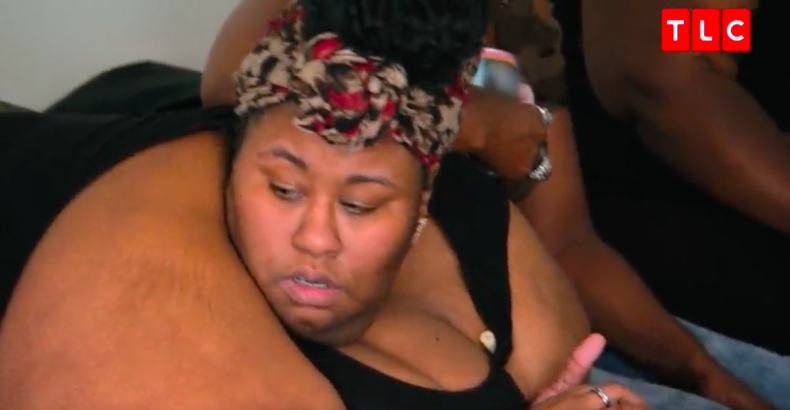 She also penned a message about one-sided relationships. "We fell out this year… lay there," she wrote. "Please and thanks! I'm done with one-sided relationships. You're down for them like 4 flat tires... they get some air and ride pass you. God bless you though!"
Octavia didn't share the latest update about her weight loss, but she did share a meme about Dr. Now. It was a riff on the surgeon, who is an executive producer on My 600-Lb. Life, being like the Santa Claus of dieting. "He knows when you've been snacking. He knows when you have carbs," it reads.
The Kansas City resident is excited for viewers to see her episode on the premiere. "Please tune in on Jan 2 at 7 pm to see my episode. I'm so nervous but excited at the same time. Please share this post. Thanks so much for all your support!" she wrote.
Get your unlimited Newsweek trial >
On December 18, she shared a picture of herself, seemingly in Dr. Now's office, where she showed off a bright smile.
Don't miss the new season of My 600-Lb. Life when it returns Wednesday at 8 p.m. on TLC.
Where Is 'My 600-Lb. Life' Subject Octavia Now? Update on Dr. Nowzaradan's Weight Loss Patient | Culture