Where Is 'My 600-Lb. Life' Subject Tiffany Barker Now? Update on Dr. Nowzaradan's Weight Loss Patient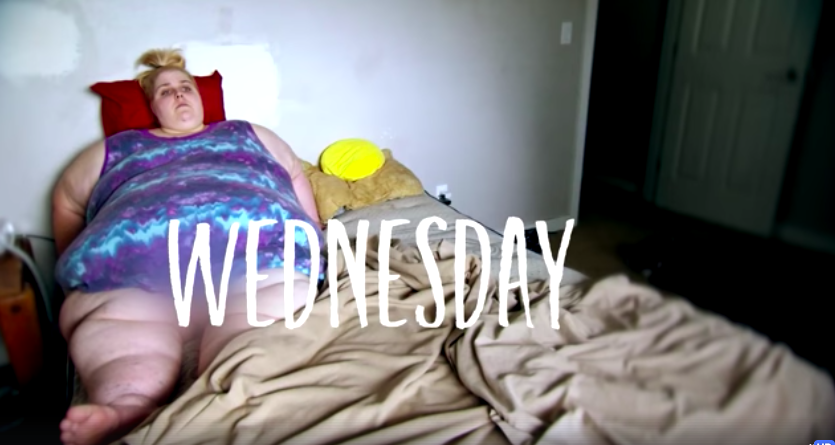 My 600-Lb. Life subject Tiffany Barker is spiraling out of control. She's not yet 30 and has ballooned to more than 600 pounds. She's depressed and food is the only thing that helps her get by, but her food addiction is also what's keeping her isolated.
"I'm confined to my apartment all day long," she says in a teaser for Wednesday's episode. "I feel that eating is the only thing I can do to pass time. I just love the way food makes me feel. It's like stress relief."
So where is Tiffany now?
Tiffany is currently running an Instagram page. Her bio says, "Hair, food, and weight loss. It's a strange combo, but let's face it, I'm far from normal."
As promised in her Instagram bio, Tiffany likes to share pictures of her new hairdos, food and weight loss progression.
She plugged her episode of the show multiple times. It's airing days before she turns 29 years old on March 1.
Dr. Younan Nowzaradan, the renowned bariatric surgeon based in Houston who performs the surgeries for My 600-Lb. Life, advises his patients to follow a high-protein, low-carb diet. Mostly in-line with Nowzaradan's 1,200-calorie diet, Tiffany is a fan of the keto diet. The keto diet is a high-fat, low-carb diet that allows dieters to eat cheese, protein, fruits and vegetables.
She's likely sticking to her diet, posting a picture from a keto-inspired cooking class on February 7. "I had so much fun thank u for having me and thank you for the ketogenic friendly options. I had a blast and met some really nice people," she wrote.
Tiffany is also still dating her boyfriend, Aaron Coronado, based on her social media activity. She made a keto-friendly dinner for him with her cousin, Jasmine Philpott, who will also be featured on Wednesday's episode. "I planned out a welcome home meal for our house boyfriend and we are just relaxing for the night," she wrote last week.
She's also still probably working with Dr. Now since she recently posted a picture about "beautiful Houston."
But things weren't always easy for Tiffany. In a sneak peek clip of Wednesday's episode, the 28-year-old struggled to shop for groceries. She was harassed by a member of her community for "blocking traffic" when she was just walking back to her vehicle after exiting the store.
"You shouldn't block traffic like that," the shopper says. "You're rude. You're impolite."
Tiffany apologizes. "I'm sorry, miss. I am handicapped."
"What, you think that matters to me?" the woman shoots back.
Tiffany says she is regularly discriminated against. "Stuff like that happens to me all the time when I go out," she says in a confessional. "People either stare and point at me or they make comments about how I'm in the way. People are really brutal and judgmental when you're my size and they don't understand how hard it is for someone like me to do this and get around. I try to ignore it but you never really get used to it."
My 600-lb Life airs Wednesdays on TLC.