Cristiano Ronaldo to Juventus: Real Madrid Superstar 'Agrees' to Join Serie A Giants in $116m Deal
Cristiano Ronaldo could be set for a shock move away from Real Madrid this summer, amid reports the Spanish giants are seriously considering selling the 33-year-old
The five-time Ballon D'Or winner has scored a mind-boggling 450 goals in 438 appearances in all competitions for Real Madrid, since he arrived at the Santiago Bernabeu. He joined from Manchester United in the summer of 2009 for a then world-record fee of $131 million—due to the British pound's devaluation, the original fee of £80 million amounts to $105 million at today's rates.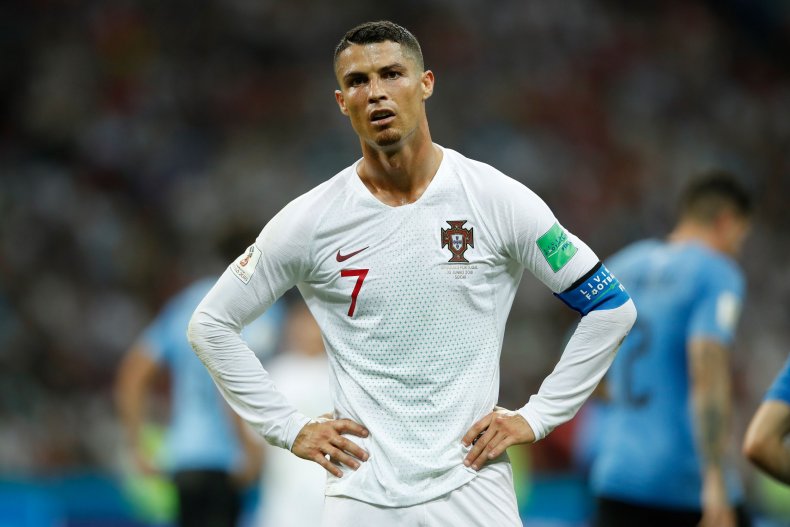 The Portuguese has been linked with a move away from Madrid virtually every summer over the last couple of years, with rumors of malaise surfacing before being swiftly quashed by an improved contract.
However, it would appear Ronaldo might finally find himself another club this summer.
On Tuesday morning, Spanish TV show Jugones reported the 33-year-old will be allowed to leave the Spanish capital, with Real set to accept a $116.5 million offer from Serie A champions Juventus.
Over the last couple of days, a number of news outlets had reported a similar rumor, but Jugones' claim has added a new layer of intrigue to the speculation. The TV show's host, Josep Pedrerol, is renowned for being very close to Real Madrid president Florentino Perez.
Earlier today, Spanish newspaper Marca reported Juventus would offer Ronaldo a staggering $35 million-a-year salary. While Madrid are prepared to match the Italian club's offer, Ronaldo is seemingly intent on leaving, after talks with Real's hierarchy over a new deal broke down.
Juventus' offer
If accepted, the Bianconeri's bid would be the highest Real Madrid have ever received for a player, while Ronaldo would become the highest paid player in the history of the Italian club, which has won the Serie A title in each of the last seven seasons.
While domestic dominance has become almost routine for the Old Lady in recent times, success in Europe has continued to prove frustratingly elusive.
Juventus have reached two Champions League finals in the last four seasons, losing to Barcelona in 2015 and to Real Madrid in 2017, with Ronaldo scoring a brace in the final as his side triumphed 4-1. Last season, the two sides met again in the quarter finals, with Ronaldo scoring a dramatic late penalty as Real progressed 4-3 on aggregate.
PSG and Manchester United rumors
The Italian giants obviously believe the Portuguese is what they need to capture their first European crown since 1996, but the move would nevertheless be stunning. Ronaldo had long been touted as the next name to join Paris Saint-Germain's star-studded cast, with the French outfit also desperate to lift the Champions League.
A move to the French capital would have allowed Ronaldo to play for what is by far the best team in Ligue 1—PSG have won the league in five of the last six seasons, while Real Madrid have won just one league title in the same period—without having to make financial compromises.
Suggestions he could return to Manchester United have also routinely appeared in the media over the last four or five years. Ronaldo retains a significant bond with the club and shares the same agent of United manager Jose Mourinho.
However, while the 20-time champions of England had looked at bringing their former star back to Old Trafford in the past, they clearly have other priorities at the moment. Mourinho, who coached Ronaldo during his spell at Real Madrid, already has a number of attacking options, while other areas of his squad require strengthening.
PSG's quest to lure the five-time Champions League winner to Paris, meanwhile, could be hamstrung by Financial Fair Play Regulations. The Ligue 1 side, which is owned by the Qatari royal family, have already committed to pay $218 million to make Kylian Mbappe's loan move permanent this summer after breaking the world's transfer record for Neymar last year. They may have to sell some of their players as a result.
The French champions could also have to fend off offers from Real Madrid, who could use any funds received from Ronaldo's sale to launch an ambitious bid for Neymar. The Brazilian is reportedly unsettled in Paris and on Monday Spanish broadcaster TVE claimed Real had tabled an eye-watering $362.7 million offer for the former Barcelona striker.
The 13-time European Cup winners, however, denied the bid.
"Real Madrid is surprised that the Spanish television has broadcasted absolutely false information without anyone from the club being contacted to comment on the alleged information that could easily have been denied," Real said in a statement.