Where Next for Dez Bryant? Wide Receiver Cut by Cowboys Eyes Other NFC East Teams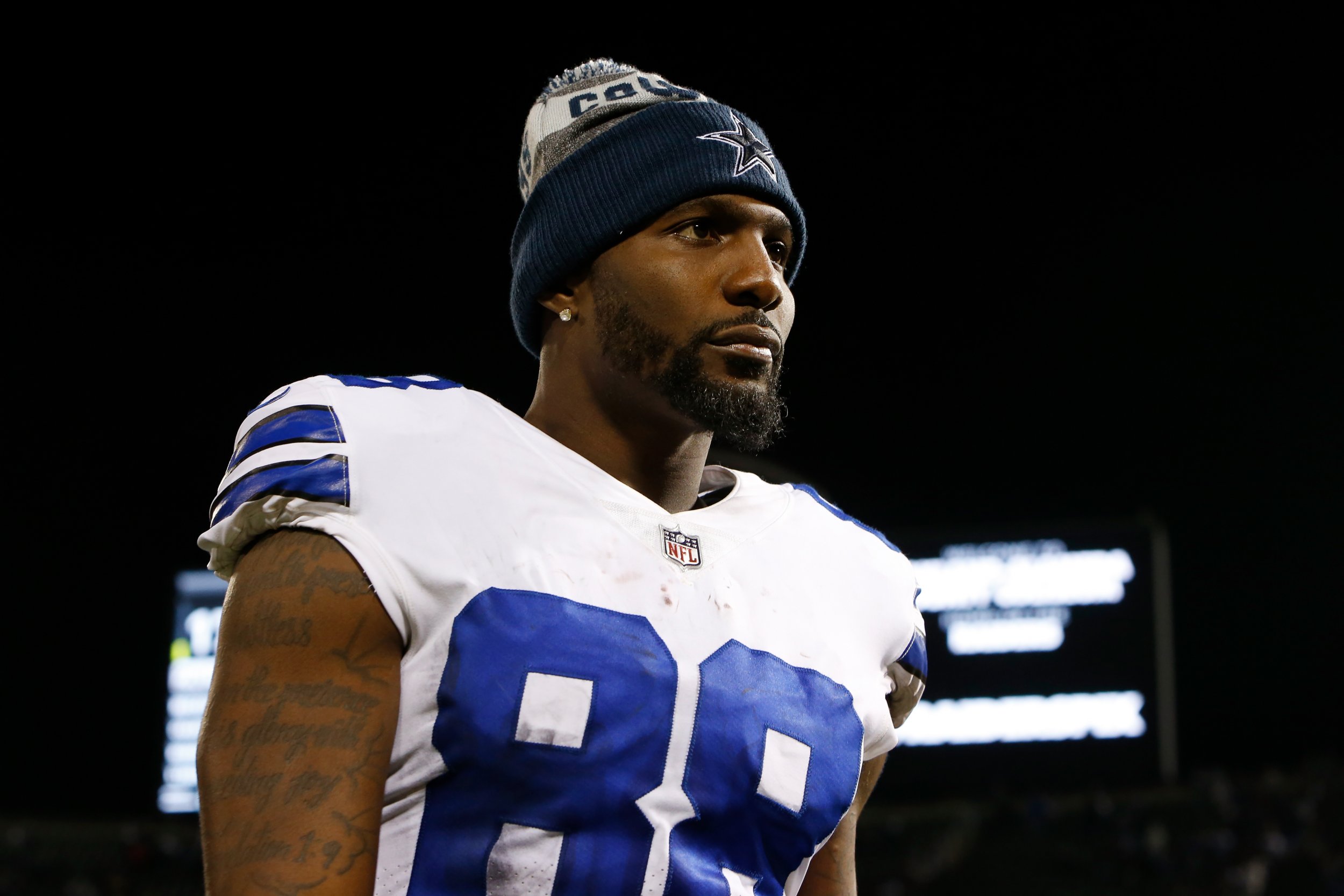 Dez Bryant's desire to remain in the NFC East after his eight-year spell with the Dallas Cowboys ended on Friday (April 13) could prove difficult to fulfil.
After being cut by the Cowboys, the wide-receiver insisted he had no intention of leaving the division, hinting he would relish the prospect of facing his former team.
"Being in the [NFC East], that's a huge possibility," Bryant told NFL Network. "That's something that I want… It's personal."
However, satisfying that particular condition could prove difficult for the former Oklahoma State student, given the remaining NFC East teams have already ruled themselves out of the running.
According to sources close to the Washington Redskins, quoted by the Washington Post, the Redskins aren't interested in Bryant, no matter how attractive the prospect of him teaming up with Jamison Crowder and Paul Richardson might sound.
Washington's lack of interest can partly be explained by the fact it has approximately $17 million in cap space this spring (per overthecap.com) and signing Bryant, who was due $12.5 million this year with the Cowboys, could be a heavy burden on its books.
As reported by Yahoo! Sports, the New York Giants and Philadelphia Eagles are also seemingly uninterested in Bryant, meaning his hopes of remaining in the NFC East could be dead and buried before he's even begun looking for a new team.
So which franchises could sign the former Cowboys receiver?
Indianapolis Colts
The Colts' passing offense ranked 30th in the NFL last season and Bryant would add some much-needed sparkle to Indianapolis's play at the final end of the pitch. With approximately $60 million left in salary cap space, the Colts would also be in the position to match or even exceed any offer Bryant will receive.
However, doubts over Andrew Luck's fitness could hamper Indianapolis' chances of landing the former Dallas Cowboy.
San Francisco 49ers
The 49ers have $47 million in cap space, and in Jimmy Garoppolo they have one of the league's star quarterbacks, while the lack of elite wide receivers would also give Bryant the chance of becoming a regular starter in Kyle Shanahan's team.
Furthermore, Shanahan did an excellent job working with Julio Jones during his spell with the Atlanta Falcons and Bryant could have a lot to gain by swapping Texas for the Bay Area.
Green Bay Packers
Bryant's personality doesn't particularly fit the Packers' philosophy but Green Bay have a Jordy Nelson-shaped hole to fill in their roster and the former—who is only 29 and last year played all 16 regular season games for the first time since 2014—could be a good option.
"It would be out of character for the Packers to add a character like Bryant—especially after tight end Martellus Bennett's signing went wrong last year," NFL Nation's Rob Demovsky wrote for ESPN.
"But despite Bryant's big personality, he would fit nicely into the Packers' offense. The Packers certainly could use another perimeter weapon for Aaron Rodgers."
New Orleans Saints
The opportunity to play with Drew Brees is a dream for most receivers, including Bryant. The former Oklahoma State product did not break the 1,000-received yard mark in his last three seasons at the Cowboys but between 2012 and 2014 he produced three seasons with at least 1,200 yards receiving and 12 touchdowns playing alongside Tony Romo.
Obviously Bryant's reduced production isn't exclusively down to the Cowboys' decision to replace the latter with Dak Prescott two years ago, but it would be intriguing to see how Bryant could perform alongside Brees.
Baltimore Ravens
The Ravens' receiving pack was distinctly average last season, which saw quarterback Joe Flacco endure the worst season of his professional career. Mike Wallace has moved to the Philadelphia Eagles, while John Brown and Michael Crabtree have bolstered Baltimore's options in the position but they remain short of the star wide-out they have been looking for since Steve Smith retired.
However, the Ravens only have $10 million in salary cap space, meaning Bryant would have to take a sizeable pay cut.