Sunday's upcoming NFL matchups mark the end of the first half of the season. The New England Patriots and the San Francisco 49ers remain the only two undefeated teams, while the Miami Dolphins and Cincinnati Bengals have yet to see their first win.
A number of different players have had impressive first halves, making their case for the coveted award of league MVP.
Aaron Rodgers, quarterback, Green Bay Packers
At the start of the season, many fans were worried about Rodgers, largely due to the Packers' introduction of new head coach, Matt LaFleur. Rodgers has proved there's no need to worry about his performance as the quarterback is currently the favorite to win NFL MVP according to several sportsbooks. Fanduel sportsbook has him listed at +300 odds, Draftkings sportsbook has Rodgers at +250, while BetOnline has the Packers' QB at +225.
So far this season, Rodgers has thrown 16 touchdowns, amassed 2,324 total passing yards and holds a completion percentage of 65.4 percent. He has led the Packers to a 7-1 start and will be seeking his eighth win on Sunday when the team travels to Los Angeles to take on Philip Rivers and the Chargers.
Russell Wilson, quarterback, Seattle Seahawks
In all three sportsbooks listed above, Wilson is the next favorite to win the MVP. Wilson has led the Seattle Seahawks to a 6-2 record with nearly identical stats to Rodgers. Through eight games, Wilson has thrown for 2,127 yards and 17 touchdowns. However, Wilson's completion percentage sits at 68.4 percent, slightly above Rodgers.
Fanduel sportsbook has Wilson listed at +350 odds, Draftkings sportsbook has Wilson at +300, and BetOnline has him at +275. Wilson will continue to make his case for league MVP when the Seahawks travel to Tampa Bay to take on the struggling Buccaneers.
Christian McCaffrey, running back, Carolina Panthers
McCaffrey has continued to impress fans, and many thought he was the MVP a few weeks prior. The running back has only played in seven games so far this year, but has still put up MVP-like stats. So far this season, McCaffrey has a total of 735 rushing yards as well as 8 rushing touchdowns. He is also averaging 5.2 yards per carry on 141 rushing attempts.
BetOnline has McCaffrey listed with best odds at +800. Fanduel sportsbook has McCaffrey listed as the sixth most likely MVP with +1500 odds, while Draftkings sportsbook lists the Carolina running back as seventh most likely with +1600 odds. McCaffrey and the Panthers are set to take on the Tennessee Titans this Sunday.
Lamar Jackson, quarterback, Baltimore Ravens
After shocking many and leading the Ravens to their first AFC North title since 2012, Lamar Jackson has continued to impress throughout the 2019-20 season. Through seven games, Jackson has compiled over 1,600 passing yards, 11 touchdowns and a 63.3 completion percentage.
Jackson has +600 odds on Draftkings sportsbook and +500 on Fanduel sportsbook. BetOnline has Jackson with less likely odds at +900. Jackson is set to take on arguably the best defense he will see this season when the Ravens play the New England Patriots.
Patrick Mahomes, quarterback, Kansas City Chiefs
Despite suffering a dislocated knee and potentially missing two games, Mahomes remains on the NFL MVP radar. Through five games, Mahomes has compiled 15 touchdowns and gained 2,180 passing yards.
Fanduel has Mahomes listed at +950 odds, BetOnline has Mahomes at +800 and Draftkings has him at +1200. Mahomes is currently listed as doubtful for the Chiefs week nine matchup against the Minnesota Vikings, but the quarterback could return nect week to continue his push for a back-to-back MVP titles.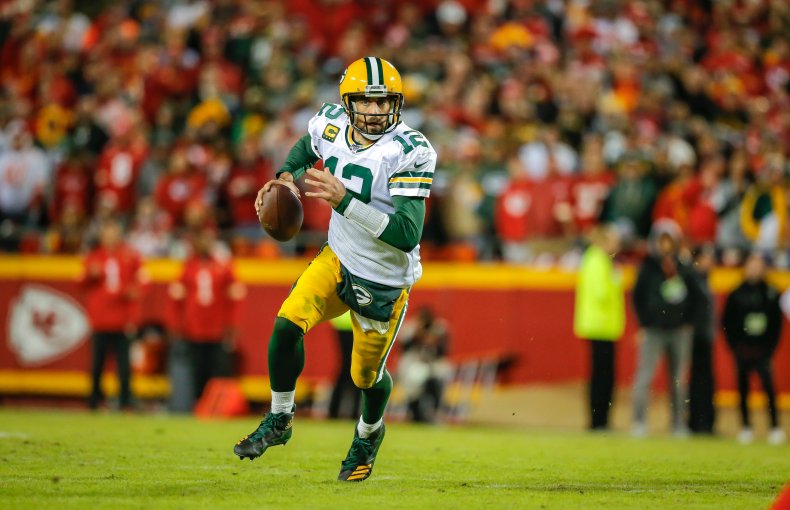 Uncommon Knowledge
Newsweek is committed to challenging conventional wisdom and finding connections in the search for common ground.
Newsweek is committed to challenging conventional wisdom and finding connections in the search for common ground.
About the writer
Matthew Impelli is a Newsweek staff writer based in New York. His focus is reporting social issues and crime. In January 2023, Matthew traveled to Moscow, Idaho where he reported on the quadruple murders and arrest of Bryan Kohberger. Matthew joined Newsweek in 2019 after graduating from Syracuse University. He also received his master's degree from St. John's University in 2021. You can get in touch with Matthew by emailing m.impelli@newsweek.com. Languages: English.