Where Is the Outcry For All Global Conflicts and War? | Opinion
Right now, everywhere you look, you'll find news coverage, social media outcry, protests and constant conversation about the Russian invasion of Ukraine. We've been horrified by the scenes of people hiding out in underground subway stations, soldiers lying dead on the ground, buildings bombed and throngs of people trying to escape in fear of their lives.
There has, rightfully so, been mass opposition to the invasion, with people all around the world voicing their dissent at Russian President Vladimir Putin's decision to invade Ukraine. Teachers are talking about it in schools. Parents are explaining it to their children. Thousands have gathered around the world to shout in protest against the invasion. "Pray for Ukraine" is constantly swirling around social media posts. It's how we should always respond when there is any conflict that infringes on human rights, any war that takes the lives of innocent people. We should be angry. We should call for action. We should hold governments responsible for the well-being of refugees.
The big question is, why don't we see the same pushback for other conflicts happening around the world right now? Conflict has been and currently is raging on across the globe. Men, women and children are hiding out, desperately waiting for evacuation, mourning over killed family members, being separated from their families, watching bloodshed in their streets—they just aren't Ukrainian, aren't European and aren't white.
Afghanistan is still going through a humanitarian crisis as the Taliban continues ruling with a tight fist. With lots of aid being suspended to the country, thousands have spent the winter homeless, ill and starving. People are hiding out in their homes, fearful to go out in the streets in case they encounter weapon-cladded soldiers. There are still reports of arbitrary arrests, detentions, torture and targeted killings. As of April 2021, 241,000 people had been killed in the Afghanistan and Pakistan war zone—71,000 were civilians. Since August, when Taliban took control of the country, there have been reports that more than 100 members of the ousted Afghan government have been killed, with thousands of others—children included—dying from soaring pneumonia and starvation rates as a result of poverty worsening after Taliban take-over.
Just last week, in the Democratic Republic of the Congo (DRC), at least 20 civilians were killed in a violent attack in the northeastern part of the country. It was reported that the Allied Democratic Forces (ADF) struck a village using machetes and burned houses. It happened following a DRC and Ugandan operation against the ADF that has been ongoing since 2013, an operation that has seen thousands of civilians killed.
In Ethiopia, there is an on-going conflict between government forces and troops in the northern Tigray region since November 2020. Thousands have been left dead and even more are living in famine conditions. There are recent reports that reveal how Tigrayan fighters have been gang-raping dozens of women and girls. Additionally, there has been recent accusation against Ethiopia for a wide range of human rights violations against Tigrayan rebel forces—including "mass killings, sexual violence and military targeting of civilians." Since the start of the year, there have been airstrikes in the Tigray region by the Ethiopian government that have killed at least 108 civilians. And the conflict has no signs of abating anytime soon.
On Monday, thousands of Sudanese protested on the streets of Khartoum denouncing the military coup that took control of a civilian-led transitional government in October. Since the takeover, at least 83 have been killed and over 2,600 injured at the hands of the coup in protest.
Myanmar has been in utter turmoil since a coup took control a year ago. At least 1,500 civilians have been killed by security forces—525 roads and bridges, 27 hospitals and 504 schools and educational facilities have all been reported to be destroyed within the country.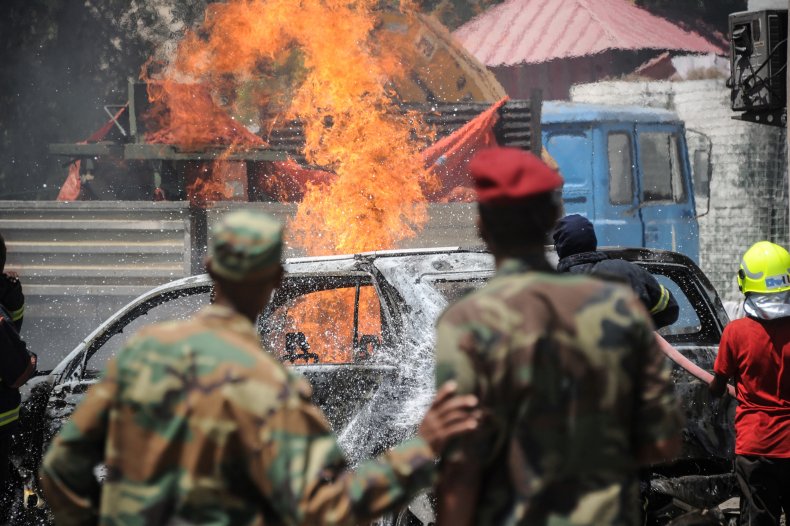 In Tunisia, President Kais Saied recently issued a decree giving him control over the selection and promotion of judges. The decision came off the back of what many critics viewed as a coup—when Saied suspended parliament and assumed executive powers. One protestor voiced the fears of the people, that the coup is "fabricating accusations, inciting violence against Tunisians, inciting against organisations and parties"—all ominous features of an authoritarian rule that cares little for its citizens.
Finally, just prior to Putin's invasion of Ukraine, the United States launched a drone attack against Somalia. It was the fifth U.S. airstrike in Somalia since the start of President Joe Biden's presidency. Former President Donald Trump instigated at least 43 airstrikes in Somalia, in just one year. The strikes are part of a "long-running military campaign" to increase security in the country, but civilians are being hurt and killed in the process.
Each of these countries are made up of people who are caught in the middle of conflicts beyond their control—people like the Ukrainians. But we rarely hear about them, and rarely go searching about them. This may be because we have become desensitized to violence perpetuated against non-white peoples, or perhaps some don't care as much about their plights because they are "not like us" or "do not look like us."
The reporting from Ukraine aims to make us care by telling us that Ukrainians are not your typical refugees—that they are "civilized" and "European." The coverage conjures up emotions that make us want to protest, be outraged and raise our voices because Ukrainians are white.
It's racist jargon that makes us ignore conflicts raging internationally. Regardless of where a person lives, their education, their skin color, their jobs or their responsibilities, war is horrific. And we should be doing everything we can to support those stuck amid atrocious conflicts that they didn't create. Everyone—from Ukraine, Afghanistan, the DRC, Ethiopia, Sudan, Myanmar, Tunisia, Somalia—they all have the right to safety. And it's our responsibility to make sure they can get it.
Lauren Crosby Medlicott is a freelance writer covering human rights.
The views expressed in this article are the writer's own.