Where Is R. Kelly Now? The Singer Should Be In Prison But The Epidemic Is Changing Everything
R. Kelly is in prison after being arrested on a list of serious charges, including child pornography and sexual assault. That could change, though, due to COVID-19.
The American musician is asking a Chicago Judge to let him await trial at home, instead of behind bars, due to coronavirus. A document addressed to Judge Leinenweber claims Kelly is in a "high-risk" category that could increase his chances of a lethal encounter with the virus. High-risk cases include anyone over the age of 65, or anyone with a chronic illness, according to the Centers for Disease Control and Prevention. Kelly is 53, and it's unknown if he has any health issues.
Coronavirus has already infected just under 550,000 people globally according to John Hopkins University on Friday—and those are just confirmed cases from swab testing, which has yet to become widely available.
They also claim there's a "coming jail epidemic" to be sparked from coronavirus. It seems much of the American prison system agrees. New Jersey began freeing inmates on Wednesday, to negate any kind of internal virus spread according to the Washington Post. Not only could the prison system put inmates at risk, due to confined, packed spaces and a lack of sanitary items, but prison workers, medical professionals and visiting family would also be at major risk.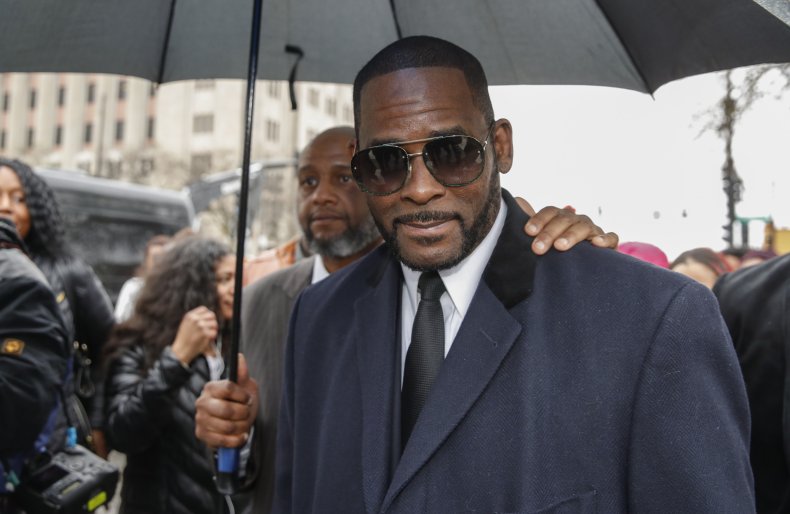 Kelly does not currently have a bond set (which was decided upon in October), so the goal is seemingly to allow a bail process to free him for now.
There's a catch, though. Due to other sexual assault charges in New York, Kelly could be asked to continue his pre-trial sentence there, for other charges, even if Chicago allows him to go home. The Motion for Bond dives into this.
"Mr. Kelly request that this Court defer any ruling until after the New York court has acted on his request, less this Court were to grant his request and that court were not he would simply and up in the same unhealthy conditions, just in New York," it reads.
He's not the only famous inmate to request unexpected release. Rapper Tekashi 69, asked to serve his prison sentence—for racketeering, drug and weapon charges—at home. Though he only has four months left, according to Fox News, his request was denied.
Kelly's list of dozens of charges, which span across Chicago, New York and Minnesota, include "child pornography, the sexual exploitation of children and conspiracy to defraud the U.S. government, as well as the coercion or enticement of a female," according to the Associated Press. He's pled not guilty to all.
If Kelly is released, he'll be returning home to one less girlfriend. His live-in significant other, Azriel Clary, packed her bags and left his Chicago Trump Tower apartment in January after defending the musician for years. In her departure, which she filmed on Instagram Live, she claimed Kelly had been fooling all who believed him, and she regretted playing along with his narrative.