Melania Trump Uses Body Doubles, Latest Trump Conspiracy Theory Claims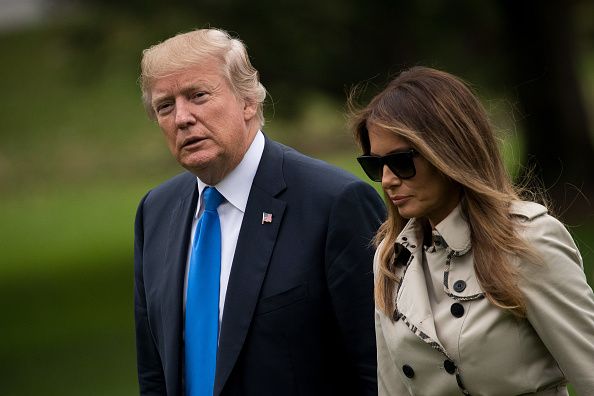 Who, if anyone, is hiding behind Melania Trump's signature sunglasses? Conspiracy theorists are claiming it's not the first lady, but a body double.
Critics have zeroed in on footage from Friday of the first lady standing beside her husband, President Donald Trump, while he was addressing the media about hurricane relief for Puerto Rico and a nuclear deal with Iran. In the video, the president calls out his wife at the press conference, which conspiracy theorists claim is his effort to cover for the fact that his wife is in fact somewhere else.
"My wife, Melania, who happens to be right here," he says.
Social media users are studying the image of Melania Trump from the video where she is wearing a coat and sunglasses and are questioning the shape of the first lady's nose. Since users first posted the footage, Google searches such as "Melania Trump double" and "Fake Melania" have spiked online.
It wouldn't be the first time first ladies have been accused of using body doubles. The topic of Hillary Clinton's body double began trending on social media last year with the hashtag #hillarysbodydouble. Conspiracy theorists pointed to Teresa Barnwell, a Hillary Clinton impersonator, as the first lady and 2016 presidential candidate's stand in.
Conspiracy theorists looked at pictures of Clinton exiting a memorial event and claimed she looked too healthy to be the real Clinton in 2016. Barnwell has been impersonating Clinton since 1993. She once encountered the presidential candidate in 1996 at a book signing event.
"You're the one who can stand in for me and do the bad stuff I don't want to do," Clinton said upon meeting Barnwell.
A year later, social media is now comparing side-by-side images of Melania Trump to the footage of her from last week's address to the media.
Melania Trump's public appearances have made headlines since her husband moved into the White House, including a video that showed her swatting away her husband's hand in May during an overseas trip. Trump attempted to grab his wife's hand as the two walked on a red carpet rolled out by Israeli Prime Minister Benjamin Netanyahu at Ben Gurion International Airport. But the first lady rejected him.
Critics also turned the first lady into a meme after she turned her Inauguration Day smile into a frown shortly after her husband looked away.