Where Is Saharan Dust, Linked to Unhealthy Air, Headed Across U.S.?
Plumes of Saharan dust are moving across large swathes of the United States, helping to lower air quality in some areas.
Significant concentrations of the dust are lingering in the southeast, primarily over Florida, the Carolinas and Georgia, although parts of Texas, the Four State Area and Tennessee are also being affected.
Forecast models indicate that some thinner bands of the dust will spread northwards into parts of Illinois, Iowa, and perhaps even Minnesota, while a significant concentration hovers above much of Florida.
By late Monday most of this dust will have dispersed or moved offshore into the Atlantic, although some may persist over the southeastern tip of Florida into Tuesday.
This won't be the last of the dust, however, because over the course of Tuesday, Wednesday and further into next week, another large concentration that is currently lingering over much of the Caribbean will make its way northwards into the Gulf of Mexico, and parts of the U.S. Gulf Coast again.
The dust has contributed to reductions in air quality across some parts of the United States, with some areas reporting air pollution levels that could pose health risks.
The Environmental Protection Agency (EPA) uses a color system known as the Air Quality Index (AQI) to categorize air quality in different regions. Green means that air quality is considered good, while yellow indicates increased air pollution. Orange, or an AQI of 101 or more, means that air quality could be unhealthy for sensitive groups and red indicates that everyone could experience health effects.
According to EPA data, pockets of North Carolina that the dust is affecting such as Wake County, are reporting "unhealthy" air quality, while wider regions are reporting air that is unhealthy for sensitive groups."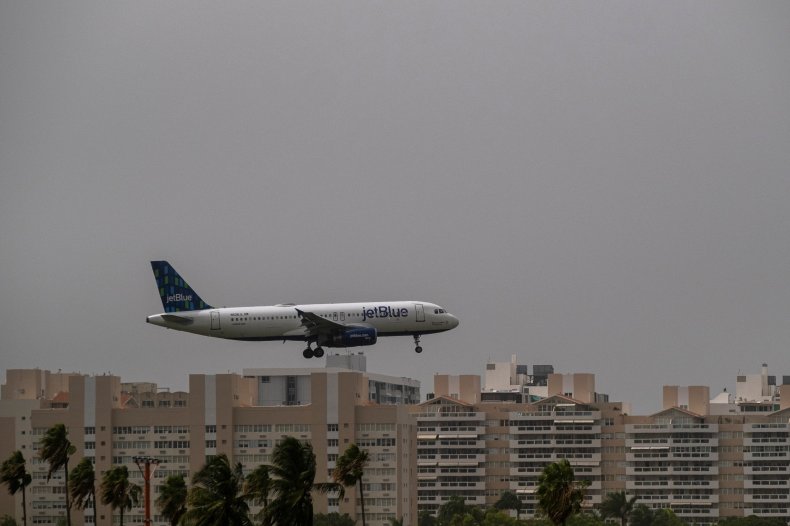 The dust can exacerbate some respiratory issues, such as asthma, or certain allergies. Senior adults and young children are also particularly vulnerable to inhaling the tiny particles.
Where concentrations are high enough, people may experience nose, throat and eye irritation as well as coughing.
Trade winds regularly blow dust from the Sahara thousands of miles over the Atlantic at this time of year. However, the plume that recently traveled over much of the Caribbean and Gulf of Mexico before reaching the U.S. coast was extreme in terms of its geographic extent and thickness in some areas.
The dust originates in the Sahara where strong winds lift tiny particles of sand and minerals into a portion of the atmosphere known as the Saharan Air Layer (SAL), a hot air mass that forms between late spring and early fall, extending from altitudes of around 5,000 to 20,000 feet.
From late June to mid-August every year, the SAL is blown westward across the Atlantic, often taking with it vast quantities of dust.