Where Is Sean Spicer? Sarah Huckabee Sanders Has Handled Press Briefings This Week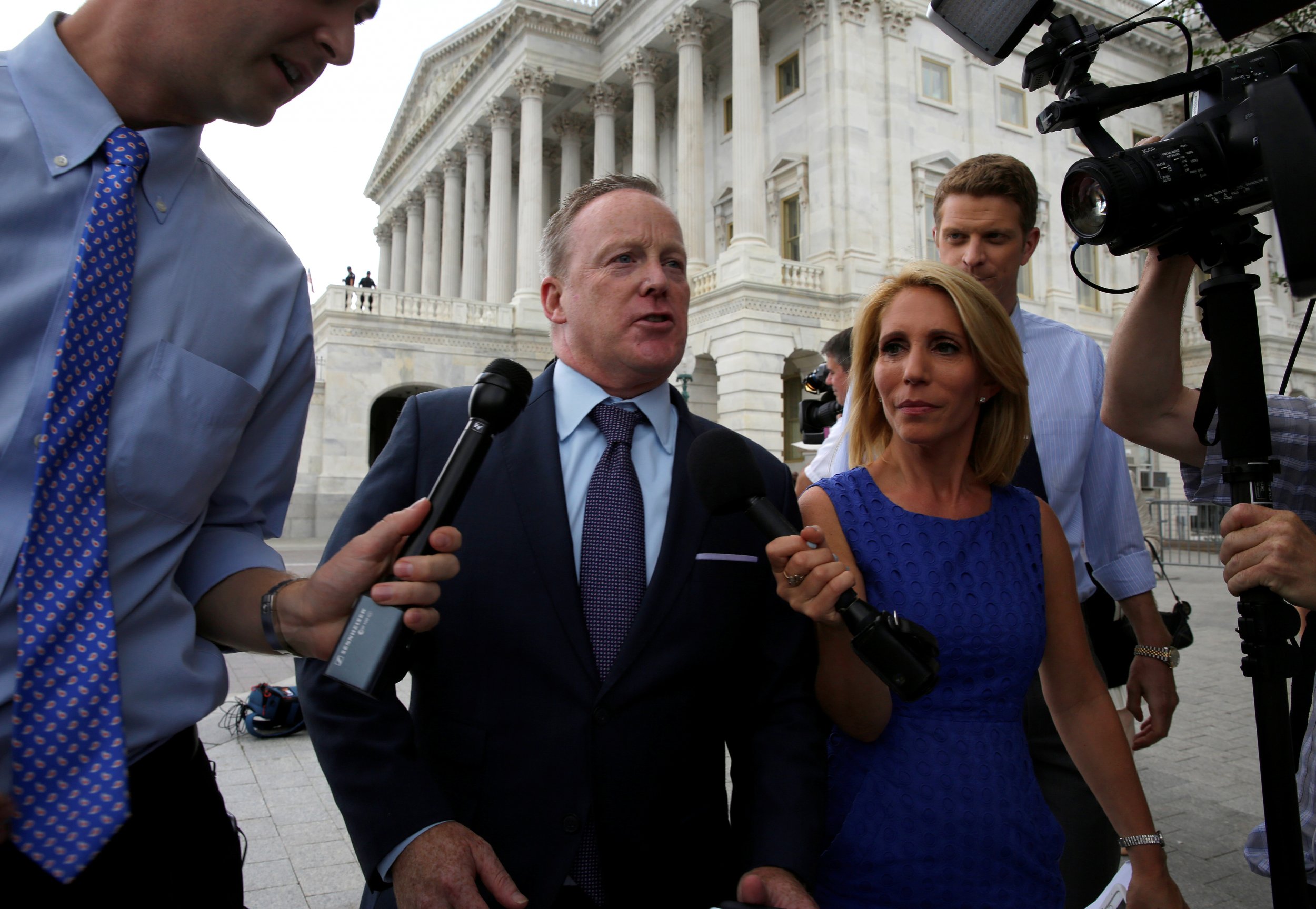 Signing off at the end of an off-camera press briefing Monday, White House Press Secretary Sean Spicer told the assembled reporters he would "see you later." But how much later is still to be seen.
Spicer has taken a backseat in the public eye to Deputy White House Press Secretary Sarah Huckabee Sanders, who was behind the podium for the White House press briefings on Tuesday, Wednesday and Thursday.
With speculation swirling about Spicer's future as press secretary, have we seen the last of him behind the podium?
Although a top Trump adviser apparently joked to The Atlantic that Spicer was doing fewer on-camera briefings because he "got fatter," the administration is making a concentrated effort to limit on-camera availability. Briefings on Monday and Wednesday were off-camera and Friday's briefing, scheduled for 2 p.m., is also off-camera.
At least this week, the administration has seemingly turned to Sanders as its main public voice. She was not asked about Spicer's whereabouts during her briefings this week, and did not immediately reply to a Newsweek request for comment.
During a briefing earlier this month, Sanders was asked if Spicer was taking a different position in the administration and she said his role was "probably upgraded at this point." With Mike Dubke's resignation as communications director earlier this month, Spicer has stepped back into that role in an interim basis. He is leading the search for a new press secretary and communications director, as Politico reported.
Sanders dismissed speculation she would be taking over for Spicer full-time when asked at a briefing earlier this month.
"There are a lot of demands on his schedule, particularly given the fact that there's not a communications director, and this is part of my job as well and when I'm needed I'll step in," she said. "Nothing other than that."
The administration's decision to hold press briefings off-camera has drawn the ire of journalists, particularly CNN's Jim Acosta.
"The White House press secretary is getting to a point...where he's just kind of useless," Acosta said. "You know, if he can't come out and answer the questions and they're just not going to do this on-camera or audio, why are we even having these briefings or these gaggles in the first place?"
Spicer told Fox News Sunday that being the press secretary was an "honor" and that he enjoyed pushing the president's agenda. He added that he thinks there should be a mix of on- and off-camera briefings, hinting he believes off-camera briefings are more substantial.
"I think some of these reporters are more interested in their YouTube clips than they are in factual news," he continued. "You look at the number of questions that get asked over and over again, just so a reporter can get a clip for themselves saying something or yelling at someone."
Even though he hasn't held a press briefing since Monday, Spicer, like his boss, has been active on Twitter this week.