Where Second Stimulus Check Negotiations Stand One Week Before Senate Breaks
Democrats and Republicans agree on another round of stimulus checks, but a looming congressional recess and disagreements on other provisions put passing a coronavirus relief package at risk.
Legislators made little progress last week as non-starters regarding unemployment insurance and liability protections for one side were deal breakers for another. A productive conversation was had on Saturday with meetings between top-ranking Democrats and Trump Administration officials continuing on Monday. It's possible economic impact payments are on the horizon—if a deal can be reached.
"I could have them out immediately," Treasury Secretary Steve Mnuchin told reporters on Sunday. "If I could get it passed tomorrow, I could start printing them the following week. I could get out 50 million payments really quickly."
The next round of economic impact payments—commonly referred to as stimulus checks—is likely to largely resemble the first payments that went out under the Coronavirus Aid, Relief, and Economic Security Act (CARES). Mnuchin said President Donald Trump supports the "exact same amount," indicating another round of $1,200 payments to individuals, but noted there are "minor changes" that allow additional people to "get it." And, Democrats agree on that aspect of a forthcoming bill, according to Mnuchin.
Under the CARES Act, income caps to receive a full payment for individuals were $75,000 and $150,000 respectively for individuals and joint filers. An additional $500 was allocated for eligible dependent children under 17 years of age.
It's possible the "additional people" that Mnuchin said could "get it" was in reference to an expansion in who qualifies for the $500. When Republicans put forth their stimulus proposal on July 27, it changed eligibility for dependents from children under 17 to dependents of all ages, a detail Democrats included in their May proposal, the Health and Economic Recovery Omnibus Emergency Solutions Act (HEROES).
Despite the "enormous bipartisan results" with regard to stimulus checks, Republicans and Democrats are "very far apart" on certain issues, Mnuchin said. He told ABC News' This Week on Sunday that Democrats were insisting on more than $1 trillion for state and local governments. It's an allocation of funds the administration is "not going to do." The two sides of the negotiation table also can't find common ground on enhanced unemployment.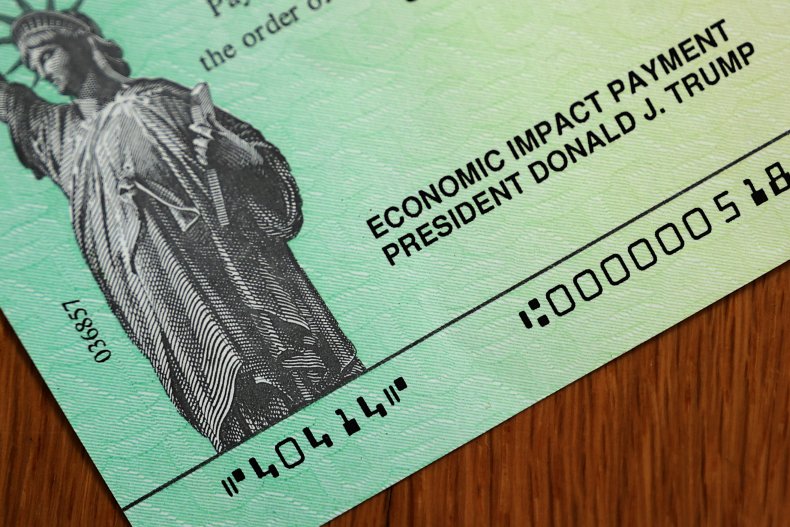 Republicans, Mnuchin said, proposed a one-week extension to the extra $600 jobless Americans have been receiving since March, to give them room to negotiate, as well as, "three or four different offers," including decreasing payments to $200 per week until systems can accommodate a 70 percent wage replacement payment. Democrats, however, are holding firm in continuing enhanced unemployment payments with no change in the amount those who are jobless receive.
Speaker Nancy Pelosi told ABC's This Week on Sunday, shortly before Mnuchin's interview, that the $200 payment proposal was a "condescension." Although a lower amount could be considered if the rate of unemployment went down, in this agreement, "it's $600," Pelosi said.
Democrats have been pushing for the $600 payment extension, but Pelosi's affirmation that anything less is a dealbreaker is a change from what House Majority Leader Steny Hoyer said on Tuesday. Hoyer told CNN's New Day on Tuesday that it wasn't "$600 or bust."
"To say that [it's] $600 or nothing, no, that's not where we are. We're prepared to discuss this," Hoyer said. "But we're also not prepared, however, to let down the American people, to let down the states, the cities, the local governments who hire people, who are meeting this pandemic's crisis, including health personnel."
While Hoyer saw "some validity" to the argument that CARES Act's expanded unemployment benefits could disincentive people to return to work, as Republicans suggested, Pelosi disagreed. She cited a Yale University study released on Monday that found expanded benefits neither encouraged layoffs nor deterred people from returning to work.
Expanded unemployment benefits officially expired on Friday, although the last round of payments went out on the Saturday and Sunday prior. There's no definitive timeline for when a deal that includes expanded unemployment could be reached, but Chief of Staff Mark Meadows isn't hopeful there will be a "solution in the very near term."
Negotiators are working against the clock as the Senate is scheduled to officially start its August recess on August 10. Meadows told CBS News' Face the Nation on Sunday that they've got "a long ways to go" before a deal could be brokered.
Newsweek reached out to the White House and Speaker Pelosi for comment but did not receive a response in time for publication.