She's been dubbed the "world's favorite artist." But while images of her kaleidoscopic Infinity rooms are hot on Instagram, she's no derivative newcomer to the art scene. This Japanese Pop-art icon has been creating fresh work since the 1950s, and her creative output hasn't subsided over the decades. Now a nonagenarian who has voluntarily made a home for herself in a Tokyo psychiatric asylum, Yayoi Kusama continues to produce her signature larger-than-life polka-dotted pumpkins, reflective Infinity rooms and myriad other pieces that first captivated the world long before social media. This year, shows of her work that had been postponed in 2020 by the pandemic are scheduled to open, including the New York Botanical Garden's much anticipated "Cosmic Nature" exhibit. From Japan's rural islands to Berlin's avant-garde museums, this eccentric master's artwork will be on display all over the world in 2021.
New York Botanical Garden
New York City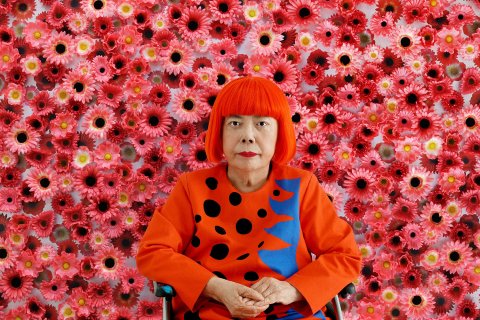 This spring you can immerse yourself in Kusama's fascination with the natural world at New York Botanical Garden. In this 250-acre living museum, Kusama will debut a 16-foot bronze sculpture, Dancing Pumpkin (2020); an outdoor Infinity mirrored room, Illusion Inside the Heart (2020); and a first-ever "obliteration greenhouse" where visitors are invited to apply floral stickers to the walls and interior of the greenhouse. Through works like this participatory installation, Kusama invites others to play along with her themes of flowers, patterns, infinity and obliteration.
Inhotim
Brumadinho, Brazil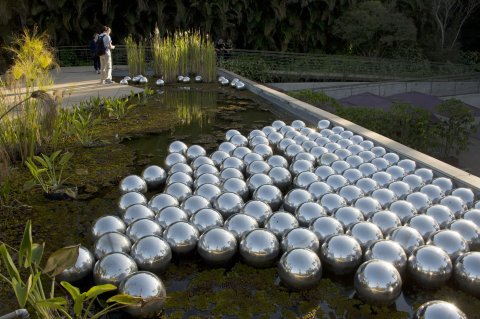 One of Kusama's most iconic— and at first controversial— pieces is Narcissus Garden, which debuted at the 33rd Venice Biennale in 1966. An installation of 1,500 plastic silver globes was a jab at commercialization and repetition in the art world. Now the piece has been recreated all over the world, as it is here with 500 stainless steel spheres floating in a pond in one of Latin America's largest outdoor art centers.
The Tate Modern
London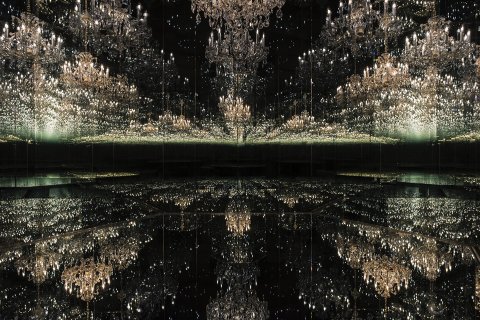 Another show postponed due to COVID-19, Tate Modern's Kusama exhibition is scheduled to open in spring 2021. Her signature immersive Infinity mirror rooms here will include Filled With the Brilliance of Life and Chandelier of Grief, a room of rotating crystal chandeliers, as well as photographs on display for the first time showing the history of her mirrored rooms.
National Gallery of Australia
Canberra, Australia
Kusama is known for her love of a certain gourd. She's been drawn to pumpkins since she was a child and has attributed that to "their humorous form, warm feeling, and a human-like quality." Step into her whimsical world with The Spirits of the Pumpkins Descended into the Heavens, an immersive installation of black dots around a mirrored box.
Kistefos Museum
Jevnaker, Norway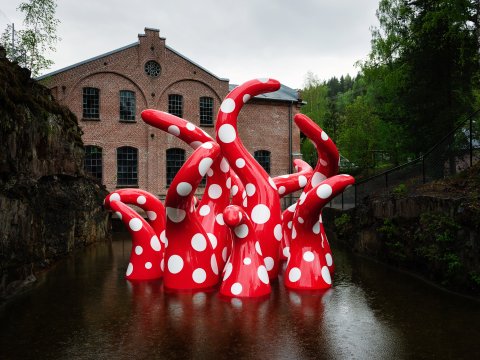 The polka-dotted tentacles of Shine of Life rise 20 feet out of a historic wood pulp mill inlet in the heart of Kistefos Museum's outdoor sculpture garden. A site-specific piece amidst woodland and water, it rests in good company: the 1,000-square-meter Twist gallery/bridge/sculpture is a stroll away.
Gropius Bau
Berlin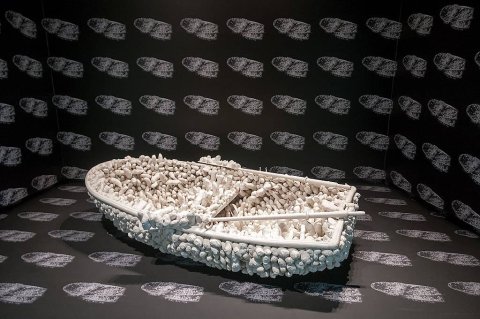 Lifelong as well as more recent fans can follow the trajectory of Kusama's seven decades of creative output with this comprehensive retrospective tracing her work from early paintings and rise in popularity in the mid-1960s to her lesser-known work in Germany and Europe, as well as debuting a new immersive Infinity mirrored room.
Ota Fine Arts
Singapore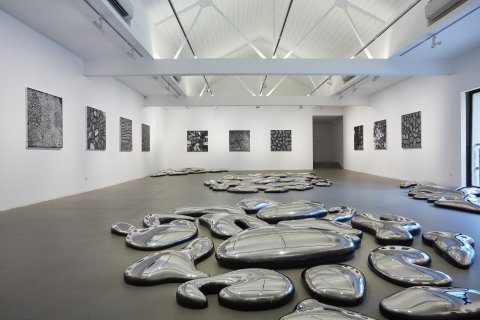 While Kusama is known for her bursts of color, the artist departs from her vibrant hues in Recent Paintings, on view at Ota Fine Arts in Singapore. Featuring 15 monochrome paintings, and Clouds, a sculpture installation of mirror stainless steel forms, this exhibit shows how her work has continued to evolve in recent years.
The Benesse House
Naoshima, Japan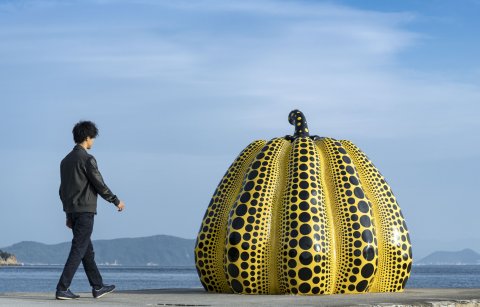 This yellow polka-dotted pumpkin on a pier is the unofficial symbol for Japan's contemporary art mecca. But you won't find this giant gourd in the ultra-modern metropolis of Tokyo; instead, it's on a small sparsely populated rural island in Japan's Seto Inland Sea.
Yayoi Kusama Museum
Tokyo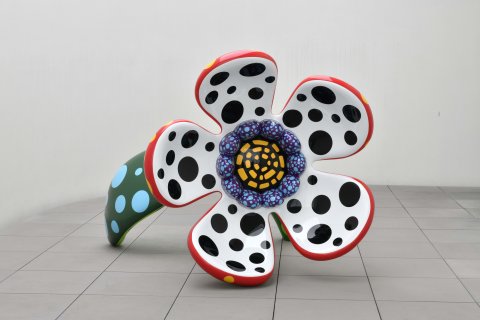 Opened in Shinjuku in late 2017, this is the first permanent museum dedicated to Yayoi Kusama, fittingly in her home country of Japan. The five-story museum let fans immerse themselves in all the struggles it took for Kusama to become an artist on the world stage.
The Mattress Factory
Pittsburgh, Pennsylvania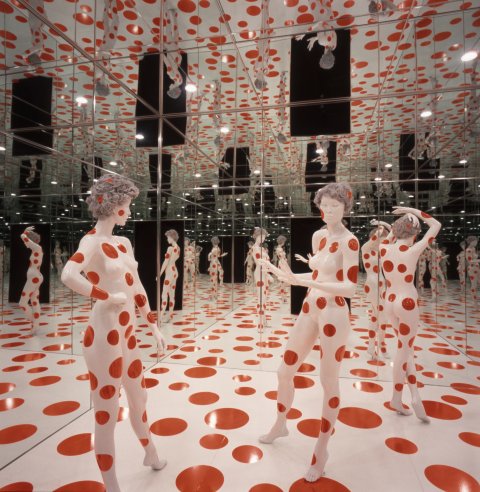 You'll find Kusama's work in cutting-edge contemporary art hubs across the world, and that includes this former mattress warehouse now art "laboratory" in Pittsburgh, which has housed two Infinity rooms, that the artist describes "as a passage to Another World," as part of their permanent collection since 1996.
Place François Mitterrand
Lille, France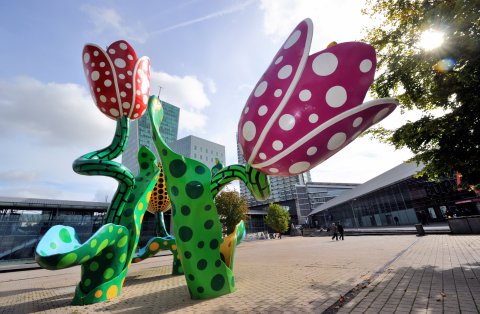 Kusama's first public sculpture in Europe, Les Tulipes de Shangri-La, a creation taken from her Flower Power series, is a pop of color and joy that will stop you in your tracks amidst the dull grey cityscape of Lille's railway station.
The Hirshhorn Museum and Sculpture Garden

Washington, D.C.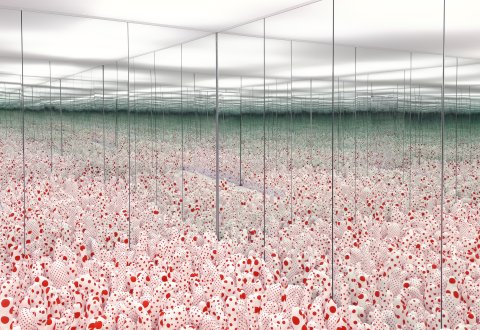 Following their 2017 blockbuster traveling retrospective of Kusama's work, the Hirshhorn's eagerly awaited One with Eternity will open in September 2021, exhibiting five of the visionary artist's works in their permanent collection, including her first transcendent Infinity Mirror Room and one of her most recent. Infinity Mirror Room—Phalli's Field (Floor Show) (1965/2017) was Kusama's first immersive installation (reconfigured in 2017) that mirrored and transformed her love for repetition in her early paintings into a dazzling participatory experience of never-ending space.