Where Is Tropical Storm Isaias Now? Tracker, Path As Hurricane Conditions Could Hit Carolinas
Tropical Storm Isaias will hit the east coast today with hurricane conditions expected in the Carolinas. The National Hurricane Center forecasts the storm will become a hurricane later on Monday.
Tropical-storm-force winds are expected to hit South Carolina at 2 p.m. and North Carolina by 8 p.m. on Monday. Tropical Storm Isaias is expected to reach Virginia on Tuesday at 2 a.m. before moving north through New England on Wednesday morning.
Forecasters have said that as of 5 a.m. ET there is the danger of life-threatening storm surge along portions of the immediate coastline and adjacent waterways of northeastern South Carolina and southern North Carolina.
Life-threatening storm surge is also possible along the North Carolina coast from Cape Fear to Duck, and residents in these areas should follow the advice of local emergency officials.
Tropical Storm Isaias is forecast to regain hurricane strength before it reaches the coast of northeastern South Carolina and southern North Carolina. Hurricane conditions are expected. The National Hurricane Center says that preparations should be rushed to completion.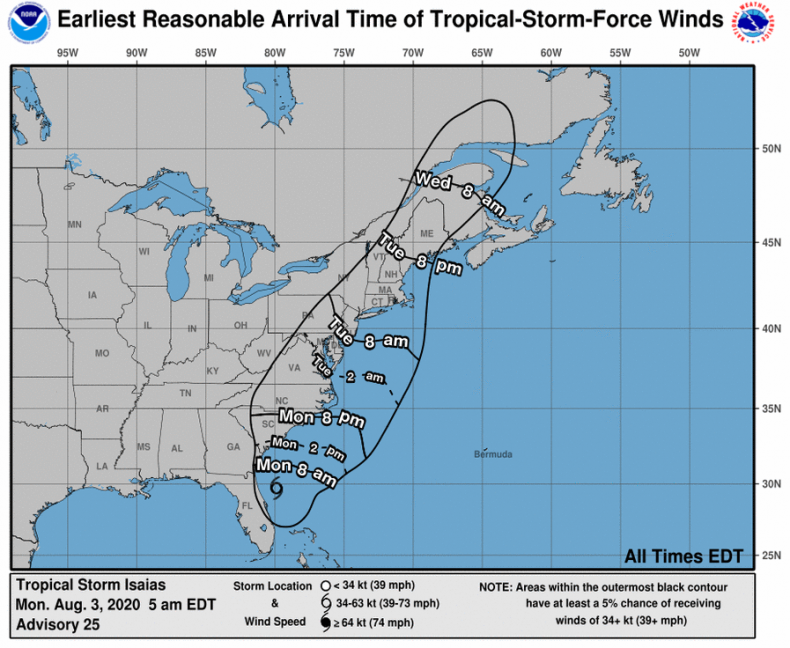 Tropical Storm Isaias in South Carolina
On Saturday, South Carolina Gov. Henry McMaster said on Twitter: "#TeamSC continues to monitor #Isaias this evening from [South Carolina Emergency Management Division] (SCEMD). Coastal residents should do [the] same. Evacuations are unnecessary, but please take personal precautions.
"Together we will get through this hurricane season and #COVID19. We are #SCstrong."
The SCEMD is encouraging residents of South Carolina to finalize their storm preparations ahead of Tropical Storm Isaias.
Tropical Storm Isaias in North Carolina
North Carolina Gov. Roy Cooper said in a statement on Sunday: "Although the storm has been downgraded from a hurricane, Isaias still poses great threats to our state.
"North Carolinians should prepare for flooding, storm surge, power outages, and the dangers associated with them."
The Federal Emergency Management Agency (FEMA) has approved Gov. Cooper's request for a federal declaration for 25 North Carolina counties.
In North Carolina, there is a Tropical Storm Watch northward to Ocracoke Island, a Tropical Storm Warning in areas south of Ocracoke Island, a Storm Surge Watch southward to Duck, a Hurricane Watch in areas south of Surf City, a Storm Surge Warning southward to Cape Fear, and a Flash Flood Watch in much of North Carolina through Tuesday, as of Sunday.
There will be heavy rainfall that could result in flash and urban flooding, some of which may be significant in the eastern Carolinas and the mid-Atlantic, through midweek along the path of Isaias as it travels across the east coast.
Widespread minor to moderate river flooding is also possible across portions of the Carolinas and the mid-Atlantic.
In North Carolina, Tropical Storm Isaias could bring 1-4 inches of rain, with a swath of 3-6 inches of rain possible along and near the I-95 corridor and as much as 7 inches in some places.
Tropical storm conditions are expected to spread northward within the Tropical Storm Warning area from Florida to portions of southern New England through Tuesday afternoon.
Tropical storm conditions are possible across other portions of New England that are within the Tropical Storm Watch area by early Wednesday and additional watches and warnings may be required later on Monday.
A Tropical Storm Warning is in effect for Flagler/Volusia County Line Florida to South Santee River, South Carolina, North of Surf City, North Carolina, to the west of Watch Hill, Rhode Island, the Chesapeake Bay south of North Beach Tidal Potomac River south of Cobb Island, Delaware Bay, Long Island, and Long Island Sound, and Pamlico and Albemarle Sounds.
A Tropical Storm Watch is in effect for Watch Hill, Rhode Island, to Stonington, Maine, Martha's Vineyard, Nantucket, and Block Island.