Here's Where Donald Trump and Joe Biden Stand With Female Voters Six Months Before the 2020 Presidential Election
Six months from Election Day, polls show a big gender gap between former Vice President Joe Biden and President Donald Trump.
The most recent surveys of the presumptive nominees show Biden leading by a wider margin among women, while Trump has a slight edge among men.
A Monmouth University poll released Wednesday showed Biden and Trump separated by 3 percentage points among male voters. Forty-five percent of the men surveyed said they would back the president's re-election, while 42 percent said they would support Biden.
The gap was much wider among female voters. A majority of them who were polled—52 percent—said they would cast their ballot for Biden. Little more than a third of the women surveyed said they'd support a second term for Trump.
That was also the trend in another national survey, conducted by The Economist/YouGov. The poll, also released Wednesday, found Biden had a 14-point edge among female voters. Meanwhile, Trump had a 6-point lead with male voters.
The two polls were conducted amid the fallout from Tara Reade's sexual assault allegation against the former vice president. In March, Reade accused Biden of shoving her up against a wall and penetrating her with his fingers when she was a staffer in his Senate office in 1993.
Biden had remained silent about the allegation for weeks, though his campaign had vehemently denied it. In an interview with MSNBC last week, he finally addressed the issue, saying, "It never, never happened." He also asked for the National Archives and Records Administration to release "any record of the complaint she alleges she filed and make available to the press any such document."
The vast majority of registered voters surveyed by Monmouth University, 86 percent, had heard about the assault allegation. But voters were split on whether they thought the accusation was true or not. Thirty-seven percent said it was "probably true," while 32 percent said it was "probably not true." Another 31 percent said they had no opinion on the subject.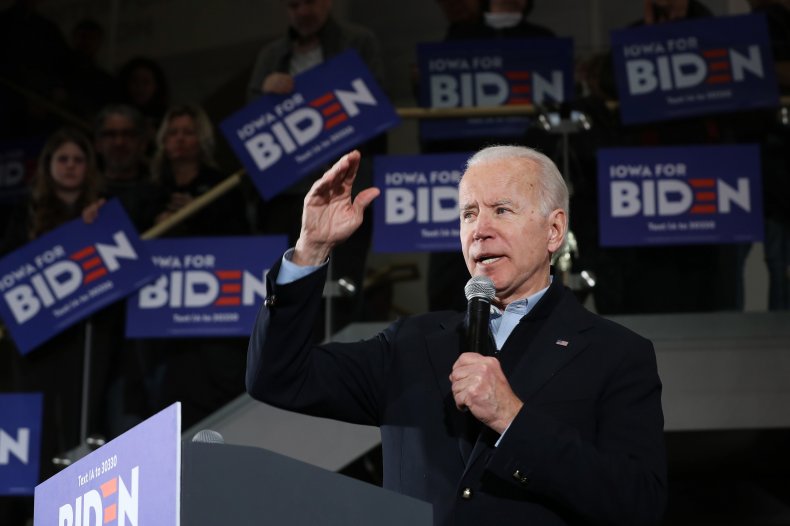 There was also a wide gender gap in the 2016 election. Exit polls conducted by CNN showed women overwhelmingly supported Hillary Clinton. Fifty-four percent of female voters supported the Democratic nominee, while 41 supported Trump.
Overall, polls show Biden leading Trump in the presidential race. In the Economist/YouGov survey, Biden got support from 46 percent of registered voters polled. Trump trailed the former vice president with 42 percent support.
The Monmouth University survey was conducted from April 30 through May 4, and the question about the sexual assault allegation was added after Biden's public denial on the morning of May 1. It surveyed 739 registered voters and has a margin of error of plus or minus 3.6 percentage points. Questions about Reade's claim were asked of 586 voters, with a margin of error of plus or minus 4.1 points.
The Economist/YouGov poll surveyed 1,209 registered voters from May 3 through May 5 and has a margin of error of 3.3 percent.