Where is Tulsi Gabbard? Why The Hawaii Congresswoman Won't Attend Tuesday's Democratic Debate
Rep. Tulsi Gabbard (D-HI) is one of several presidential candidates who won't appear on Tuesday night's debate stage in Des Moines, Iowa.
The Hawaii congresswoman failed to meet fundraising and polling requirements laid out by the Democratic National Committee for the seventh debate, making it the second one in a row she's failed to qualify for.
"Unfortunately, the candidate who is best positioned to defeat Donald Trump will not even be on the #DemDebate stage tonight — thanks to the DNC and biased corporate media," Gabbard wrote in a tweet.
In the hours leading up to the 9 p.m. EST debate, Gabbard will instead attend a panel discussion in New Hampshire about U.S. relations with Iran in the wake of heightened tensions with the foreign country. She's expected to also discuss her decision to vote for a War Powers Resolution last week, which was intended to curb President Donald Trump's ability to take military action against Iran without congressional approval. She had said previously she would not participate in the debate.
Tuesday's debate marks the first one of the year and is significant on several fronts: It will be the last one before the Iowa caucuses and will feature the fewest number of candidates—all of whom will be white.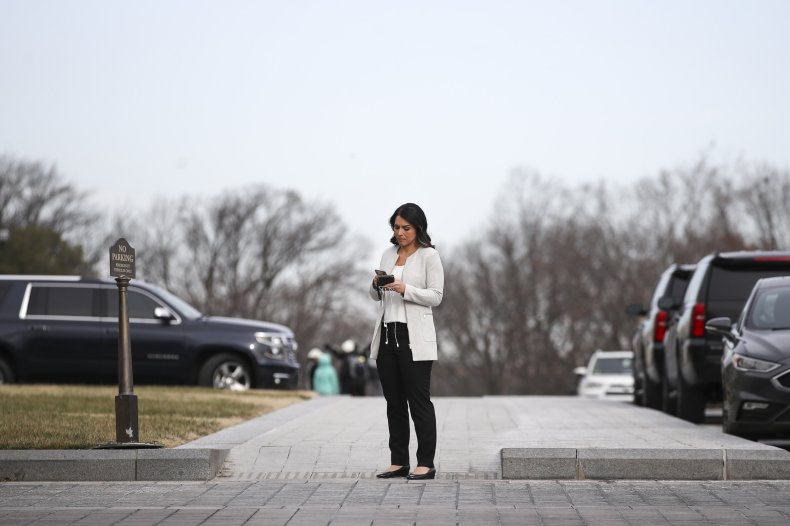 Just six candidates hit the fundraising threshold of 225,000 unique donors and polling requirement to receive at least 5 percent in at least four polls or 7 percent in two single-state polls in Iowa, New Hampshire, South Carolina and/or Nevada. Those half-dozen candidates are former Vice President Joe Biden, South Bend, Indiana, Mayor Pete Buttigieg, billionaire businessman Tom Steyer and Sens. Amy Klobuchar of Minnesota, Bernie Sanders of Vermont and Elizabeth Warren of Massachusetts.
That means Gabbard, as well as entrepreneur Andrew Yang, Sens. Cory Booker of New Jersey and Michael Bennet of Colorado, author and spiritual leader Marianne Williamson, former Massachusetts Governor Deval Patrick, former New York City Mayor Michael Bloomberg and former Maryland Rep. John Delaney, did not qualify for the debate.
Booker and Williamson have since dropped out of the race.
Biden continues to top RealClear Politics' polling average for the primary at just over 29 percent support, followed by Sanders at about 20, Warren at nearly 15, Buttigieg at 7.5, Bloomberg at almost 6, Yang at 3.5, Klobuchar at 2.8, Gabbard at 2.3, Steyer at 2.2, Booker at 1.8 and Delaney at just 0.8.
In a new poll released Monday by Monmouth University, Biden remained the frontrunner, followed by Sanders, Buttigieg and Warren. Gabbard came in at ninth with just 2 percent support.
A Quinnipiac University poll, also released Monday, showed Biden again leading the pack, followed by Sanders, Warren, Buttigieg and Bloomberg. Gabbard finished toward the bottom, tying several other candidates at 1 percent and beating only Delaney.
This story was updated to include remarks from Gabbard made in a tweet.